In mid-March 2020, as Republican lawmakers faced criticism online over a bill that would provide sick pay to some American workers, a graphic spreading on Facebook spread disinformation about both the bill's progress and the way the vote broke down.
The graphic — spread on the platform as a photograph instead of text — reads, "4 GOP Senators self quarantine WITH FULL PAY after voting NO to bill that would ensure pay to sick victims of the Virus."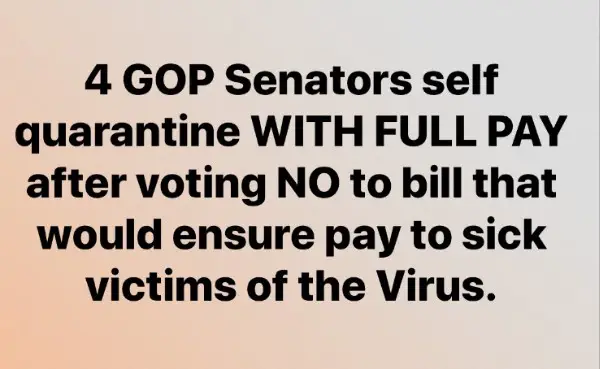 The claim is false on several fronts. The bill referenced here, the Families First Coronavirus Response Act, had not yet come before the Senate for a vote when this meme began to circulate. It passed in the House by a margin of 363-40 on March 14 2020.
The post also conflates Republican members of the Senate who announced self-quarantine measures with their party cohorts in the House who did the same. As CNN reported after the bill passed:
Five Republican lawmakers — Republican Sen. Ted Cruz along with Reps. Matt Gaetz of Florida, Doug Collins of Georgia, Paul Gosar of Arizona and Mark Meadows of North Carolina — opted to self-quarantine after interacting with an individual at the Conservative Political Action Conference who has tested positive for coronavirus. Gaetz announced on March 10 that his test results came back negative.
…

Republican Sens. Rick Scott of Florida and Lindsey Graham of South Carolina announced on March 12 that they were self-quarantining. Graham announced on March 15 that his test was negative.
Collins voted in favor of the bill. Gaetz, Gosar, and Meadows did not cast a vote. Three Democratic Party congressmembers — Don Beyer of Virginia, California's Julia Brownley, and John Yarmuth of Kentucky — also announced that they were imposing a self-quarantine or working remotely. Yarmuth voted for the bill, while Beyer and Brownley did not vote.
However, a Republican lawmaker is responsible for delaying the bill from reaching the Senate. Texas Rep. Louie Gohmert, who voted against the measure, has demanded that it be read in its entirety on the House floor, accusing House Democrats of trying to add changes to the bill without making them available for review.