In a testament to how easily xenophobic disinformation can spread online multiple times over, two different blogs attracted attention by rehashing the same fake claim about Syrian refugees, but years apart.
The claim that at least 4,500 Syrians escaping the war in their country would be relocated to the town of Menominee, Michigan originated with the page "National Report" in September 2015. The post itself has since been deleted, but tweets promoting it are still visible online: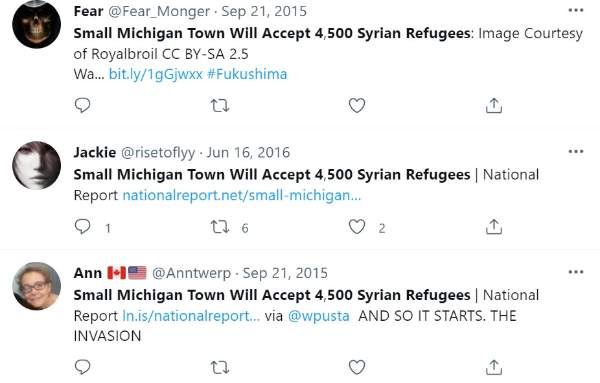 A partial transcript of that post read:
FBI counter-terrorism expert Michael Steinbach told Congress recently it has no reliable way of vetting the Syrian refugees and FBI Director James Comey has said its hands are full with active ISIS investigations in all 50 states. Regardless of FBI findings, cities chosen for immediate refugee relocation include: Bowling Green, Kentucky, New Bern, North Carolina, and Menominee, Michigan.

The smallest city on the list, Menominee, MI, with a population of just over 8,500 residents, will feel the greatest impact. With 4,500 refugees accepted for relocation, Menominee will see its demographics drastically change almost overnight. City leaders in Menominee have agreed to fund a mosque/school for Muslim refugees, utilizing one of the many empty, unused buildings in the downtown area. Volunteers from the United Way will provide care packages and will help refugees adjust to life in small town America.
Local officials, including Mayor Jean Stegeman, debunked the blog's claim. "There's no truth to this," Stegeman said in a statement to WLUK-TV. "Don't believe everything you read on the internet."
In reality, the process of Syrian refugees finding shelter in the United States was much more complicated. As the New York Times reported, more than 1,800 people fleeing the war had entered the country since October 2014; of that group, around 200 settled in Michigan.
In September 2015, Snyder initially said he was working with federal officials and refugee aid groups on the refugee situation. Within days, however, he refused to open his state to the refugees, citing safety concerns in the wake of the terror attack against the offices of the French publication Charlie Hebdo eight months earlier, which caused the deaths of 12 people and injuries to 11 others.
As The Guardian reported at the time, non-government aid was also affected by the reversal, such as an effort by eight investors who bought 120 acres of land in Pontiac, a suburb of Detroit:
Though the project is still in its infancy, Basha and his group have so far won the support of some state and local officials. But the anti-migrant sentiment sweeping the nation trickled down to the local level Monday, following the call by several state governors to establish refugee policies that would discriminate against all Muslims fleeing Syria.

"Oh hell to the no," said Pontiac councilman Randy Carter, when asked by a local TV reporter if he'd welcome refugees to the city. "I'd rather them go someplace else. There's a lot of vacant property someplace else."
As officials in Michigan and other state rejected the possibility of accepting more Syrian refugees, then-Secretary of State John Kerry announced that the U.S. planned to increase overall refugee entries up to 100,000 people a year by 2017. Despite Snyder's resistance, 2,029 Syrian refugees (out of nearly 19,000 overall) would go on to relocate in Michigan by January 2017. Just over 169,000 refugees worldwide were allowed into the U.S. within the same time period.
The "National Report" post would inspire a similarly-shoddy sequel in July 2019 when a "satirical" blog published a post rehashed the claim, saying that "the first wave of Syrian refugees, approximately 2,000 of the expected 4,500, finally reached the Menominee Marina in downtown Menominee, MI."
Update 3/17/2022, 11:47p.m. PST: This article has been revamped and updated. You can review the original here. -ag