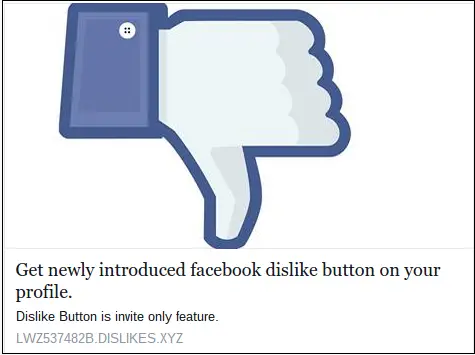 Facebook Users Can Enable "Dislike Button" by Clicking on Link-Fiction!
Summary of eRumor:
Facebook users can click on a link to activate a new "dislike button" that's being offered on the social media site.
The Truth:
Facebook post that encourages users to click a link to active a dislike button is a hoax that could infect your computer with malware.
Many Facebook users have seen a post that says Facebook's new dislike button is an "invite only" feature and they can gain early access by clicking on a link:

Once Facebook users click on the link to supposedly activate the social media site's new dislike button, they're redirected to malicious survey scam websites, the website Hack Read reports:
Once the links are successfully spread on your Facebook, the scam campaign will then ask you to fill out the intrusive surveys in an attempt to gather your personal information as well as asking for your account credentials. All of those would then be used to spam you and your contacts via email.
Some links may also install malware on your computer or spread the malware through your social media accounts. However, we aren't sure if anyone has been infected with a malware through the dislike button scam.
So it is recommended that every user should stay away from these malicious links because they won't be providing you an access to the dislike button.
This is a classic example of scammers seizing on an actual news story to spread malware or steal the personal information of victims. The dislike button scam popped up days after Facebook CEO Mark Zuckerberg announced that the site's engineers were actively working on a dislike feature — but that it probably wouldn't be called "dislike," USA Today reports:
Zuckerberg said Facebook is close to unveiling a button or buttons but it's unlikely to be called "dislike." What will likely happen is that Facebook unveils a "sympathize" button or a series of buttons that convey support or solidarity or express other similarly positive emotions. The giant social network encourages civil interactions among its 1.5 billion users.
Facebook said in an emailed statement: "We have nothing to share beyond Mark's comments today."
The possibility of a "dislike" button popped up last December during another Q&A session. In response to a question, Zuckerberg said: "We're thinking about it."
But he made it clear that Facebook was proceeding cautiously and was not giving the concept of a "dislike" button a thumbs up.
Because there's been so much interest in Facebook's plans for a "dislike" feature, it will probably be used in additional scams. Always visit Facebook's news center for information about the social media site's latest developments to avoid for falling for these scams.