As we have noted before, chain e-mails helped spread their own form of disinformation following the 9-11 attacks in New York City and Washington, D.C. in September 2001.
One of them spread within a month of the attacks, sowing fear of a follow-up incident that October and relayed as an anecdote from a "friend of a friend." The message also contained the rhetorical touch of presenting the writer as being someone who was not fearmongering (even though they were doing just that):
It's always better to be safe than sorry on these things.

Hi All –

I think you all know that I don't send out hoaxes and don't do the reactionary thing and send out anything that crosses my path. This one, however, is a friend of a friend and I've given it enough credibility in my mind that I'm writing it up and sending it out to all of you.

My friend's friend was dating a guy from Afghanistan up until a month ago. She had a date with him around 9/6 and was stood up. She was understandably upset and went to his home to find it completely emptied.

On 9/10, she received a letter from her boyfriend explaining that he wished he could tell her why he had left and that he was sorry it had to be like that. The part worth mentioning is that he BEGGED her not to get on any commercial airlines on 9/11 and to not to go any malls on Halloween.

As soon as everything happened on the 11th, she called the FBI and has since turned over the letter. This is not an email that I've received and decided to pass on. This came from a phone conversation with a long-time friend of mine last night.

I may be wrong, and I hope I am. However, with one of his warnings being correct and devastating, I'm not willing to take the chance on the second and wanted to make sure that people I cared about had the same information that I did.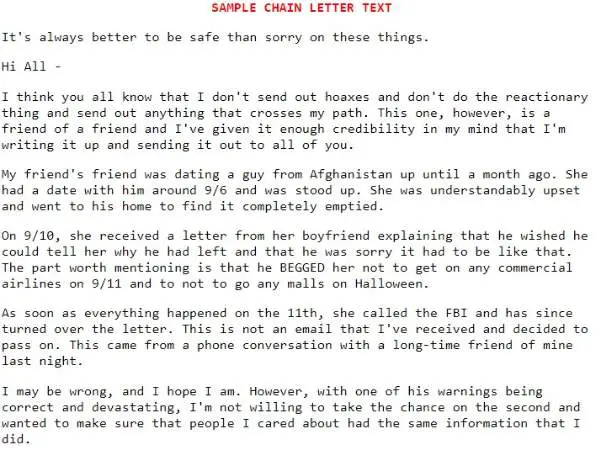 One version of the chain message spread further because a real person attached her name to it. The woman, who lived in California at the time, said she got the warning secondhand from a friend and found it credible enough to pass along. Because it was revealed to be disinformation, however, we are choosing not to identify her.
The message circulated in several iterations, each tweaking the origin point or the details behind the alleged plot: in one version the message came from "a cousin in Pennsylvania;" in another, it is framed as a story from an Afghan man's wife who receives a letter from him saying he is "on a mission" and will never see them again, while also warning them to avoid fast-food restaurants "for the next three weeks."
Yet another version frames the warning around a story about federal agents raiding a beauty salon and "interrogating" a woman whose best friend was dating an Afghan man: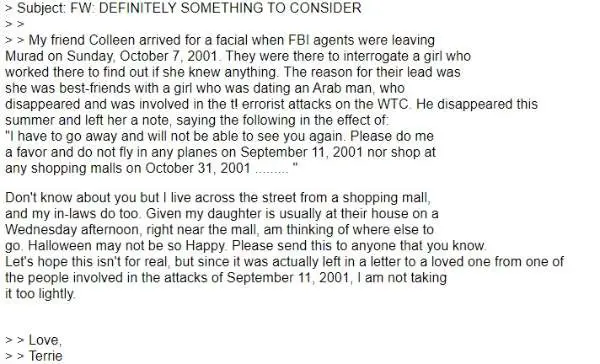 In reality there was no specific warning about an attack against a shopping mall on Halloween 2001, a fact corroborated by Veronique Campion-Vincent in her 2017 book Rumor Mills: The Social Impact of Rumor and Legend.
In many ways, the "shopping mall attack" email was a precursor to right-wing online messages painting Muslims as being on the attack against "Western" holidays, such as the string of posts claiming that video showed Muslims forcibly taking down a shopping mall Christmas tree. In reality, the video was taken at a "tree plundering" event, which has its roots in Christianity.
Update 10/1/2021, 2:55pm: This article has been revamped and updated. You can review the original here.