Save Amina Lawal, a Nigerian woman sentenced to be stoned to death-Truth!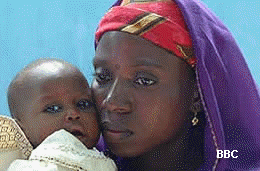 Help Save the Life of Amina Lawal, a Muslim Woman in Nigeria Sentenced to be Stoned to Death for a Pregnancy outside of Marriage –Truth! But Resolved!
Summary of eRumor:
You are urged to help appeal to Nigerian authorities to intervene in a death sentence that's been handed down to a Nigerian woman named Amina Lawal.  Her case has been featured on Oprah Winfrey.  The woman became pregnant out of wedlock and has been sentenced to be stoned under a strict Muslim law adopted by several Nigerian states.
The Truth:

This story is true but Amina Lawal's sentence was overturned and she was freed to live her life and rear her child.and Oprah Winfrey has rallied to her aid.
Amina Lawal was at the time of the trial a 30-year-old divorced woman who was said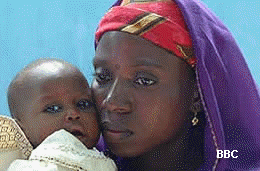 to have confessed to conceiving a child while single.  She was sentenced to death by stoning in March, 2002 in Katsina state under a new law that considers pregnancy outside of marriage as grounds for being convicted of adultery.  According to Amnesty International, she had no lawyer during the trial that resulted in her conviction and sentencing. With the help of attorneys from human rights organizations her case was appealed.  One appeal in August, 2002, upheld her sentence. The alleged father of the child denied having had sex with her and was released.  Aminal Lawal gave birth to her child and her sentence was supposed to be carried out once the baby was weaned.
On September 25, 2003, the judges at the Katsina Sharia Court of appeals gave the decision that freed her saying she had not been caught in the act and had not been given proper opportunity to defend herself.
Last updated 11/7/06
---
A real example of the eRumor as it has appeared on the Internet:

Subject: FW: Mother sentenced to death by stoning

 Subject: Mother sentenced to death by stoning

 No, this is not a horror story from the Dark Ages — this is happening
now. Please use the few moments it takes to read
 this and perhaps sign and send the letter cited below.

 Certain acts are unconscionable. This is one of them. How could it
possibly be just by any law of God or Man to stone a
 woman to death for having a baby out of wedlock?

 YOU can make a difference. WE can make a difference. Please help. Thank
you. Cora
 ———-
 On Oct. 4, 2002, the "Oprah" show devoted its entire hour to the story of
Amina Lawal, a Nigerian woman who has been
 sentenced to death by stoning because she had a baby out of wedlock. She
has tried to appeal the decision but has been
 unsuccessful, thus far. The head of Nigeria disagrees with these stonings
but has so far done nothing-partly because of
 the fear of not being re-elected.

 Amina Lawal's stoning will occur as soon as she is finished nursing her
child. She will be buried up to her neck in dirt
 and townsmen will throw stones at her head until they kill her, which has
been known to take hours.

 It should be noted that the father of the baby denied fathering the child
and hence has escaped any punishment.

 I send out a plea to all women — and to all men who love and were raised
by women — to help prevent this horrific and
 inhumane event from occurring.

 It is this easy: Visit the Oprah website at Oprah.com
http://www.oprah.com/   or http://www.oprah.com

 Click on the Amina Lawal pop up screen on the right side (or search using
Amina's name).

 You will see a pre-written letter addressed to the Nigerian Ambassador.

 Fill out your information at the bottom of the page and send it.

 Done. It's that simple.

 You could go one step further and forward this e-mail to your friends so
they can be part of the mission to save Amina
 Lawal.

 This is your chance to save one woman's life. We can claim ignorance when
doing nothing to stop vicious atrocities that
 we know nothing about from occurring but there is no justification if we
stand by and allow these events to take place
 when we are fully aware of them.

 Now it is up to you. Thank you very much for reading this.