August Has 5 Sundays, 5 Mondays and 5 Tuesdays For the First Time in 823 Years-Fiction!
 
Summary of eRumor:
 
This is a forwarded email that says that the month of August 2010 has 5 Sundays, 5 Mondays, 5 Tuesdays, all in one month and this happens once every 823 years.
Other emails throughout the years allege that other months have similar occurrences of 5 weeks of various days of the week.

The Truth:
This eRumor began in 2010. T
he month of August 2010 did have 5 Sundays, 5 Mondays and 5 Tuesdays but as the years go by and future versions are released onto the Internet we see that this does not happen every 823 years.
The previous occurrence was 1999.
The next time the event will occur will be in 2021.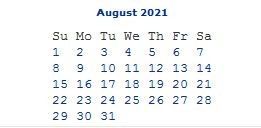 updated 08/19/10