Avoid #GivingTuesday Scams
"Giving Tuesday" or #GivingTuesday posts are all over social media the Tuesday after Thanksgiving, but as is often the case when cash is flowing and donations are a click away, scammers and profiteers have made their way into the donations fray.
When did Giving Tuesday/#GivingTuesday start?
Social media users have likely seen sponsored posts or invites from friends to participate in #GivingTuesday. The first thing you should know is that #GivingTuesday started in 2012, and seems to grow exponentially each year as the public embraces the idea — and as donation technology improves.
Facebook's increasing promotion of its native donation platform ensures the bulk of users have seen a large post in their News Feed, like this: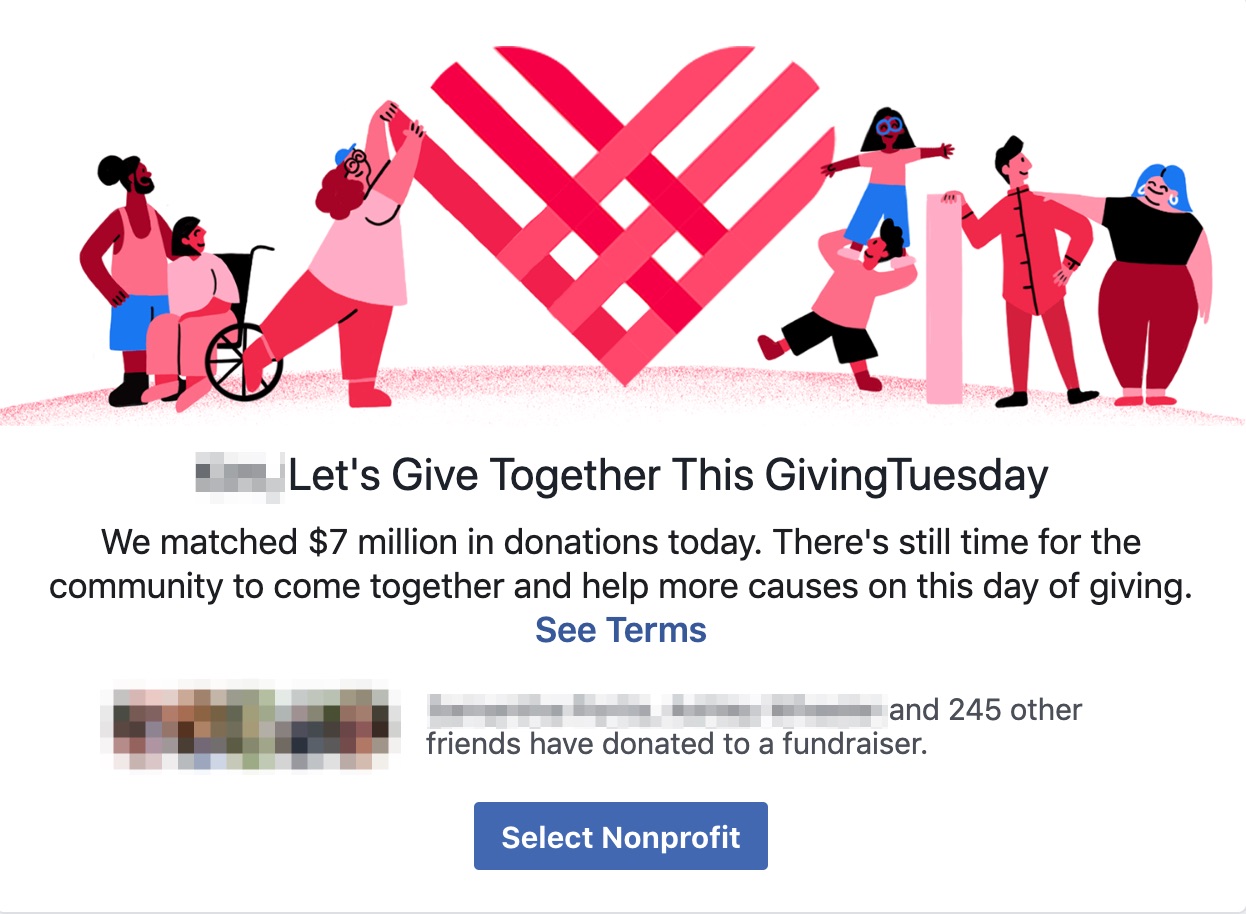 When did Giving Tuesday/#GivingTuesday catch on?
Giving Tuesday continued gaining traction each year after its 2012 introduction, but 2016 was a year of massive growth for the movement:
From cash for classrooms to socks for the homeless, #GivingTuesday broke a record this year as consumers turned their attention to helping others following the shopping frenzy of the Thanksgiving weekend.

A gateway to the flurry of charitable giving that takes place at the end of the year, Giving Tuesday sparked $168 million in charitable donations worldwide, topping last year's tally by 44%. Meanwhile, volunteers pledged thousands of hours to assist their neighbors and those in need.
How can you participate in Giving Tuesday/#GivingTuesday?
According to Giving Tuesday, individuals can give in four ways: time and service, spreading the word, donations drives, or giving to a non-profit charity.
Who should you financially support on Giving Tuesday/#GivingTuesday?
Part of the manner in which Giving Tuesday has evolved is that the concept is fairly free-form, involving acts of good and donations on the part of individuals and businesses with focus on charitable activities.
According to the official #GivingTuesday page, non-profit charities are welcomed, as are organizations "benefiting at least one registered charity":
If you are an official charity (a 501(c)3 in the U.S.) with a specific GivingTuesday initiative, or a for-profit business, school, religious or community group committed to spearheading a project benefiting at least one registered charity, a 501(c)3, then we'd love to have you involved!
The #GivingTuesday FAQ reiterates that non-profits and charities are their focus:
Interested in participating? We'd love to have your nonprofit join the movement! We ask that partners use GivingTuesday as an opportunity to inspire generosity in many ways in their communities. Check out the ideas & examples or download our case studies for inspiration … After you register with us, your nonprofit will be listed on our Participating Organizations page (48-72 hours after you submit the form). Your nonprofit will not receive a profile page on our website. Your listing will link directly to your nonprofit's website. In your outreach, please make sure you're linking directly to your own donation form or website (not to GivingTuesday.org).
Moreover, the site's official FAQ is titled "GivingTuesday 2019 FAQ for Nonprofits," and Facebook's Giving Tuesday page mentions non-profits as recipients: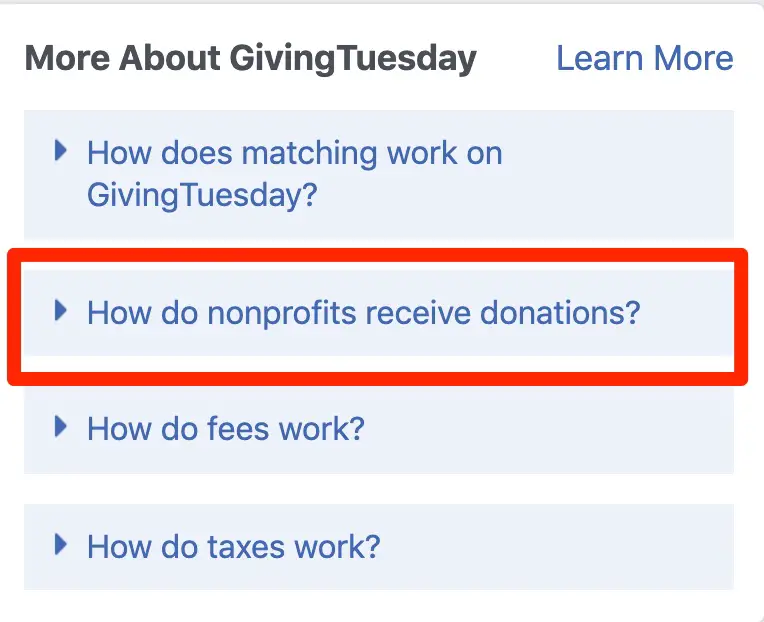 Can for-profit websites and brands participate in Giving Tuesday?
Businesses and other for-profit, non-charitable organizations can also participate on Giving Tuesday. According to a "Brands" section on the site [PDF], for-profit organizations are encouraged to chip in and help.
For-profit websites and brands are urged to donate products, match donations, amplify #GivingTuesday on social media, and use their brand "for good." Specific examples regarding for-profit businesses are available on their site.
Are for-profit businesses and scammers exploiting Giving Tuesday/#GivingTuesday?
Unfortunately, yes. Every Giving Tuesday, the hashtag #GivingTuesday trends and gives visibility to everyone using it — including for-profit organizations, shady GoFundMe campaigns, and others hoping to make a quick buck while generous social media users are in a charitable mood.
The Better Business Bureau's Wise Giving Alliance (give.org) is devoted to ensuring that well-meaning people aren't fleeced by less-than-honest outfits, particularly on days like Giving Tuesday when donations are so common.
In 2019, the BBB's WGA advised those looking to give money on #Giving Tuesday to check the following before participating in any donations drive:
Review the website carefully. A responsible charity will include the following facts on its website: its mission and programs, measurable goals, and concrete criteria that describe its achievements. You should also be able to find information on their finances. Keep in mind, the type of work a charity does will affect its costs.

Be wary of emotional appeals. Marketers have been known to exploit the holidays to make emotional pleas to donors. Instead of making an impulse decision based on emotion, do some research first to verify that your selected charity operates ethically.

Check with state charity officials. In many states, charities are required to register with the office of the attorney general before soliciting. Checking your state's appropriate office is an easy way to detect if an organization is legitimate or not. You can find this information on the National Association of State Charity Officials (NASCO) website.

Avoid charities that don't disclose. Although participation is voluntary, charities that don't disclose any of the requested information to BBB WGA raise a critical red flag for donors. Visit Give.org to find out if your selected charity is nondisclosure.
As noted in the above guidelines, make sure you're giving to a legitimately charitable organization with oversight and transparency, not a for-profit company raking in dividends with a hashtag. The BBB reminds users to not to "assume every organization claiming to do good is a tax-exempt charity." For-profit companies should not be seeking a share of funds intended for charity on #GivingTuesday:
Research tax status. Don't assume every organization claiming to do good is a tax-exempt charity. You can check an organization's tax status with the IRS Tax Exempt Organization Search tool. Also, make sure your contribution is tax deductible.
Finally, the BBB advises everyone to be cautious when it comes to crowdsourcing or other self-administered donations drives, particularly #GivingTuesday-promoted ones — a rule of thumb that is applicable for any crowdsourced funding drive. Ensure that all donations are received and handled by someone other than its beneficiaries, and be wary of ever-increasing goals and never-ending pleas:
…  Some families [or groups] may decide to set up their own assistance funds. Be mindful that such funds may not be set up as charities. Also, make sure that collected monies are received and administered by a third party such as a bank, CPA or lawyer.

Crowdfunding: Anyone can set up an account. Make sure you know where the money is going and that a third party (such as a bank or attorney) is overseeing the effort. Remember that, although vetting of crowdfunding sites has increased, scams still can easily exist.

… Transparent organizations will post this information on their websites so that anyone can find out and not have to wait until the audited financial statements are available sometime in the future.
GoFundMe campaigns and Giving Tuesday/#GivingTuesday
After one high-profile GoFundMe scam was uncovered in 2018, the Federal Trade Commission (FTC) once again warned people against campaigns designed to emotionally manipulate generous social media users:
Charitable donors, beware this holiday season: not all online crowdfunding campaigns are legitimate, even if they come with a heartbreaking story …

… Ask specific questions, including "Why are they raising money?" and "What exactly will this money be used for?" Scammers "make lots of vague and sentimental claims but give no specifics about how your donation will be used," the FTC warned.
In their own page on charity scams, the FTC again warned of emotional appeals, indicating scammers "make lots of vague and sentimental claims but give no specifics about how your donation will be used."
As MarketWatch explained in 2018, non-profits and charities rarely — if ever — use GoFundMe or similar platforms. Legitimate charitable organizations typically qualify for specific charitable giving platforms, or maintain a native function to receive donations:
Established charitable organizations won't usually use crowdfunding platforms, and instead create their own funds on their own websites to raise money.
GoFundMe commented on that report, adding:
Still, GoFundMe cautions donors to ask themselves a few questions if they question the validity of the campaign, such as "Does the GoFundMe include intentionally misleading or factually incorrect information?"
In short, Giving Tuesday/#GivingTuesday has proven to be a force for good on social media, directing millions of charitable dollars and good works to worthy recipients. Like any viral social media effort, scammers and for-profit businesses occasionally hijack the campaign to line their pockets. Most legitimate campaigns are organized by non-profit charities (or businesses raising money on their behalf), registered and subject to oversight. Avoid emotional appeals, GoFundMe or crowdsourcing, and non-charitable organizations when it comes to Giving Tuesday.