On December 9 2019 — just days before a hotly contested and high-stakes general election on December 12 — British news organizations were apparently taken in by a disinformation effort as they spread a false accusation against protesters outside of a hospital in an ongoing national discussion about the future of the country, which includes the state of its currently cash-strapped national health care system.
Footage shows demonstrators trailing Matt Hancock, the British secretary of state for health and social services as he makes his way to his car, which did happen. But then social media accounts began circulating the bogus claim that one of the protesters attacked Hancock's advisor, Jamie Njoku-Goodwin:
This never happened. Are you going to apologise in full and stop amplifying Tory claims without checking first? pic.twitter.com/46IkWeskiY https://t.co/OH3JHJUXcm

— Owen Jones???? (@OwenJones84) December 9, 2019
According to an analysis by Marc Owen Jones, a digital humanities professor at Hamad bin Khalifa University in Qatar, the claim's online traction amplified when it was picked up by two journalists: BBC reporter Laura Kuenssberg and Robert Peston, the political editor for the ITV network.
"It was @MattHancock's adviser [Njoku-Goodwin] who was whacked in the face by a protestor as he tried to help Hancock into his car outside Leeds General Hospital. Police on scene," Peston wrote. "All sounds very unpleasant."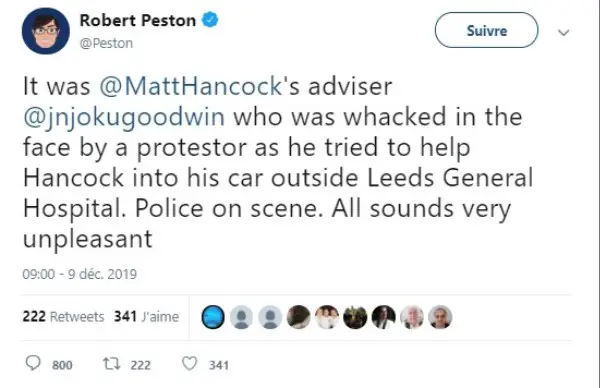 Both Kuenssberg and Peston deleted their original tweets. Peston later clarified that his initial reporting was based solely on statements from members of Hancock's conservative Tory Party. Similarly, Kuennsberg said of the incident, "2 sources suggested it had happened."
Ireland-based news site TheJournal.ie observed that initial rumors about the punch were quashed by local police:
West Yorkshire Police posted a tweet at 5.31pm to say they were aware of information circulating on social media regarding an alleged incident but they were "unaware of any reports of this nature".

In a video then shared by Kuenssberg just after 5.33pm it is clear that no punch is thrown and the advisor walks into a man's outstretched arm. The man in question had angrily accused the Tories of underfunding the NHS and said they'd "absolutely devastated the country".

In her tweet with the video, Kuenssberg said: "Have video from Hancock leaving Leeds General just come through so you can see for yourself — doesn't look like punch thrown, rather, one of Tory team walks into protestor's arm, pretty grim encounter."

Peston later tweeted that it was "completely clear" from the footage that Hancock's advisor was "not whacked by a protester, as I was told by senior Tories". He added an apology for "getting this wrong".
Buzzfeed reporter Mark Di Stefano also posted screenshots of other journalists spreading the false account:
This is really bad. pic.twitter.com/yxY8HaeEIg

— Mark Di Stefano ???????? (@MarkDiStef) December 9, 2019
The Daily Telegraph's associate editor. pic.twitter.com/BigmCa8rAs

— Mark Di Stefano ???????? (@MarkDiStef) December 9, 2019
"Unless there's more video somewhere about to emerge, every reporter who took the bad briefing should clearly retract and apologise. It's farcical," Di Stefano wrote.
The apparently coordinated disinformation effort surrounding the Leeds encounter came amid the latest round of criticism against Tory Prime Minister Boris Johnson for his conduct during an interview with ITV reporter Joe Pike that same day about a story concerning the treatment of 4-year-old Jack Williment-Barr at a local hospital.
The boy received media coverage after his mother took a photograph of him sleeping on a pile of coats on the hospital floor while being treated for possible pneumonia on account of a lack of beds in the facility. His mother said that it took five hours for her son to receive a bed, an experience that would lead her to vote for the Labour Party in the country's upcoming election.
Footage of an interview with Prime Minister Boris Johnson shows him refusing to look at a photograph of Williment-Barr. After Pike mentions that the prime minister took his phone and put it in his jacket pocket, Johnson relents and looks at the photo before saying, "It's a terrible, terrible photo and I apologise obviously to the family and those who have terrible experiences in the NHS."
Tried to show @BorisJohnson the picture of Jack Williment-Barr. The 4-year-old with suspected pneumonia forced to lie on a pile of coats on the floor of a Leeds hospital.

The PM grabbed my phone and put it in his pocket: @itvcalendar | #GE19 pic.twitter.com/hv9mk4xrNJ

— Joe Pike (@joepike) December 9, 2019
Williment-Bar was diagnosed with flu and tonsillitis and released from the hospital within 24 hours. Health secretary Matt Hancock also apologized for the treatment the child received during his visit.