Social Media Amplifies Conspiracies Targeting Biden Before First 2020 Debate
Hours before the first presidential debate on September 29 2020, right-wing operatives and blogs spewed several conspiracy theories that were only amplified, as per usual, on social media platforms that otherwise claim to fight disinformation.
"There has been an explosion of political disinformation ahead of tonight's debate," CNN political reporter Marshall Cohen observed on Twitter. "This garbage can be traced back to QAnon posts and well-known conspiracy theorists. Yet these lies are spreading like crazy on Facebook right now — and are finding a home with right-wing outlets."
The unfounded allegations targeting Democratic Party nominee Joe Biden were spread by outlets sympathetic with U.S. President Donald Trump, including claims that  he "asked for an earpiece" as well as the opportunity to take several breaks during the ninety-minute debate.
As reporters pointed out, this claim originated in a story by the New York Post and was originally attributed to an unidentified source within the Trump campaign before spreading online in part thanks to the right-wing blog Breitbart, which is included as part of Facebook's "News" service despite a history of links to white nationalists:
The Biden earpiece conspiracy theory (which originated in a tweet from a single anonymous source to a NYPost reporter, and was instantly denied by the campaign) is everywhere on Facebook. Absolutely everywhere. pic.twitter.com/AIdXoy4ZIi

— Ben Collins (@oneunderscore__) September 29, 2020
REMINDER: Breitbart is considered by Facebook to be a "trusted news source" and is, therefore, included in the Facebook news tab

Here is a Breitbart article about tonight's debate based on the latest QAnon conspiracy theory

It's been shared 3K times on Facebook in one hour pic.twitter.com/0JyPnkSJYm

— Judd Legum (@JuddLegum) September 29, 2020
As the New York Times reported:
President Trump's re-election campaign sought to cast doubt on the integrity of the debate even before it began, putting out a statement on Tuesday claiming that the Biden campaign had reversed its decision to allow a "pre-debate inspection for electronic earpieces" and that his campaign had asked for "multiple breaks during the debate."

The Biden campaign denied the accusations.

Mr. Trump's staff "seems concerned that he will not do well tonight, and they're already laying the groundwork for how they're going to lie about why," Kate Bedingfield, a Biden deputy campaign manager, said during a pre-debate call with reporters. "It is completely absurd. Of course he is not wearing an earpiece, and we never asked for breaks."
Bedingfield then countered with an accusation of her own.
"If we're playing that game, then you know, the Trump team asked that Chris Wallace never mention the number of Covid deaths once during the debate," she told reporters. "You can consider that confirmed from the Biden campaign. See how easy that was to try to throw up a distraction? It is pathetic, it's weak."
The New York Times noted, "the Biden campaign declined to say if she was serious; the Trump campaign said the claim was untrue."
The questionable and apparently coordinated allegations come amid an ongoing series of reports laying out years of tax avoidance and financial debt by the president, as well as the lifeline he received after being asked to star in the reality show "The Apprentice." The newspaper also reported:
In response to a request for comment, a White House spokesman, Judd Deere, did not dispute any specific facts. Instead, he delivered a broad attack, calling the article "fake news" and "yet another politically motivated hit piece full of inaccurate smears" appearing "before a presidential debate."
As a Washington Post analysis showed, the "earpiece" conspiracy theory itself has resurfaced in several elections, most often used in order to sow doubts about candidates' ability to hear or answer questions without outside help:
In 2004, some Democrats insisted that a weird puckering in George W. Bush's suit jacket was an indicator of a hidden earpiece — as much a marker of an era before small, wireless, in-ear devices were possible as anything. In 2008, the same claim about Barack Obama. In 2016, the allegation was leveled against Hillary Clinton. Over and over, this assertion that one side (generally the Democrat) is cheating his or her way to success.
A Facebook search for "Joe Biden earpiece" shows that both this claim and similarly questionable claims that Biden has used an earpiece in the past have continued to spread across the platform as both a link to "reports" and memes: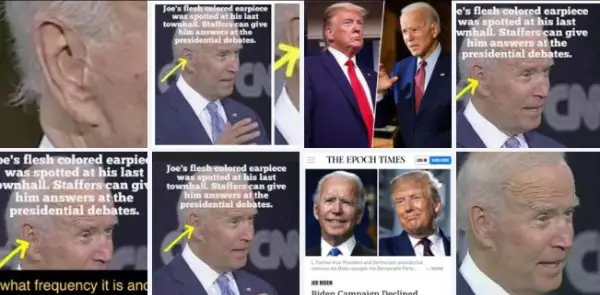 We contacted both the Commission on Presidential Debates, which oversees the debate process, as well as Facebook seeking comment on these claims. Neither party has responded.
The spread of the "earpiece" claim overshadowed an attempt by another far-right radio host, Todd Starnes, to gin up his own anti-Biden conspiracy. Starnes claimed that according to "word on the street," Biden had already been given the questions that moderator Chris Wallace planned to ask both candidates.
Starnes' source, however, could be traced back to allegations made on an Iowa radio station by longtime conspiracy theorist Jerome Corsi, a former ally to right-wing operative and Trump advisor Roger Stone. (Trump issued a clemency order for Stone in July 2020 sparing Stone from serving prison time after being convicted of lying to Congress.)
In reality, the commission released the topics that would be covered in the debate on September 22 2020. Commission co-chair Frank J. Fahrenkopf, Jr. has told CNN that his group did not expect Wallace to fact-check either Biden or Trump during the debate.
The torrent of questionable claims also follows a failed attack line by Trump himself, who has claimed — without evidence, as is his custom — that Biden was taking performance-enhancing drugs. Trump went so far as to demand that Biden submit to a urine test prior to the debate. While Biden himself ignored the demand, Bedingfield responded in a statement.
"Vice President Biden intends to deliver his debate answers in words. If the president thinks his best case is made in urine he can have at it," she said. "We'd expect nothing less from Donald Trump, who pissed away the chance to protect the lives of 200K Americans when he didn't make a plan to stop COVID-19."