Did Budweiser Stop Advertising with the NFL Because of Protests Against Racism?
Claim
Budweiser pulled its advertising and withdrawn its support for the National Football League in 2017 over the league's handling of players protesting police brutality by kneeling during the National Anthem.
Like this fact check?

Reporting
Perhaps looking for validation or for a corporation to "represent" them, right-wing social media users coalesced in late September 2017 around the rumor that the Budweiser beer brand had pulled its advertising from National Football League (NFL) broadcasts.
The message, which resembled a meme as it spead, was two sentences in all-capital letters: "BUDWEISER JUST PULLED OUT OF THE NFL !!! THE NAIL IN THE COFFIN !":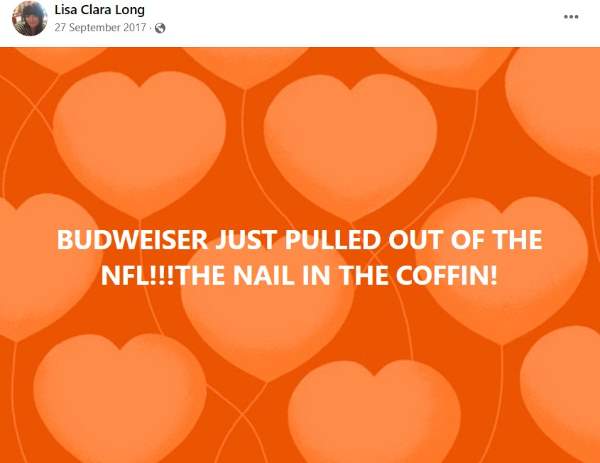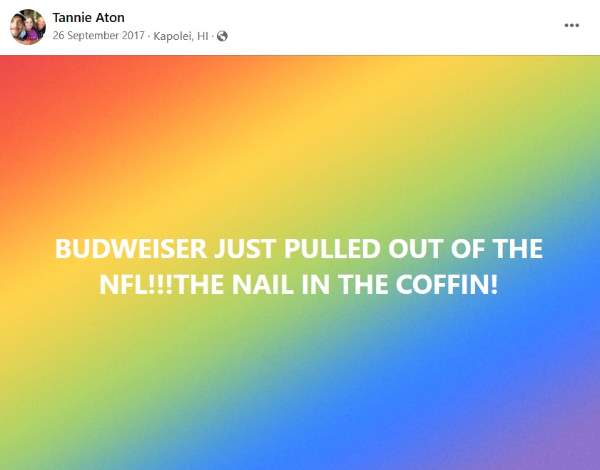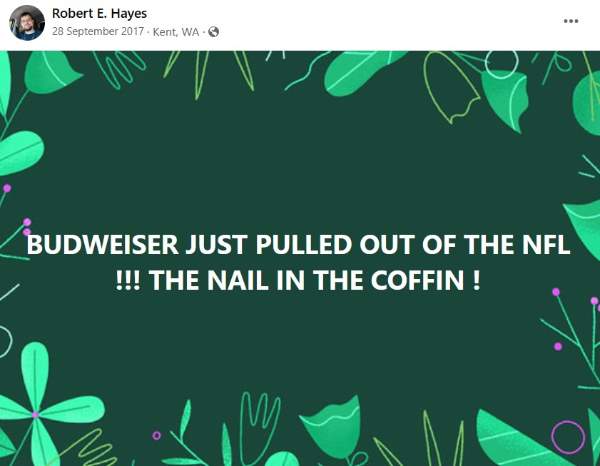 The Louisiana-based Schilling Distributing Company did pull Bud Light displays featuring the New Orleans Saints from local retailers, citing what it called "negative attention" directed toward the NFL.
But Budweiser did not take any similar action, as its parent company Anheuser Busch InDev said in a statement:
We have many long-term sports partnerships, including our NFL sponsorship, and while we may not agree on everything, we still believe in the power of sport to bring people together and overcome their differences. We have no plans to end our NFL sponsorship.
The posts spread after the league's games on September 24 2017 — the day after a reported 204 players on various teams either took part in unity displays or kneeled during the playing of the U.S. national anthem, a rebuke to then-President Donald Trump and his raging dismissal of previous protests against police brutality. As USA Today reported at the time:
Several players from the Oakland Raiders, Buffalo Bills, Denver Broncos, New York Giants, Detroit Lions, New England Patriots, New Orleans Saints and Atlanta Falcons were among those who chose not to stand for the anthem. The Miami Dolphins, Tampa Bay Buccaneers, Minnesota Vikings, Philadelphia Eagles, Chicago Bears, Indianapolis Colts, New York Jets, Los Angeles Chargers, Green Bay Packers and Washington Redskins stood with arms locked, though some players from those teams chose to kneel.
Some Dolphins players wore shirts bearing the message "#IMWITHKAP," a reference to Colin Kaepernick, the former NFL quarterback who originated the kneeling protests a season earlier.
"I am not going to stand up to show pride in a flag for a country that oppresses Black people and people of color," Kaepernick said at the time. "To me, this is bigger than football and it would be selfish on my part to look the other way. There are bodies in the street and people getting paid leave and getting away with murder."
As the 2016 NFL season progressed without Kaepernick in the league, other players engaged in their own demonstrations during the anthem:
Roundup of #NFL players participating in protests on Sunday. pic.twitter.com/ToDpZYod7z

— Jordan Heck (@JordanHeckFF) September 12, 2016
On September 22 2017, Trump seized on his supporters' anger toward the protests.
"Wouldn't you love to see one of these NFL owners, when somebody disrespects our flag, to say, 'Get that son of a bitch off the field right now," Trump said during a public appearance in Alabama. "Out. He's fired. He's fired!"
After the players' protests, however, Trump backpedaled.
"This has nothing to do with race," said Trump, whose history is littered with racist behavior. "I never said anything about race. This has nothing to do with race or anything else. This has to do with respect for our country and respect for our flag."
As protests against extrajudicial killings have continued around the U.S. — in and out of sporting events — Kaepernick has not resumed his NFL career. In June 2020 the league's commissioner, Roger Goodell, said in a statement that the NFL's initial response to the protests was wrong.
"We, the NFL, condemn racism and the systematic oppression of Black People," Goodell claimed. "We, the NFL, admit we were wrong for not listening to NFL players earlier and encourage all to speak out and peacefully protest. We, the NFL, believe Black Lives Matter."
In September 2023, a former journalist for the NFL's in-house television network, filed a lawsuit accusing the league of firing him for expressing concerns over racial equity within the league.
"The NFL has claimed it wants to be held accountable regarding diversity, equity and inclusion. I tried to do so, and it cost me my job," Trotter said in a statement. "I'm filing this lawsuit because I can't complain about things that are wrong if I'm unwilling to fight for what is right."
Update 9/22/2023, 2:36 a.m. PST: This article has been revamped and updated. You can review the original here. — ag