Central Casting Criticized For Demanding 'Recordings' of Actors' Likenesses
As screenwriters and actors continued striking for better residual pay and working conditions in August 2023, the largest Hollywood casting agency for background talent came under heavy criticism for reportedly expecting its roster of performers to sign over the rights to their likeness for use in unspecified "recordings" in perpetuity.
The demand from Central Casting gained attention after a casting agent, Alexis Allen Winter, posted videos online highlighting part of the casting agreement that the agency requires talent to sign before joining their roster of background actors. Without signing the agreement, actors seeking work as extras cannot go through the agency. The document read:
I authorize Central Casting to photograph, video tape, or use any other electronic method of recording my image, appearance, likeness, voice, or actions (collectively, "Recordings") to be used at Central Casting's discretion in any medium, including, without limitation, company-provided publications and web sites.

I grant Central Casting the unrestricted right to make, copyright, re-use, or publish Recordings in which I may be included, in whole or in part, and waive any right to inspect or approve the finished medium incorporating any Recordings.

I release and agree to hold harmless Central Casting from any liability for any legitimate use and publication of such Recordings and waive any personal or proprietary right I may have in connection with such use. I understand that all such Recordings, in whatever medium, will remain the property of Central Casting. I waive any right to compensation of any nature in connection with the Recordings.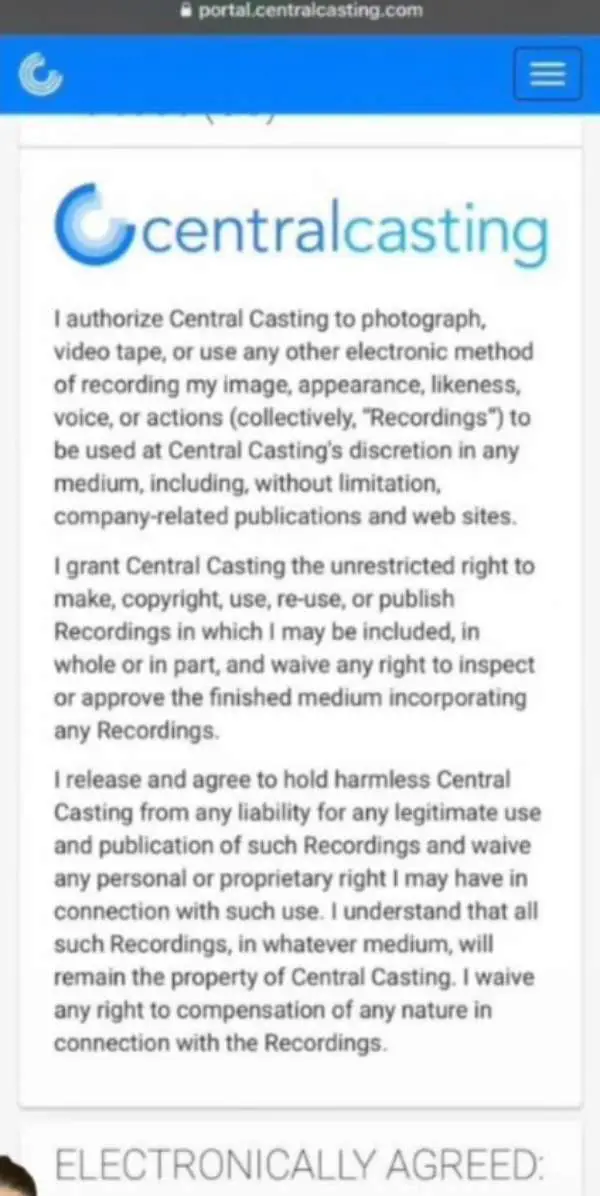 The reference to "any other electronic method" of recording an actor's likeness, voice, and other physical characteristics is a coded reference to so-called "artificial intelligence" technology; on July 13 2013, the Screen Actors Guild-American Federation of Television and Radio Artists (SAG-AFTRA) raised the same issue in criticizing the Alliance of Motion Picture and Television Producers (AMPTP), saying that what the AMPTP described as innovation was actually a factor in SAG-AFTRA joining the Writers Guild of America (WGA) on strike.
"They proposed that our background performers should be able to be scanned, get one day's pay, and their company should own that scan, their image, their likeness and should be able to use it for the rest of eternity, in any project they want with no consent and with no compensation," SAG-AFTRA chief negotiator and national executive director Duncan Crabtree-Ireland said at the time.
Winter said that while SAG-AFTRA has contacted the agency, Creative Casting has refused to alter the document.
"Most background actors are not union, they have no protection, and are super inexperienced, don't have an agent; don't have any support; and they're super vulnerable to companies like this who know that these actors don't know any better," she said, as she urged talent not to sign the agreement. "Even then a lot of SAG actors were signing it because they needed it to get work in order to meet their health insurance minimums."
While SAG-AFTRA did not respond to our request for comment, actress and SAG-AFTRA national board member Frances Fisher confirmed that the union has not approved Central Casting's use of the "recordings" requirement.
Central Casting did not return a request for comment.