Chick-fil-A Honors Military With Missing Man Table-Mostly Truth!
Chick-fil-A Honors Military With Missing Man Table-Mostly Truth!
Summary of the eRumor:
A picture of a "missing man table" set at a Chic-fil-A restaurant to honor military heroes has gone viral.
The Truth:
It's true that one Chic-fil-A stores in Atlanta honored fallen military heroes by setting a Missing Man table, but that's not a franchise-wide policy.
Reports of Chic-fil-A's missing man table began spreading in November 2015. A customer at Chic-fil-A in Marietta, Georgia, named Eric Comfort posted a photo of the missing man table at the restaurant on Facebook, and it quickly went viral: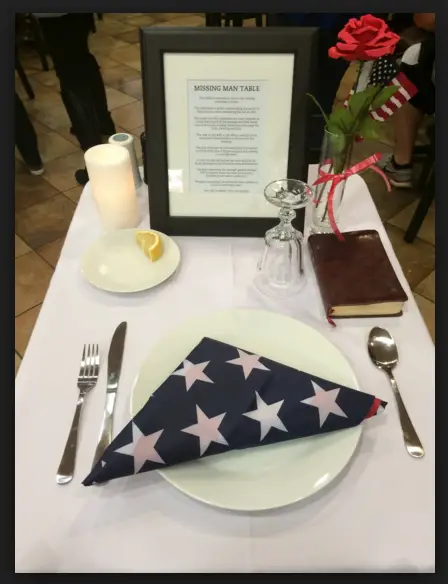 Alex Korchan, store manager of the Marietta Chic-fil-A, told an Atlanta news station that Missing Man tables would appear at locations throughout the Atlanta market:
Store manager Alex Korchan said the table, which features a letter and folded American flag and place setting for the veteran, is just part of the way the store is honoring veterans.
 "Our team just decided we wanted to honor veterans and do a setup honoring military," Korchan said.
On Wednesday, which is Veterans Day, Chick-fil-A will offer a free meal to veterans and their immediate families from 5 to 8 p.m.
Korchan said the whole Atlanta market for Chick-fil-A is doing military appreciation in some way.
So, it's true that Chic-fil-A locations in Atlanta set Missing Man tables to honor fallen veterans in November 2015. But it's not a companywide policy to do that. That's why we're calling this one "mostly truth."