Comparing the Cost of Insulin Pens in the United States with Other Countries
Claim
A graphic listing "Insulin Prices" accurately compares prices for the medication in the US to that of other countries.
Like this fact check?

Reporting
A graphic spreading online apparently attempts to advocate for people with diabetes by listing several claims related to the price of insulin pens in the United States and other countries: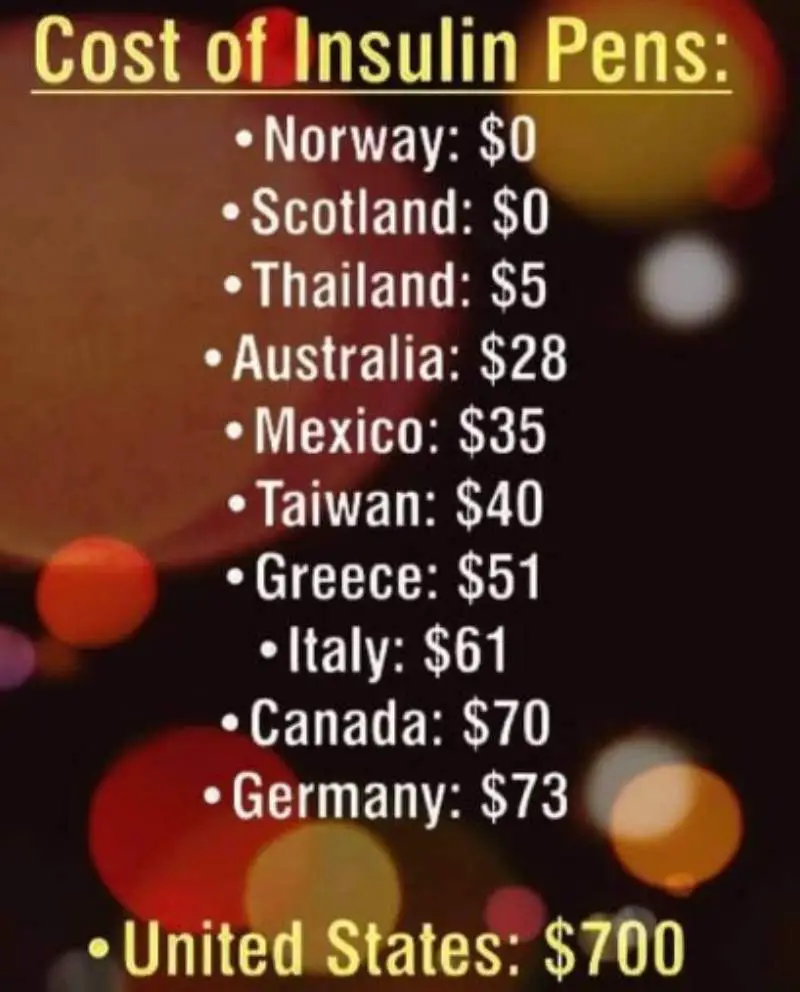 "I think this is a real problem, so there's no need to exaggerate it," said Diana Isaacs, a spokesperson for the American Association of Diabetes Educators (AADE). "When you put something out there that's not true it does take away from the awareness of it."
The graphic lists no sources or insulin pen brands but still lists purported costs (presumably out-of-pocket) of similar products:
Norway: $0
Scotland: $0
Thailand: $5
Australia: $28
Mexico: $35
Taiwan: $40
Greece: $51
Italy: $61
Canada: $70
Germany: $73
United States: $700
Isaacs, who is also a clinical pharmacy specialist at the Cleveland Clinic Diabetes Center, told us that in the United States, the price of insulin will vary for people living with diabetes, depending on whether they have insurance and other factors.
"That does hold true, and that is true. We do have people that are dying because they can't afford their insulin," she said. "This graphic makes a very important point — the point of it is true; it's just a bit exaggerated."
Some of the figures listed in the graphic were listed without citation from a story published in the Minneapolis Star-Tribune in December 2018 about state lawmakers convening a discussion with people with diabetes and parents of minors also managing the disease:
"We spend more time struggling with insurance companies and struggling with pharmacies," said Lija Greenseid of St. Paul, whose 12-year-old daughter is diabetic.

Two years ago Greenseid learned just how much cheaper insulin is in other countries when her family traveled internationally. A box of insulin pens, for example, cost just $40 in Taiwan, $65 in Canada, $50 in Greece and $61 in Italy, she said. They saved so much money on insulin that it helped finance the trip.
However, the story does not list any sources for the prices Greenseid mentioned.
The rising cost of insulin in the United States has been well-documented; a report published by Reuters in January 2019 showed that the cost of insulin for Type 1 diabetes patients almost doubled between 2012 and 2016. A month later, the news outlet France24 reported that according to a study by researchers at Yale University, one in four people living with diabetes are now rationing their insulin.
Other news reports have focused on patients traveling to Canada or Mexico in order to purchase their insulin at more reasonable prices than they would find in the United States. However, as with many memes, this graphic distills the complexity of the United States' health care system into oversimplified costs.
The AADE maintains a list of programs available to people in the US with diabetes that can offer help paying for their insulin.
8/26/2019, 3:21pm: Edited story for clarification purposes. You can find the previous version archived here.