Did a Man 'Die Twice' From COVID-19?
Claim
News outlet falsely reported a man's death twice in connection with the COVID-19 pandemic.
Like this fact check?

Reporting
Conspiracy-hungry social media users possibly itching for a chance to slam what they call "fake news" shared a morbid attempt at a joke on Facebook — and in doing so, ended up making light of an actual death resulting from the COVID-19 pandemic.
The meme — a composite of photographs taken from two stories on the death of Lenard "Lenny" Wells in March 2020 — is accompanied by the following commentary: "Corona is so bad this guy died twice!"
At least one iteration of the meme was posted on Facebook by a user named Tim Hicks, and subsequently shared more than 600 times, prompting a predictable round of cynical comments: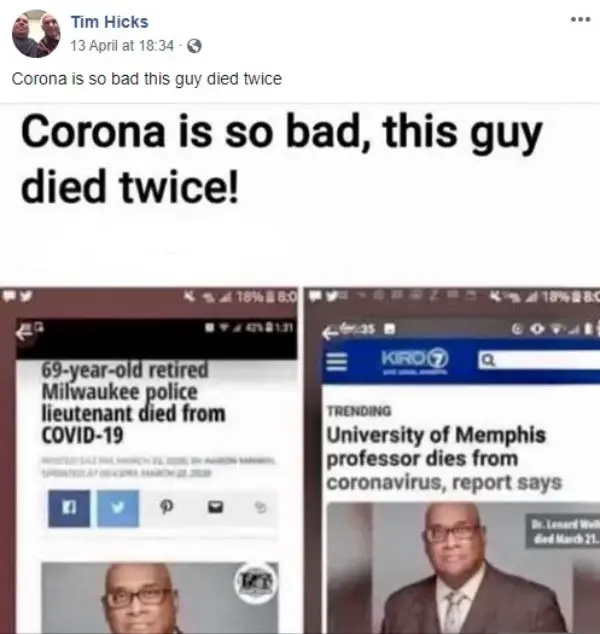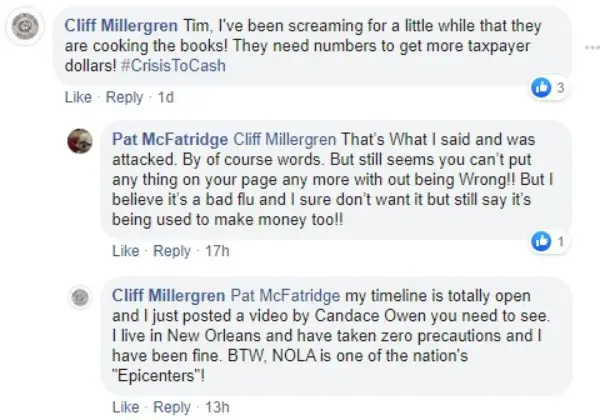 Another iteration, which has been shared more than 200 times on the platform, is accompanied by an even more dismissive caption: "The BS is deep."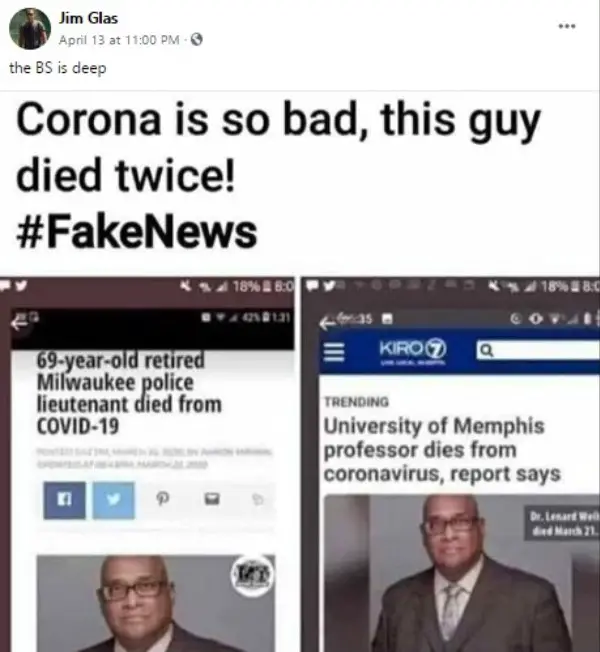 The graphic was also spread by at least one Twitter user with more than 3,000 followers, though their post has failed to generate much traction on that platform. But whether because of malice or outright ignorance, the users pushing the meme ignored that Wells, who died on March 21 2020, was a member of the Milwaukee Police Department for 27 years before becoming a faculty member at the University of Memphis. As the Milwaukee Journal-Sentinel reported:
Wells' career began in May 1973 when he was part of the first recruit class under a federally mandated affirmative action program.

Nine other minorities, including a woman, were among the 65 people in his class — breaking racial and gender barriers at Milwaukee Police Department, he told the Journal Sentinel in 2001.

After a year on the job, he was promoted to the Vice Squad, where he made hundreds of busts as an undercover officer, before continuing on to work in Traffic Enforcement Division and later as a district shift commander and as a detective.

In 1989, Wells became president of the League of Martin, a volunteer position.

Throughout the next decade, he mentored countless officers, helping prepare them for promotional exams and encouraging them to pursue higher education — as he did. Wells earned his bachelor's degree in psychology and a master's degree in public administration from the University of Wisconsin-Milwaukee while working full-time.
Wells joined the Memphis faculty in 2013, teaching in the department of Criminology and Criminal Justice. A local news outlet, the Daily Memphian, shared a message from the department's chair, KB Turner, to Wells' colleagues.
"Dr. Wells was an insightful instructor, a researcher and a supportive colleague in the department," Turner wrote. "Many students benefited from his leadership as he worked tirelessly in creating the 'Mock Crime Scene' and perfecting the 'Mock Law Enforcement Interview Board.' It was a rarity not to observe students in his office seeking his sage advice."