A newly-created Twitter account's unsubstantiated claim was still shared widely on the platform by readers perhaps dreading the long-term ramifications of the COVID-19 pandemic on Los Angeles and New York City.
Touting it as "BREAKING NEWS," the user — who registered on the platform in March 2020 — claimed that the two cities "just announced that there will be no more concerts or professional sports in 2020."
Regardless of the lack of citations or proof for their argument, the tweet was shared more than 800 times and highlighted by more than 3,000 other accounts: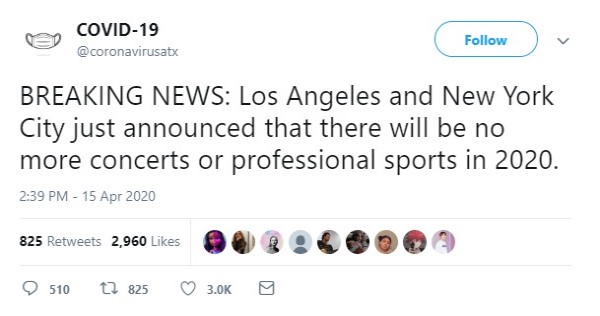 The tweet might have been a distorted version of comments Los Angeles Mayor Eric Garcetti made in an interview with CNN on April 16 2020. Rather than issue an order barring concerts or sporting events, the mayor acknowledged that large gatherings of that type would be unlikely to be held until 2021.
"It's difficult to imagine us getting together in the thousands anytime soon," Carcetti said. "I think we should be prepared for that this year."
A day earlier, the Los Angeles Times reported that Garcetti raised the issue during a meeting with city officials that included Fire Chief Ralph Terrazas. Both the department and the mayor's office confirmed the report.
"The mayor was generally referencing studies of current and historical data and best practices for safely reopening our economy," said Alex Comisar, a spokesperson for Garcetti.
Similarly, New York City Mayor Bill de Blasio did not order a widescale cancellation of events, but he told CNN:
I've got to see in my city real, steady progress, even to start to think about relaxing some of those social distancing standards even a little bit. I want to get people back to work, of course. I want to get kids back to school. But I think it will take months to go through that whole sequence. And the last thing I want to do is gather 10,000, 20,000, 50,000 people in one place. That's like the exact opposite of social distancing.
While President Donald Trump has said that he wants the United States economy to reopen in May 2020 — and falsely claimed that he had "total authority" to do so — California Gov. Gavin Newsom announced on April 14 that he had developed a plan, alongside his counterparts in Oregon and Washington, allowing for a gradual easing of social distancing guidelines that allowed for stricter measures as determined by individual municipal governments. He did call the possibility of holding large public events "negligible at best" before a vaccine for the disease was available.
A day earlier, governors in seven East Coast states including New York announced their own plan to collaborate on re-establishing their local economies.