Crowder and Shapiro Student Loan Forgiveness-PPP Controversy
Claim
Twitter pundits criticized student loan forgiveness in August 2022, but received PPP "loans" (later forgiven, i.e., not paid back).
Like this fact check?

Reporting
As social media anticipated an August 23 2022 announcement on student loan forgiveness from the Biden administration, right-wing Twitter pundits like Steven Crowder and Ben Shapiro criticized the move.
The next day, multiple news outlets reported that United States President Joe Biden had disclosed the details of a long-awaited plan to cancel student loan debt for $10,000 to $20,000:
President Biden said [on August 24 2022 that] he is forgiving up to $10,000 in federal student loan debt for millions of Americans and an additional $10,000 for low-income borrowers while extending a pause on monthly payments, delivering long-awaited relief just weeks before the midterm elections [in November 2022].

Under the plan, which the president unveiled on Twitter, borrowers earning less than $125,000 a year, or couples earning less than $250,000 a year, will be eligible for up to $10,000 in loan forgiveness. Recipients of Pell Grants, which are given to students with the greatest financial need, are eligible for another $10,000 in relief.
There were similar discussions and controversies about the government's pandemic-related Paycheck Protection Program, or PPP. In previous fact checks, we examined instances where critics of "government handouts" were found to have applied for and received PPP "loans," funds disbursed (and later forgiven) by the federal government in 2020 and 2021.
On August 23 2022, a Facebook page shared an image that showed a tweet by Ben Shapiro condemning student loan forgiveness — alongside a reply tweet referencing PPP funds from the federal government that Shapiro had apparently applied for and received: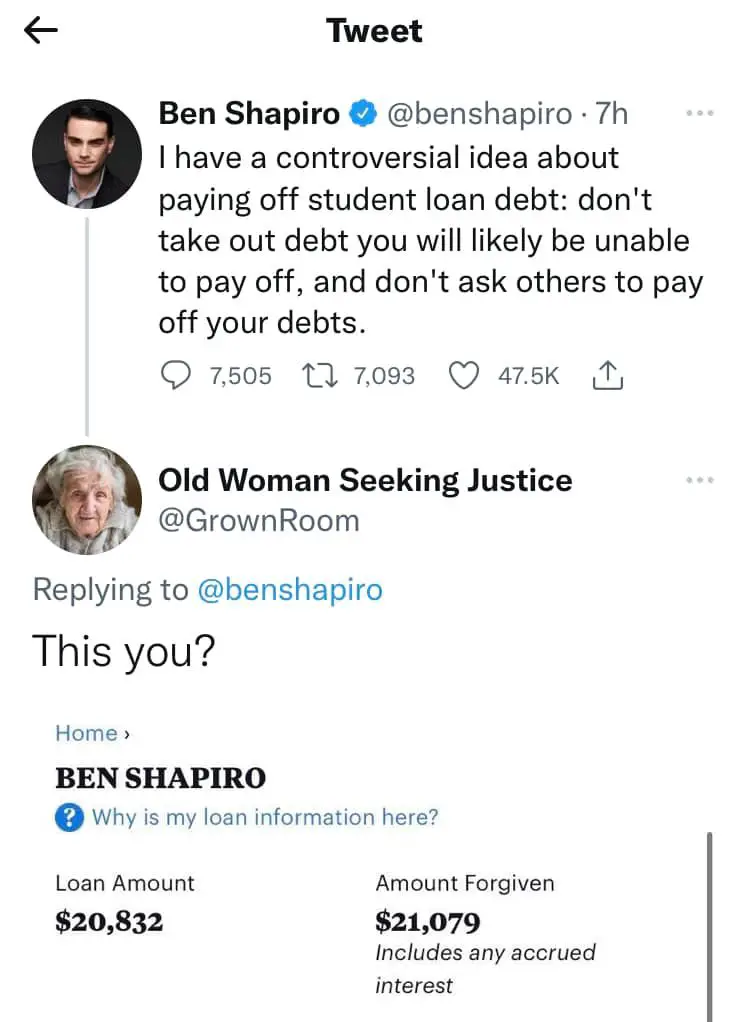 Shapiro's tweet from the Facebook screenshot was real; some tweets attributed to him in the past have been fabricated, but not this one:
I have a controversial idea about paying off student loan debt: don't take out debt you will likely be unable to pay off, and don't ask others to pay off your debts.

— Ben Shapiro (@benshapiro) August 23, 2022
A separate account shared a screenshot suggesting that Shapiro received funds as a loan he didn't have to repay:
— Libras of TikTok (@librasoftiktok) August 23, 2022
A similar screenshot on Twitter suggested that fellow right-wing pundit Steven Crowder also accepted PPP money. That reply, similarly, was a response to Crowder's condemnation of the Biden administration's decision to forgive some student loan debt:
Which one are you then? pic.twitter.com/YDDkyj6ThW

— Truther Dare (@truther_dare) August 23, 2022
Both Crowder and Shapiro genuinely tweeted the respective critical tweets seen in the two-part screenshots, receiving replies accusing both of applying for and receiving PPP funds. ProPublica created and hosted a searchable database of all PPP loan disbursements, making it simple to determine recipients and amounts received.
In that database, one entry existed for an individual "Ben Shapiro" of Los Angeles, where Shapiro lives. The Ben Shapiro in the database received $20,832, with $21,079 (more than the $20,000 cap in Biden's plan); Shapiro did not deny that he was the recipient in the database.
Claims about Crowder were more straightforward. ProPublica's database provided the information seen in the screenshots, with an entry for Crowder's LLC, which apparently received $70,445. Subsequently, a balance of $71,208 was forgiven, this time well over the $20,000 cap in the Biden student loan forgiveness plan.
On August 23 and 24 2022, as news spread about the American student loan forgiveness plan, screenshots circulated alongside claims that pundits like Ben Shapiro and Steven Crowder had condemned the Biden administration's modest student loan forgiveness plan (capped at $10,000 to $20,000 per borrower) indicating that PPP loans were disbursed to a Ben Shapiro, as well as "Louder With Crowder, LLC." Those screenshots accurately reflected real records in ProPublica's database. Crowder's was definitive, Shapiro's less so, although he did not deny receiving PPP funds.
Update, August 25 2022, 4:31 PM: On August 25 2022, Ben Shapiro responded to a tweet from the account @ConSelfOwns, denying he was the Los Angeles-based Ben Shapiro in their Twitter screenshot.
Shapiro tweeted a screenshot with similar (but slightly different) figures; the "loan amount" was identical, but the "amount forgiven" was $20,978:
That ain't me, ya idjits pic.twitter.com/V9cP3K2hBh

— Ben Shapiro (@benshapiro) August 25, 2022
Shapiro issued a previous denial later on the night of August 24 2022:
The internet is a place filled with stupid and dishonest people. So, for example, https://t.co/V82WSULMqX — and half the Left-wing blue checks — are saying I took PPP money. This is a lie. Here is their supposed proof via ProPublica: pic.twitter.com/qCm62g85Ta

— Ben Shapiro (@benshapiro) August 24, 2022
We will further update this page if additional information is made available.