Were Democrats 'Handing Out CHEAT SHEETS' in Michigan (or Missouri)?
Claim
Democratic operatives were handing out "cheat sheets" to voters entering a polling site in Missouri.
Like this fact check?

Reporting
As right-wing disinformation and election interference continued amid the 2020 U.S. elections, one person posted a particularly sloppy attempt to gin up controversy by using photographs that didn't even match their claim.
The user claimed on Twitter:
The Democrats were handing out "CHEAT SHEETS" to poll workers and to People as they entered the VOTING area in the 9th District in MI. @EricTrump @RudyGiuliani
The person who was voting asked poll watchers for the Republican version they said "We don't do that".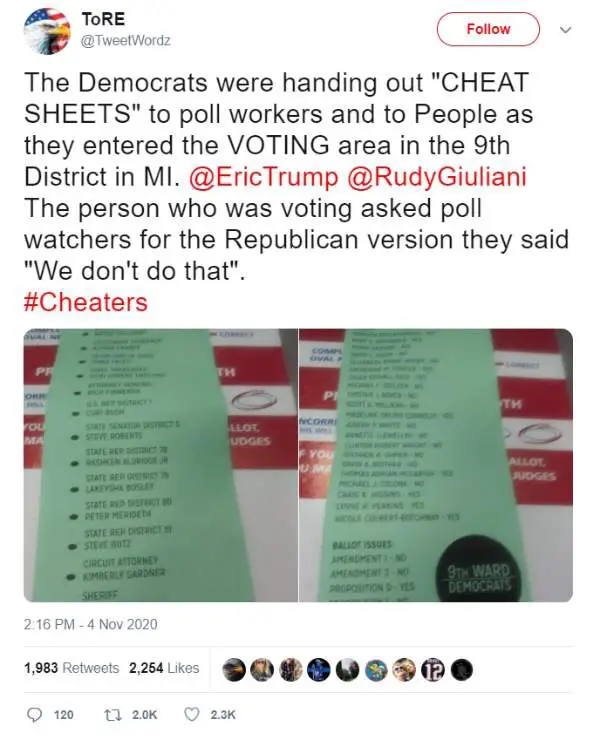 A look at the two photographs included in the tweet shows that the "cheat sheets" are marked as "sample ballots" listing candidates in Missouri — not Michigan — as shown by the list of candidates, such as Cori Bush and gubernatorial candidate Nicole Galloway:



Bush, an activist from St. Louis, won election in Missouri's First congressional district. She will be her state's first-ever Black congresswoman when she takes office. Galloway finished second in the gubernatorial race to Republican Mike Pearson and has conceded.
The Twitter account later claimed that they meant to type "Missouri." According to the law in that state, any electioneering must be done at least 25 feet away from a polling place.
Update Nov. 5 2020, 2:02 p.m. PST: A spokesperson for the Missouri Secretary of State office told us regarding the claim of electioneering at a polling place, "We have not received any reports or any complaints that meet that description at all."
The spokesperson also noted that while the documents seen in the tweet was marked as a "sample ballot," it may have been a voter's guide produced by a Democratic Party organization. Actual sample ballots, they said, are sent to voters by county clerks and list candidates for each party.
In light of the new information we are changing our finding to Not True.