Was a Denny's Waitress Assaulted by Muslim Men for Serving Bacon?
Claim
Two Muslim men assaulted a Denny's waitress because she served pork to customers during the Ramadan holiday.
Like this fact check?

Reporting
A scurrilous anti-Islamic post that provoked a real-life response by authorities near Austin, Texas remains online despite the host blog's attempt to remake itself with more bland content.
The blog, "JTXH News," attracted the attention after publishing a post in June 2016 claiming that Muslim men had attacked a waitress at a Denny's in the suburb of Round Rock after spotting her serving bacon to customers
Police said they had identified the men using CCTV but had yet to locate them.

The waitress, who did not give her name for fear of reprisals, said: "One of them said to me 'You should be ashamed of yourself for serving pork during Ramadan … if I was God I would hang you'".

She replied: "You're not God and you cannot judge me."
Like other blogs of its ilk, "JTXH" — which launched just three months before pushing the fake story — is built to deceive readers by disguising itself as an otherwise non-descript local television news site: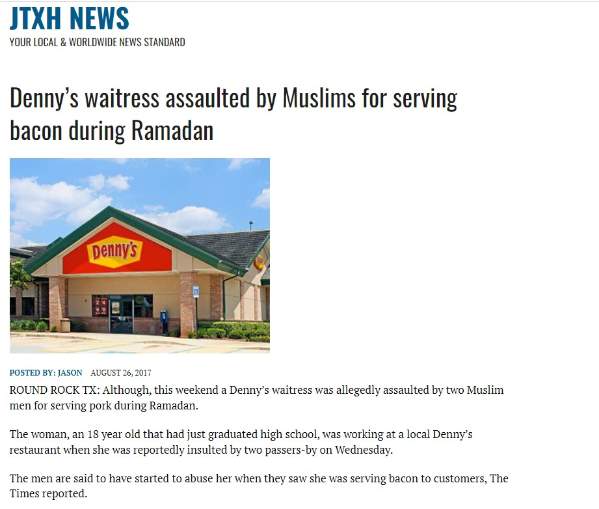 Years later, the post remains active on Facebook, allowing users to indulge in their own prejudices:


The site is still available online, but it does not appear to have been updated after September 2020. It has also stopped promoting inflammatory content about the likes of NASA or Chic-Fil-A in favor of pages entitled "Want to Start Your Own Website? First, You'll Need a Solid Web Host" or "What to do in case of a car accident in the US":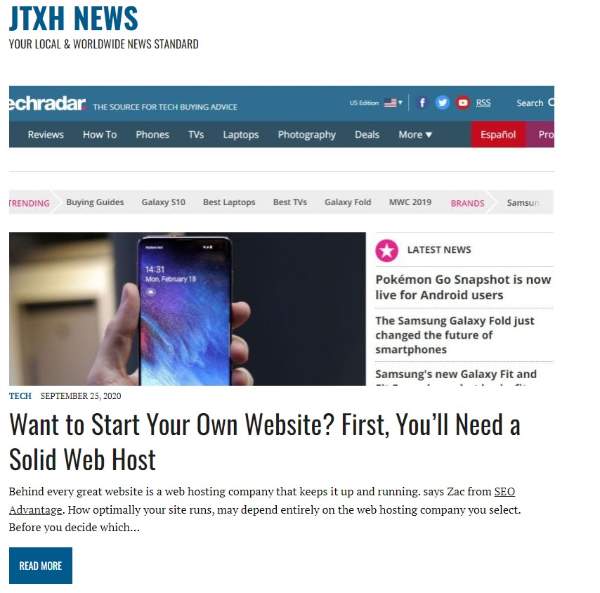 As the Austin-American Statesman reported at the time, police in Round Rock quickly debunked the blog's claim, as did the restaurant chain:
Alfonso Ruiz, an operating partner for the Denny's restaurants in Round Rock and New Braunfels, said the corporate arm of the restaurant franchise made him aware of the story.

"It's unbelievable because I'm in my restaurant all the time," he said. "I don't know how they'd come up with a story like this."
In 2022, Ramadan — the ninth month of the Muslim calendar, during which practitioners fast from dawn to sunset — began on April 2, and will conclude on May 2.
Update 4/11/2022, 7:40 p.m. PST: This article has been revamped and updated. You can review the original here. — ag