Did a Muslim Principal Ban Crucifixes in a Virginia School?
An easily identifiable Michael Jackson lyric was the basis of a rather unfunny attempt at humor by a well-known fake news outlet.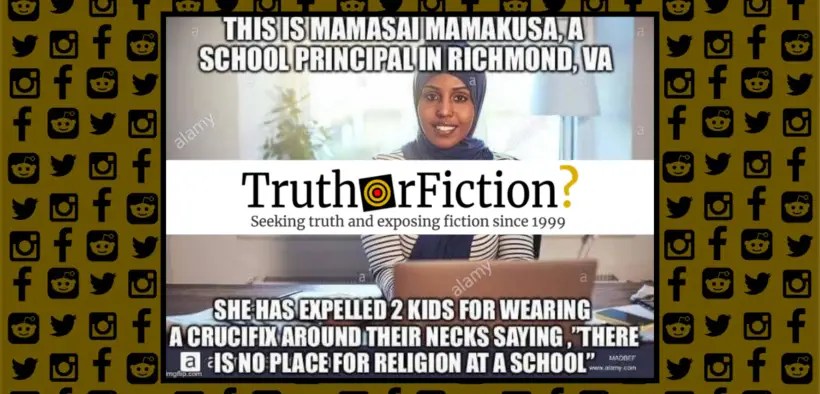 Claim
A Muslim principal in Virginia banned crucifixes, saying that there was no place for religion in schools.
Reporting
On January 30 2019, Facebook page "The Blacksphere" shared the following meme, purportedly depicting a Virginia principal named Mamasai Mamakusa: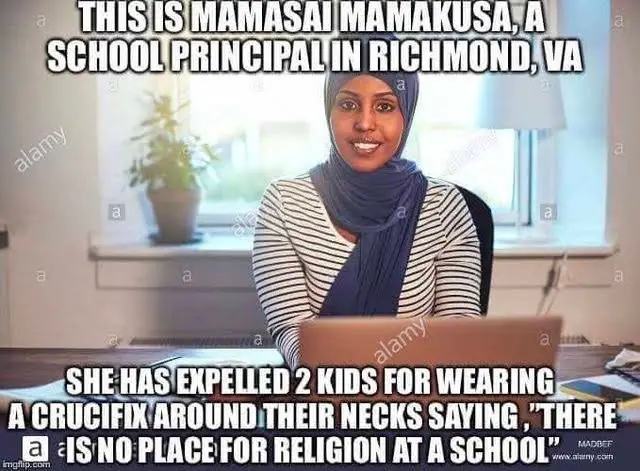 The meme was likely outrage-bait which implied that the nonexistent principal's hijab constituted a form of religious expression, one she supposedly deemed acceptable for herself but not Christian students. Text added to what appeared to be a stock image of a woman in a hijab read:
THIS IS MAMASAI MAMAKUSA, A SCHOOL PRINCIPAL IN RICHMOND, VA

SHE HAS EXPELLED 2 KIDS FOR WEARING A CRUCIFIX AROUND THEIR NECKS SAYING, "THERE IS NO PLACE FOR RELIGION AT A SCHOOL"
The first clue that the meme was not on the up-and-up was the fact that it was very clearly a stock image, and not one taken from a news story about a specific incident in Richmond, Virginia. The second was arguably more subtle, but still noticeable. Mamasai Mamakusa was the purported name of the depicted woman, and was also easily recognizable as a lyric of sorts from the Michael Jackson song "Wanna Be Startin' Something":
[Outro]

Help me sing it

Mama-say, mama-sa, ma-ma-ko-ssa

Mama-say, mama-sa, ma-ma-ko-ssa

Help me sing it babe

Mama-say, mama-sa, ma-ma-ko-ssa

Mama-say, mama-sa, ma-ma-ko-ssa

Sing it to the world, sing it out loud

Mama-say, mama-sa, ma-ma-ko-ssa

Mama-say, mama-sa, ma-ma-ko-ssa
However, the most telling aspect of the Mamasai Mamakusa meme was its origin, a July 2018 post on a satirical Facebook page called "America's Last Line of Defense."