In January 2019, Facebook page "The Original American Resistance" shared a meme attributing a quote to former United States Secretary of Defense James "Mad Dog" Mattis: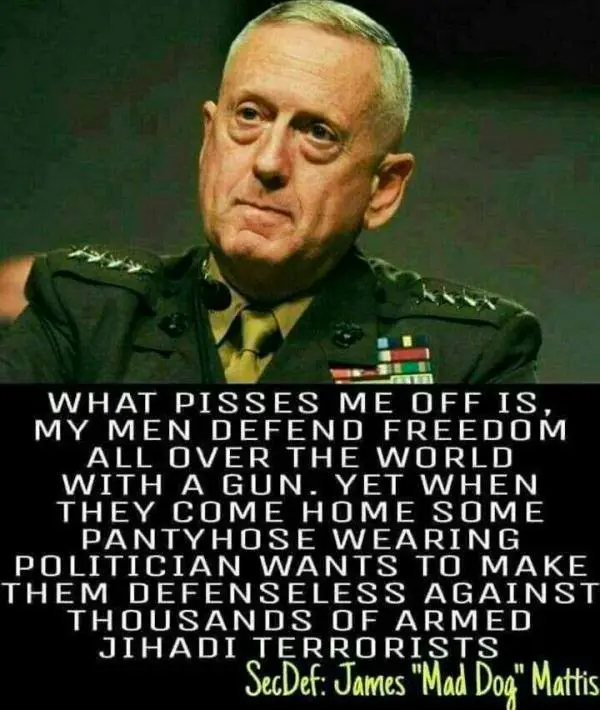 The quote at the bottom of the image said:
WHAT PISSES ME OFF IS, MY MEN DEFEND FREEDOM ALL OVER THE WORLD WITH A GUN. YET WHEN THEY GOME HOME SOME PANTYHOSE WEARING POLITICIAN WANTS TO MAKE THEM DEFENSELESS AGAINST THOUSANDS OF ARMED JIHADI TERRORISTS

SecDef: James "Mad Dog" Mattis
No citation or link to a source for the purported Mattis quote were provided alongside the image. This wasn't the claim's first appearance; at least one person tweeted the quote with the same attribution in August 2018.
It seems as if Mattis made such blunt remarks, they would have been highly popular (particularly among gun enthusiasts.) However, a search for any hint the commentary was legitimate led to a small handful of hits, almost all of which traced back to meme-hosting sites.
We were unable to find any interviews or other comments from James "Mad Dog" Mattis that matched the quote in the meme, and the veracity of the claim so far remains somewhere between "unlikely" and "unproven."