Did James Charles Use a Racial Slur in Twitter DMs?
Claim
Beauty YouTuber James Charles sent a DM calling another user the n-word.
Like this fact check?

Reporting
Late on March 12 2019, a Twitter user shared a link (archived here) to an unavailable tweet and claimed that beauty YouTuber James Charles called them a racial slur:

In a follow up tweet (archived here), the user reiterated the claim.
Those images continued circulating into the morning of the following day, and users described Charles as "a massive racist" based on the screenshots. The account @KEEMSTAR shared one screenshot (archived here) with a purported response from Charles: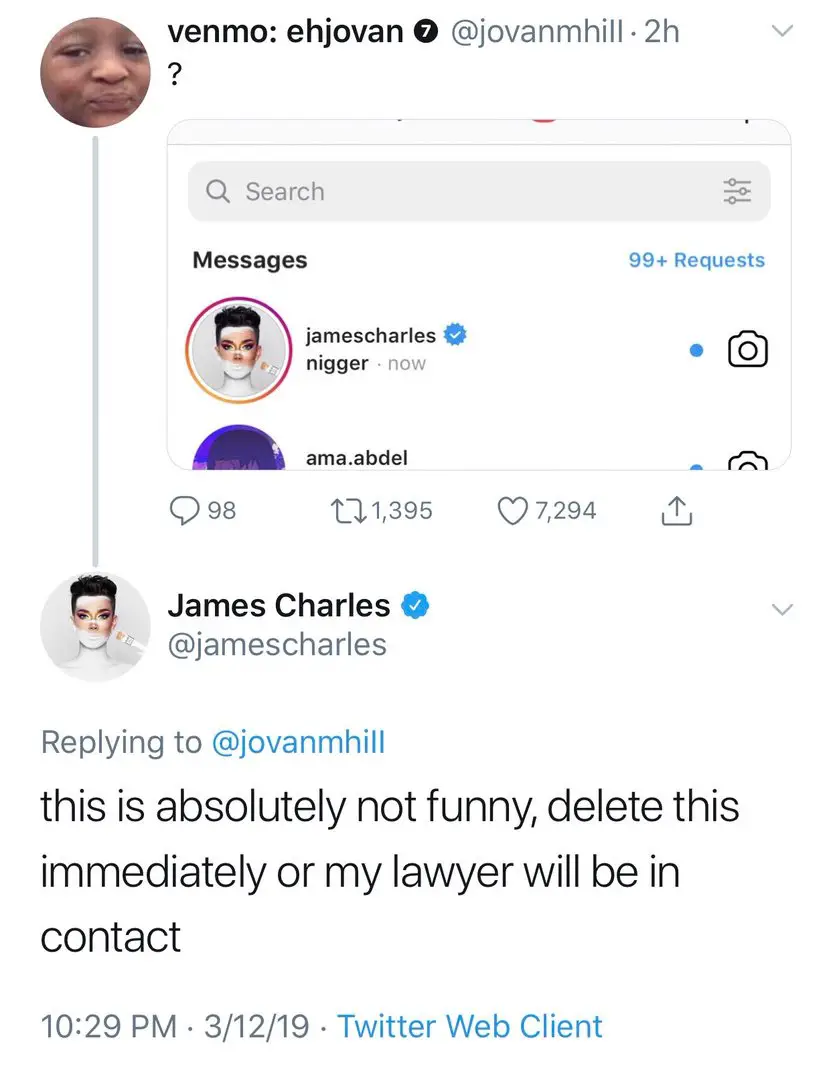 In that image, Charles appeared to respond in a since-deleted tweet:
this is absolutely not funny, delete this immediately or my lawyer will be in contact
A Reddit thread on r/BeautyGuruChatter noted that the screenshot was definitely fabricated, and the ensuing discussion centered around the adverse effects claims of racism could have on a YouTube celebrity's career. Gossip site HollywoodLife recapped the controversy, referencing the response from Charles and describing the screenshot as "fake":
Jovan Hill's latest Twitter joke isn't sitting too well with his victim, James Charles! James freaked over the fake message Jovan posted to his page, and fans are trolling him for the reaction.

James Charles was the butt of Jovan Hill's latest joke, and he wasn't thrilled about it! Jovan, an Internet star who makes money by pleading for his viewers to donate to him, posted a fake screenshot of his Instagram DMs on March 12, with an unopened 'message' from James sitting at the top. The fake message read 'n***er,' and Jovan shared the screenshot on Twitter with a question mark emoji. It wasn't long before James caught wind of the prank, and he responded, "This is absolutely not funny, delete this immediately or my lawyer will be in contact."

Of course, James is right — it's not funny — but Twitter still mocked him for threatening legal action over it.
In subsequent tweets, the user referenced Charles' "lawyer" comment. In those tweets, they said they "knew the law," implying that the screenshots were "parody," and bragged about leveraging the "joke" for social media traction. Their reference to laws about parody in response to mentions of a defamation claim further show that the screenshots were not legitimate.
Although many users were clearly aware the screenshots of purported James Charles direct messages involving a racial slur were inauthentic, many more saw the images decoupled from their source and did not realize that the fabricated screen captures were a "joke" or "parody." The latter term was used by the account responsible for the claim after Charles referenced legal action in response to the fake images.