Did a Principal Ban Candy Canes Because the 'J' Symbolizes Jesus?
Claim
A Nebraska elementary school principal banned candy canes because they form a "J" shape and are therefore taking Jesus's name in vain.
Like this fact check?

Reporting
On December 5 2018, The Blaze published an article titled "Principal banned candy canes because 'J' shape stands 'for Jesus.' But that was just for starters."
The item centered on a law firm devoted to "evangelical Christian" interests (Liberty Counsel), its assertion that Manchester Elementary School in Omaha, Nebraska had "banned" Christmas items, and its attempts to publicize what it deemed an unjust restriction of Christmas festivities. On a list Liberty Counsel provided of purportedly banned items were candy canes, due to their supposed religious connotations:
Candy Cane — that's Christmas-related. Historically, the shape is a "J" for Jesus. The red is for the blood of Christ, and the white is a symbol of his resurrection. This would also include different colored candy canes.
The quoted portion referenced a old and popular rumor about the origin of candy canes:
I heard that the candy cane is actually a J. This represents Jesus the centre of the Christmas Story. The red represents his blood shed to save all men and the white represents his sinless past. Has anyone else ever heard of this (possible) story?
Candy canes were not the only thing referenced on the list, but they were the primary focus of the article anyway. The question implied in the story was twofold: were candy canes truly "banned" by an Omaha school, and do they legitimately symbolize the blood of Jesus Christ and the Resurrection?
The second, iconography-related half of the question was more straightforward. Myths about the origins of candy canes being intentionally symbolic abound on Pinterest and other social sharing sites — but in 2012, Smithsonian's "We Don't Know the Origins of the Candy Cane, But They Almost Certainly Were Not Christian" tackled long-circulating rumors that the holiday treats were intentionally and necessarily religious.
Describing that symbolism myth as the most common, the magazine explained that all available evidence indicated that retroactive meaning had been bestowed on candy canes:
These Jesus celebrating candies were then, the story goes, handed out to good children in church or used as a form of identification among Christians when they were persecuted. None of this is true. First, candy canes were certainly not invented in Indiana, since the first reports of hard candy sticks (the precursor to candy canes) come from the 17th century, long before Indiana was even a glimmer in some secessionist's eye.

And it turns out that white candy sticks were actually quite common at Christmas. One story says that they turned into J's because one choirmaster bent them to look like a shepherd's staff for children during the nativity scene. There's no evidence that that's true either, of course. Today I Found Out writes, "Given that it has been a time honored church tradition to try to associate as many Christmas season traditions' "origin stories" as possible with Christianity, usually just for symbolism' sake but often getting morphed into being believed as fact, color me skeptical on this one."
The second question raised by the article was whether candy canes were indeed "banned" at Omaha's Manchester Elementary School. TheBlaze.com shared a memo uploaded to Liberty Counsel's website [PDF], in which the subject of Christmas was addressed at length.
Following a list of "acceptable" iconography for items like printed worksheets, a list of "not acceptable" things followed:
Not acceptable:
Santas or Christmas items (clipart) on worksheets
Christmas trees in classrooms
Elf on the Shelf – that's Christmas-related
Singing Christmas Carols
Playing Christmas music
Sending a Scholastic book that is a Christmas book – that's Christmas-related
Making a Christmas ornament as a gift – This assumes that the family has a Christmas
tree which assumes they celebrate Christmas. I challenge the thought of, "Well they can
just hang it somewhere else."
Candy Cane – that's Christmas-related. Historically, the shape is a "J" for Jesus. The red is
for the blood of Christ, and the white is a symbol of his resurrection. This would also
include different colored candy canes.
Red/Green items – traditional Christmas colors
Reindeer
Christmas videos/movies and/or characters from Christmas movies
Perhaps ironically, the memo included a note attempting to ensure the religious freedom of students would not be infringed during the holidays by way of the holiday guidance provided: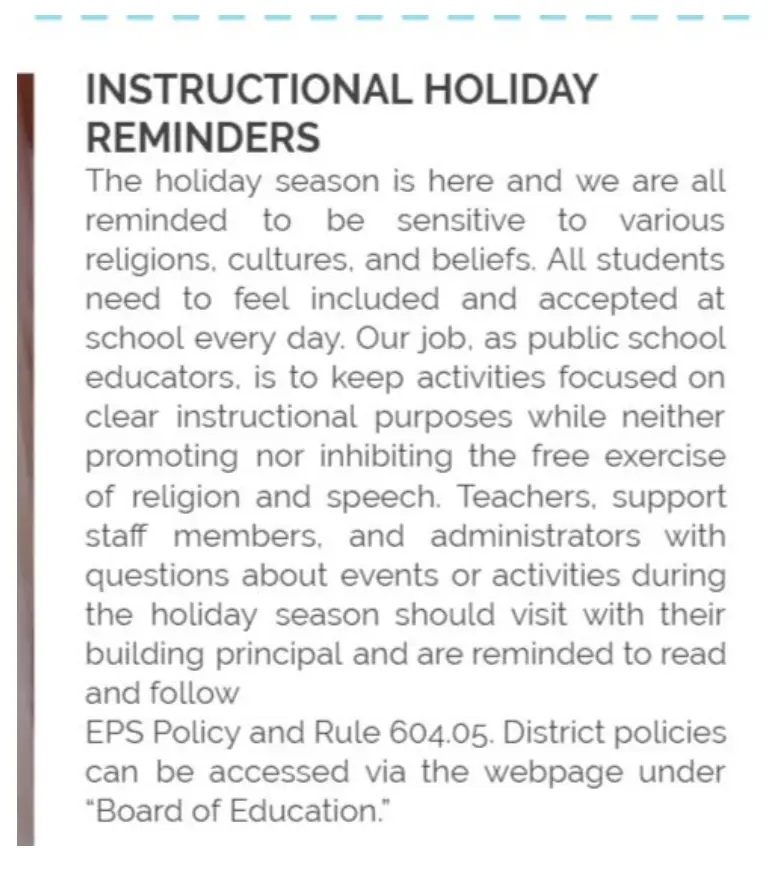 The directives on the memo were ambiguous, but the general subject matter appeared to pertain entirely to school-provided materials (such as worksheets or projects directed by teachers). By describing the content of the memo as a "ban," readers were left with the impression that children themselves (not teachers and staff) were prohibited from possessing candy canes, Santas, or Elves on the Shelves.
On December 5, 2018, local news outlets (which largely repeated the "ban" claim) reported that Manchester Elementary School's district issued a statement about the outrage:
Elkhorn Public Schools District administration promptly addressed the issue at Manchester Elementary School regarding the memo that was sent by the Principal Jennifer Sinclair to Manchester elementary staff. The memo does not reflect the policy of Elkhorn Public Schools regarding holiday symbols in the school. The District has since clarified expectations and provided further direction to staff in alignment with District policy. This issue was limited to Manchester Elementary School and did not arise at any other schools within the District.
The following day, KAKE followed up with news that Sinclair had been "placed on leave" due to the controversy (and a "'high volume' of phone calls"):
A spokesperson for Elkhorn Public Schools told KETV that Jennifer Sinclair is a new principal Manchester Elementary and did not consult with administrators about school policy concerning the handling of religious holiday themes.

The organization Liberty Counsel got wind of the principal's memo and sent a demand letter to the superintendent asking the district to lift the Christmas ban…. The spokesperson, Kara Perchal said Sinclair's memo "did not reflect district policy" and that the district is receiving a "high volume" of phone calls from people with concerns.

…Principal Sinclair was placed on leave [as of December 6, 2018].
In short, the purported candy cane ban at Omaha's Manchester Elementary School appeared to result from a series of compounded misunderstandings. Notes attributed to the principal on an internal memo inaccurately described candy canes as symbolic Christian iconography, and directed staff not to include them on holiday projects — but did not prohibit them outright. Subsequently, a law firm dedicated to asserting Christian people are being denied their rights misleadingly claimed that candy canes were "banned," prompting outrage. Finally, a beleaguered Elkhorn Public Schools put Sinclair on leave because (apparently) their phones were ringing off the hook.
Although it is misleading to say Sinclair's directives constituted a candy cane ban, the memo did advise staff not to use them in their capacity as educators. The district affirmed the existence of the memo in subsequent press statements, adding a rather vague retraction of an already nebulous policy. But even if the memo's directives had gone unchecked, it appeared to extend only to candy canes and shelf elves distributed by teachers; it did not penalize the possession of Santa Clauses or Christmas trees by students.
Update, January 17 2019 [3:33 PM]: On January 15 2019, KMTV reported that Sinclair would not resume her position as principal due to the backlash over the Christmas-related memo:
Dr. Jennifer Sinclair sent out a detailed list of do's and don'ts for the holiday season, things like Santa, Christmas trees, Christmas music, candy canes and ornaments were deemed unacceptable, causing an uproar from parents in the area. Sinclair was subsequently put on leave and it was announced [on January 14 2019] she would not return to her role as the principal of Manchester Elementary.

"Due to the level of attention that Dr. Sinclair's memo received, Dr. Sinclair and the District stand united that it is in the best interest of Manchester Elementary that she not resume the Principal position," EPS Superintendent Dr. Bary Habrock said in a release.

Although she will not be returning as a principal, Sinclair has agreed to assume a curriculum position with the district for the rest of the year.