In February 2019, Rep. Alexandria Ocasio Cortez was among a number of Democratic women wearing all white ensembles for the president's State of the Union address, and the New York congresswoman's outfit in particular inspired a number of memes.
On Facebook, one iteration (and variations) asserted that Ocasio-Cortez's look was expensive, heavily implying (or even saying outright) that it was at odds with her political positions: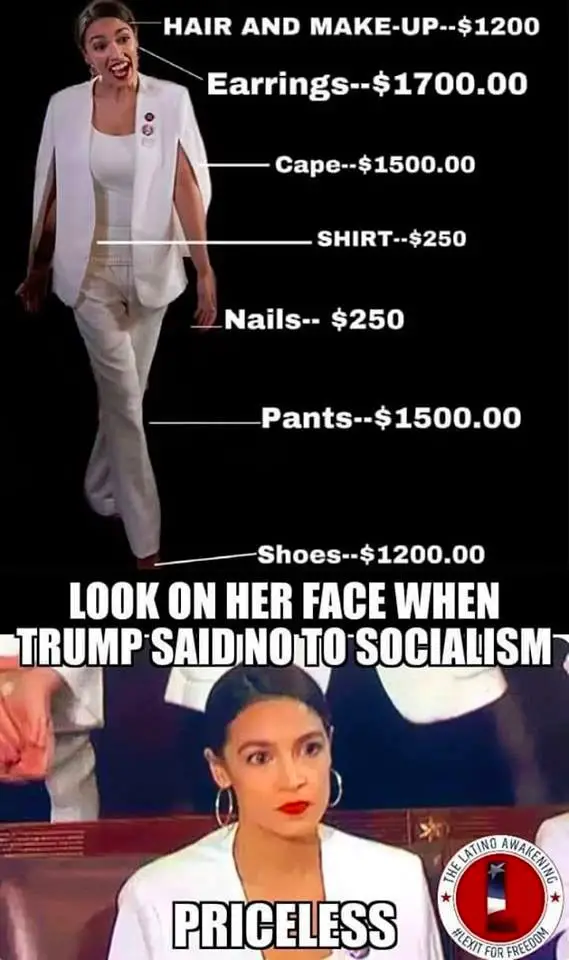 It featured a photograph of Ocasio Cortez's outfit at the top with a purported cost breakdown for her cape, pants, top, jewelry, and styling. The bottom of one variation included a still of the congresswoman during President Trump's speech and attendant commentary. It read:
HAIR AND MAKE-UP–$1200.00
Earrings–$1700.00
Cape–$1500.00
SHIRT–$250.00
Nails–$250.00
Pants–$1500.00
Shoes–$1200.00

LOOK ON HER FACE WHEN TRUMP SAID NO TO SOCIALISM

PRICELESS
Early versions of this meme only included the supposed cost breakdown of Ocasio-Cortez's attire, but subsequent versions hammered the subtle point home by tacking on the "priceless" comment. According to the meme, the total cost for her ensemble (including hair, makeup, earrings, a cape, a top, pants, nails, and shoes) added up to $7,600.
Predictably, no citation for this claim was included alongside the meme — just the following commentary:
So much for SOCIALISM. Who GAVE her this? Remember, she was TOO POOR to afford an apartment when she moved to Washington, DC.
Events like State of the Union addresses and virally popular ensembles like Ocasio Cortez's are often covered in fashion publications in the day or days after the event. It's also not uncommon for designers to loan pieces for events, with publicity serving as compensation for the arrangement. Nevertheless, we were unable to find any designer definitively claiming credit for the widely-discussed ensemble. Several publications attempted to track down the exact pieces, primarily the cape portion of the outfit.
Both Heavy.com and Insider attempted to locate a precise match, the former noting that an "unconfirmed" match was the "ZARA White Flowing Cut Cape Jacket Blazer," retailing for $89.90 in February 2019, a far cry from the $1,500 claim in the meme.
The latter outlet spoke to a Zara representative, who said that the brand was reasonably certain, but not positive, that their design was the one Ocasio-Cortez had worn:
The design appears to be Zara's $89.90 Cape with Slits, which is still in-stock at the time of publication. A representative for Zara told INSIDER they are fairly certain she is wearing the brand's design, though are not able to 100% confirm.
Fashion magazine InStyle suggested a similar BCBG garment as possibly a match for the cape, but even that slightly more expensive item retailed for $228 — again, a far cry from $1,500.
Additional items cited in the meme (such as her pants, top, and shoes) received little to no fashion-based coverage, and were presumably based on nothing more than the wild, random guesses from whomever made the memes.
Alexandria Ocasio-Cortez's earrings were a pre-existing topic of conversation, dating back at least to her swearing-in. On January 4 2019, she tweeted:
Lip+hoops were inspired by Sonia Sotomayor, who was advised to wear neutral-colored nail polish to her confirmation hearings to avoid scrutiny. She kept her red.

Next time someone tells Bronx girls to take off their hoops, they can just say they're dressing like a Congresswoman.
Fashion coverage at the time did not extend to the cost of her earrings, but there's no evidence anywhere that they clocked in at $1,700. There was also no evidence that Ocasio-Cortez paid any professionals to do her nails, hair, and makeup. However, assuming she did have all those done for the State of the Union address, the closest cost estimates we could locate were national averages on the service aggregation site Thumbtack.
If we selected the top end of national averages for each service, it came out to $200 for hair. Thumbtack didn't have similar cost estimates for nails, but a similar site estimated the very highest end of nail services (pink and white acrylics at a resort hotel) as $85.00, not $250.00. Similarly, makeup application on Thumbtack ranged up to $200.00. The combined highest estimate for hair ($200) and makeup ($200) came out to $400, not $1,200, which by any reasonable estimate is beyond wildly inflated.
Assuming Ocasio-Cortez not only obtained said services for the event, but paid top dollar for them, the cost for all three topped out at $485 (assuming the most expensive services available in their top range). That cost according to the meme was $1,450, a difference of roughly $1,000.
In a variation of the meme, Ocasio-Cortez's expression during a purported speech excerpt about socialism was appended. The meme said that during the speech, President Donald Trump "said no to socialism." Trump did mention socialism during one portion, in which he said:
We stand with the Venezuelan people in their noble quest for freedom — and we condemn the brutality of the Maduro regime, whose socialist policies have turned that nation from being the wealthiest in South America into a state of abject poverty and despair.

Here, in the United States, we are alarmed by new calls to adopt socialism in our country. America was founded on liberty and independence — not government coercion, domination, and control. We are born free, and we will stay free. Tonight, we renew our resolve that America will never be a socialist country.
Whether that qualifies as accuracy is a matter of opinion, but Ocasio-Cortez's facial expressions were unsurprisingly the subject of a similar spate of articles. However, it was well documented that her expression was static throughout the event, and she tweeted a response to one such critique on February 6 2019:
Why should I be "spirited and warm" for this embarrassment of a #SOTU?

Tonight was an unsettling night for our country. The president failed to offer any plan, any vision at all, for our future.

We're flying without a pilot. And I'm not here to comfort anyone about that fact.
The memes about Rep. Alexandria Ocasio-Cortez's State of the Union ensemble claimed that it cost around $7,600. The numbers referenced in the meme appeared to have been plucked from thin air, and did not have any discernible basis in reality. One variation of the meme suggested that Ocasio-Cortez was visibly displeased by a reference to "socialism" in President Trump's speech, but she was taciturn throughout, later saying that her facial expressions were due to her belief the content of the address was "unsettling."