Did the United States Give Jordan $500 Million to Build a Wall on its Border with Iraq?
Claim
The United States gave Jordan $500 million and its blessing to build a wall on its border with Iraq.
Like this fact check?

Reporting
On January 8, 2019, just after President Donald Trump addressed the United States on the matter of his intent to construct another border wall, the Facebook page "The American Dreamer" shared the following meme: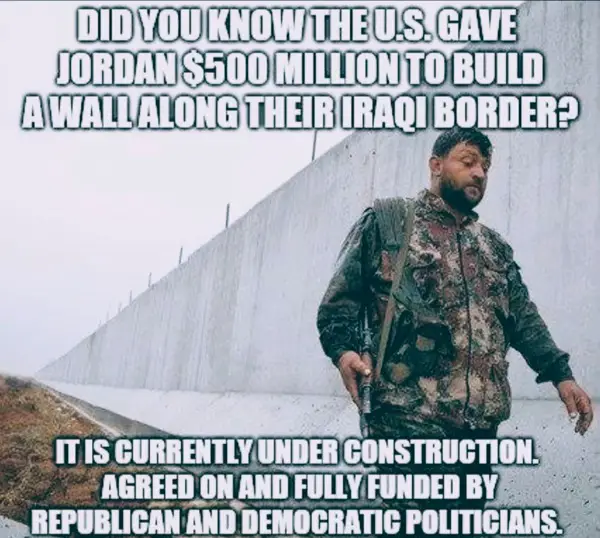 Text overlaid on an image of a soldier standing next to a very tall concrete wall read:
DID YOU KNOW THE U.S. GAVE JORDAN $500 MILLION TO BUILD A WALL ALONG THEIR IRAQI BORDER?

IT IS CURRENTLY UNDER CONSTRUCTION. AGREED ON AND FULLY FUNDED BY REPUBLICAN AND DEMOCRATIC POLITICIANS.
The Facebook post itself read:
The Hypocrisy is endless. They are only doing this because it is Trump! And it will make him look good and it will strengthen America!
The text made at least four discrete claims:
The image shows the wall between Jordan and Iraq;
The United States gave Jordan $500 million dollars earmarked specifically to construct a border wall between that country and Iraq;
The Jordan-Iraq wall was being constructed in January 2019 (as Trump fought to fund his own wall project for a barrier along the United States' southern border);
Democrats and Republicans alike both supported Jordan's efforts to construct a wall between it and Iraq, and both parties agreed to fund this project.
There was no context, link, or article supporting the meme's claims. Of the claims listed above, the first was implicit: that the photograph shows a completed portion of the concrete barrier being constructed between Jordan and Iraq. That claim was easily disproved in February 2017 articles that included the very same image:
A YPG fighter walks along the Turkish-Syria border wall. (AFP/File)

More than half of construction of a concrete wall along the Turkish-Syrian border was completed, said the head of Turkey's housing agency.

Ergun Turan, the president of Turkey's state-owned housing agency TOKI, said half of the 511 km Syrian border wall has been completed.

Turan said so far the construction of 290 km of the wall along Turkey's border provinces of Sanliurfa, Gaziantep, Kilis, Hatay, Mardin and Sirnak had been finished.

"The construction works of about 221 km part are ongoing and we will complete it as soon as possible," he added.
Turkey's wall on its Syrian border was funded in part by European Union countries, not just by the United States.
The meme's second claim is that the United States gave $500 million to Jordan to construct a wall on its border with Iraq, but it did not say when this purported aid was given. We found a March 2018 Breitbart article, the title for which closely matched the meme: "GOP and Democrats Fully Fund a Border Wall – In Jordan." It contained the following claims:
The 2018 omnibus provides just enough funds to build 33 miles of fencing on the Texas border — but it also provides $500 million to help Jordan build a wall and defense line against jihad terrorists trying to cross its 287-mile border with Iraq and Syria.

The omnibus budget [PDF] says on page 394:

SEC. 9011. Up to $500,000,000 of funds appropriated by this Act for the Defense Security Cooperation Agency in "Operation and Maintenance, Defense-Wide" may be used to provide assistance to the Government of Jordan to support the armed forces of Jordan and to enhance security along its borders.

On page 375, the omnibus says:

For the "Counter-Islamic State of Iraq and Syria Train and Equip Fund", $1,769,000,000, to remain available until September 30, 2019…

That these funds may be used in such amounts as the Secretary of Defense may determine to enhance the border security of nations adjacent to conflict areas including Jordan, Lebanon, Egypt, and Tunisia resulting from actions of the Islamic State of Iraq and Syria[.]
Breitbart referenced the Consolidated Appropriations Act of 2018, a United States omnibus spending bill for the United States federal government signed into law by President Donald Trump on March 23, 2018. The spending bill was not legislation to construct a wall between Jordan and Iraq — it was a vote to fund dozens of federal government agencies and departments, including the Department of Defense.
In its full context, the referenced funding was for coalition efforts in combating Islamic State advancement in the region; the funds were not earmarked specifically to construct a wall in Jordan, and no such language appeared in the omnibus, although "border security" was mentioned:
…Provided further, That these funds may be used to support the Government of Jordan, in such amounts as the Secretary of Defense may determine, to enhance the ability of the armed forces of Jordan to increase or sustain security along its borders, upon 15 days prior written notification to the congressional defense committees outlining the amounts intended to be provided and the nature of the expenses incurred:

Provided further, That of the funds provided under this heading, not to exceed $750,000,000, to remain available until September 30, 2019, shall be available to provide support and assistance to foreign security forces or other groups or individuals to conduct, support or facilitate counterterrorism, crisis response, or other Department of Defense security cooperation programs….
The funds appeared to be earmarked as defense spending allocated in support of coalition efforts to counter the Islamic State and to that end allocated funds to both support military action in Jordan and to "enhance security" along its borders.
An October 2018 State Department release about cooperation referenced omnibus funding, but did not describe its use for a barrier, fence, or wall. A February 2016 op-ed from military affairs analyst William Arkin maintained that the United States was bankrolling a wall between Jordan and Syria —which was first planned to "stop weapons of mass destruction from getting out" in 2008:
The wall, which began as a $20 million project in 2008 to erect a set of surveillance towers along a 30-mile (50 km) stretch of the border with Syria, has since expanded into a program costing half a billion dollars, according to defense officials who spoke to VICE News. Called the Jordan Border Security Program or JBSP, the wall is ostensibly meant to stop weapons of mass destruction from getting out, but since 2013 has refocused on detecting Islamic State fighters and arms smuggling, as well as refugees, on both sides of the border…

The first phase of the JBSP, the erection of the towers, was completed in September 2009. Phase 1B, the beginning of the fence, was completed in March 2014. Phases 2 and 3, the building of a fully integrated and networked fence running along a 275-mile (442 km) stretch of Jordan's borders with Syria and Iraq and costing some $300 million, are scheduled to be fully operational this year. Further phases will extend the fence along the entire border and improve surveillance and detection gear. Mobile surveillance stations and quick reaction forces will be stationed at vulnerable points or emerging hot spots.
In June 2016, Defense Industry Daily noted that Raytheon and other contractors had undertaken a number of strategies (including but not exclusive to barriers) and that the project referenced by Vice was meant to conclude in 2017:
Under the program, Raytheon and Jordanian subcontractors have been deploying and testing the sensor-fused border barriers while, in parallel, training other Jordanian partners to maintain and operate the system. As well as the barriers, patrol paths and watchtowers, the system is integrated with day and night cameras, ground radars, and a full command, control and communications suite. The system will be completed by the end of next year.
It remains unclear if the meme was referencing the Breitbart article, the Vice article, or something else. The photograph does not show the Jordan-Iraq border but instead the border between Turkey and Syria. The wall there was funded in part by the European Union — not the United States. Further, the claim that the United States gave Jordan $500 million to fund the construction of a wall on its border with Syria is misleading and far out of context.
It is true that the United States appropriated Department of Defense spending in 2018 to support coalition forces in the continuing fight against Islamic State operatives on the borders of Jordan, Lebanon, Tunisia, and other countries. But again, those appropriations did not appear to be specifically earmarked for a border wall in Jordan, and claims to the contrary conflated unrelated stories.
Finally, as pundits, commentators, and memes so often seem to forget, a border wall already exists between the United States and Mexico, making the entire debate moot.