Does This Photograph Show a Tour Group the Day Before the Capitol Insurrection?
Claim
A photograph shows Congressmember Lauren Boebert with a tour group at the Capitol the day before deadly and destructive right-wing riots.
Like this fact check?

Reporting
As the United States continued to grapple with a destructive and deadly right-wing riot at the Capitol building on January 6 2021, disturbing stories from Democratic Party lawmakers began to trickle out indicating that some participants may have planned or coordinated attacks. "My office, if you don't know where it is, you ain't going to find it by accident," said House Majority Whip Jim Clyburn.
"And the one place where my name is on the door, that office is right on Statuary Hall. They didn't touch that door, but they went into that other place where I do most of my work, they showed up there harassing my staff… They went where you won't find my name, but they found where I was supposed to be. So something else was going on untoward here."
Other high-profile members of Congress had similar stories:
AOC telling Instagram viewers tonight that she had "a close encounter" during the Capitol insurrection in which she thought she might die makes this detail from Ayanna Pressley's chief of staff in our rebuilding of events all the more chilling. https://t.co/GwnZFAbXQy pic.twitter.com/khEjkfP9AZ

— Jazmine Ulloa (@jazmineulloa) January 13, 2021
And Rep. Mikie Sherrill said that some members of Congress led groups of people the day before the Capitol riots on what she described as "reconnaissance" tours,adding:
We can't have a democracy if members of Congress are actively helping the president overturn the elections results.

And so not only do I intend to see that the president is removed and never runs for office again and doesn't have access to classified material, I also intend to see that those members of Congress who abetted him; those members of Congress who had groups coming through the Capitol that I saw on Jan. 5 — a reconnaissance for the next day; those members of Congress that incited this violent crowd; those members of Congress that attempted to help our president undermine our democracy; I'm going to see they are held accountable, and if necessary, ensure that they don't serve in Congress.
Shortly after these accounts were made public, an image showing far-right newcomer from Colorado Rep. Lauren Boebert alongside a group of people apparently on the Capitol steps (several of whom were openly displaying the white supremacist "OK" hand sign) appeared from various accounts with text claiming that it was taken on January 5 2021 — either heavily implying or outright stating that Boebert was leading one of those reconnaissance groups and therefore was directly implicated in the right-wing riots: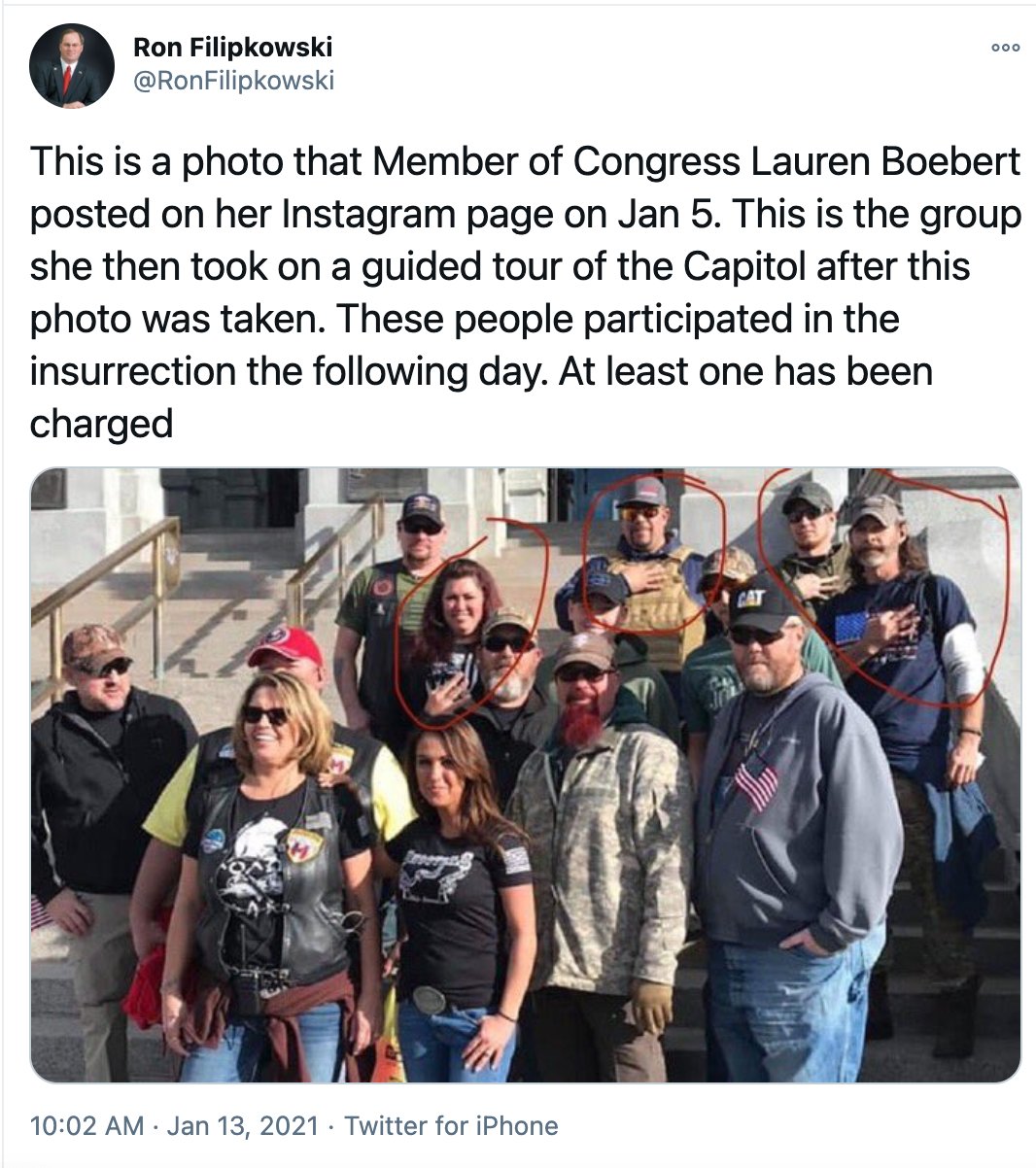 However, while the image does show Boebert with a group of far-right protesters agitating against gun control, the date and description are misleading. The photograph was taken in December 2019, not January 2021, and it was snapped in front of the Colorado state capitol building, not the Capitol in Washington, D.C., during an armed right-wing protest there:
Approximately two hundred people rallied at the state Capitol Saturday against Colorado's new "red flag" law, which allows guns to be taken from people deemed a threat to themselves or others.

Organizers of the "We Will Not Comply" rally included Rally For Our Rights activist Lesley Hollywood, conservative Facebook personality Sheronna Bishop, and gun rights activist Lauren Boebert, who just launched her campaign for Colorado's Third Congressional District, where she will challenge incumbent U.S. Rep. Scott Tipton in the Republican primary.

Conservative activist Sherronna Bishop, who runs a Facebook page called "America's Mom," emceed the event. She thanked two groups for providing security: Boots On The Ground Bikers For Trump, and the Three Percenters.
The image appeared in the story with the following description:
Lauren Boebert poses w/ members of American Patriot III% and Bikers for Trump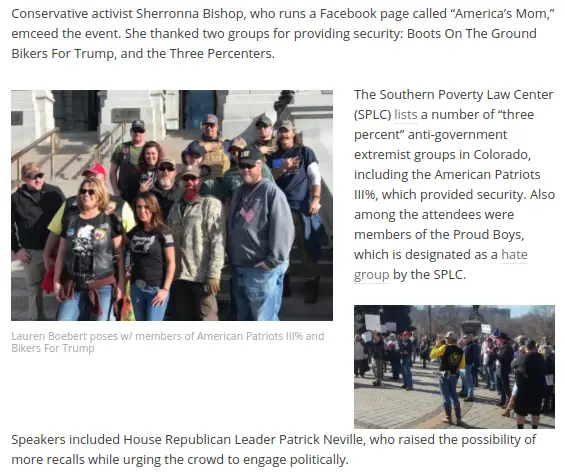 It is true that this is an image of Lauren Boebert with a group of far right demonstrators. However, the photograph was taken in December 2019, not January 2021, and in Colorado, not Washington, DC. This does not disprove claims of reconnaissance tours the day before the Capitol insurrection attempt, however; it simply does not constitute evidence of them.