'We Need 100 Percent of People Indoors'
Online flailing in support of outgoing United States President Donald Trump was accompanied by yet another go-round for a meme proclaiming — falsely — that Trump would be fulfilling the mission of the anti-Semitic conspiracy theory known as QAnon.
The graphic, titled "latest intel," contains a rambling prediction and calls on Trump supporters to be on the lookout for a non-existent message from him:
We need 100% of people indoors to see what the US military is going to broadcast on everyone's TV Sets worldwide. It is going to be very painful but we can no longer have people divided. Around Sunday/Monday POTUS will Tweet "My Fellow Americans The Storm is Upon us. We will go to FULL GLOBAL MARTIAL LAW." He will most likely be on board AF1 when he sends out 7 PRESIDENTIAL MSGS to everyone's phones and TV sets worldwide on the Emergency Broadcast System. From there all Global Militaries via US Military will shut down all Media, Internet. Phones and all TV programming (EMERGENCY SERVICES WILL STILL HAVE THEIRS) so the US military can broadcast 10 days of 3×8 hr sessions of video confessions, military tribunals, lots of evidence for the scandals listed in the STORM article. While this is happening they will be removing Governments Worldwide and making Global Arrests(500 thousand indictments) GESARA/NESARA will be activated which will be a full RE-WIRING of Planet Earth.
"The Storm is upon us" is a mantra within the QAnon conspiracy, a description of what believers claim will be a flurry of arrests and/or executions that will ultimately vindicate Trump: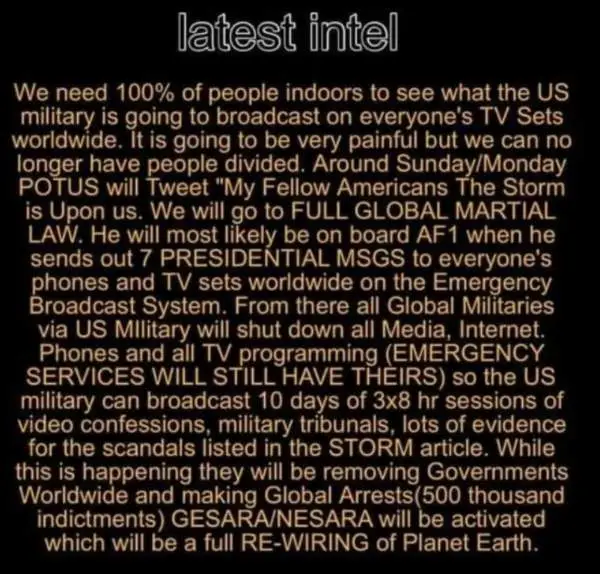 We found variations of this exact post dating back to March 2020 on Facebook. The graphic was also spread on iFunny.co, a website promoting itself as a host for "funny" memes of all types. That September — four months before a right-wing insurrection attempt at the U.S. Capitol — it was featured in a post on a questionable "intel" blog written by someone identifying themselves as Michael Murdock, a veteran of the U.S. Navy. "Murdock" wrote:
People are saying this will happen this coming week. Yes it's in advance of what I shared in my last message to you.

When these things come forward and I'm included in the notifications, I share. Breathe deep over the next few days, much is going on behind the scenes that we're not seeing which is good! October is going to be full of surprises, more than in the past. Keep your eyes open for your ballots as well. If you receive more than one, let law enforcement know. Let the media know. Let your Mayor or Governor know. Call out the mail-in-ballot fraud. It's important.

That's all for this moment.
The graphic surfaced yet again in January 2021 through screenshots of a purported post on the private Facebook group "Maga 2020." The user claims, "My father n law [sic] just got this on his phone, he is Airforce [sic] related." The group, which has more than 1,200 members listed on its Facebook page, remains active on the platform even after Trump supporters and Republican party officials waged a seditious attack against the U.S. Capitol.
It is also part of a line of bogus "intel" designed to keep people on edge, reminiscent of a 2017 conspiracy theory agitating about an "Antifa blackout" affecting the national power grid, which also involved a storm, albeit a solar one:
The U.S. Army is planning to conduct its regularly scheduled communications drill with ham radio operators starting on Nov. 4. It will have no effect on the electric power grid.

The drill typically involves several hundred amateur radio operators practicing how they would use their equipment to help military communications in the event of a major power outage, according to a statement that Charlie Stadtlander, chief of public affairs for the U.S. Army Cyber Command, sent to us.

The exercise has gone largely unnoticed each year since it started in 2013. But not this year. That's because Nov. 4 is also the date on which far-right bloggers have forecast a violent uprising by antifa, a loosely organized group of anti-fascist activists. So, some websites have now spun the annual ham radio exercise into a conspiracy theory involving a government shutdown of the power grid in concert with an antifa-led riot.

Neither of these things is true.
The claim is false — in no small part because Trump cannot tweet after being banned from the platform on January 8 2021 after years of inciting violence, pushing weaponized conspiracy theories, and smearing political opponents.