Untrustworthy blogs and right-wing social media users pounced on footage allegedly captured by one Twitter user to throw inflammatory allegations against San Francisco and "liberal" communities as a whole following a shelter-in-place order given in the California city.
The Twitter user posted footage of two people allegedly stealing items from a Walgreens on March 21 2020, writing, "PROTECT OUR LAW ABIDING CITIZENS AND BUSINESSES. THE LOOTING HAS BEGUN."
@SFPD @chesaboudin @Walgreens SF GOV – PROTECT OUR LAW ABIDING CITIZENS AND BUSINESSES. THE LOOTING HAS BEGUN. Walgreens on Drumm. Suspects jumped on bus and didn't pay right after on Market and Drumm @sfmta_muni pic.twitter.com/n5T5CEeYub

— Jared William (@Jared_William) March 19, 2020
We contacted San Francisco police seeking comment; they told us that not only has there been no uptick in crime, but that they were unable to find a report of the incident based on the video alone.
Despite this, some "entertainment" blogs were content to instead repost the "shocking video" without any additional reporting, in articles that lacked even a byline: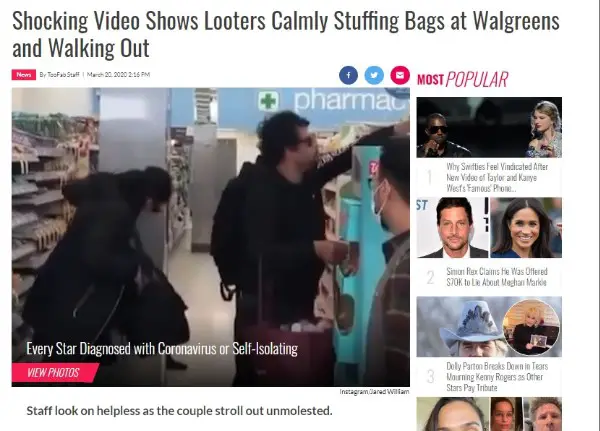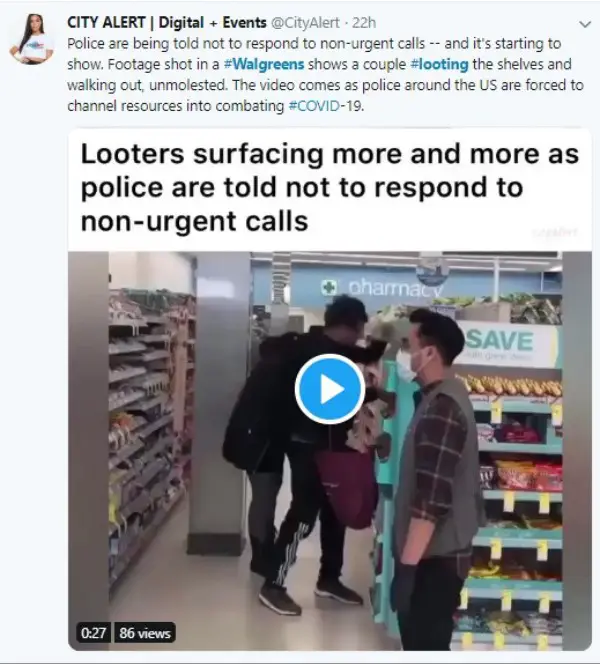 Other Twitter users picked up the video and seized on it to push their own claims attacking "Democrat cities":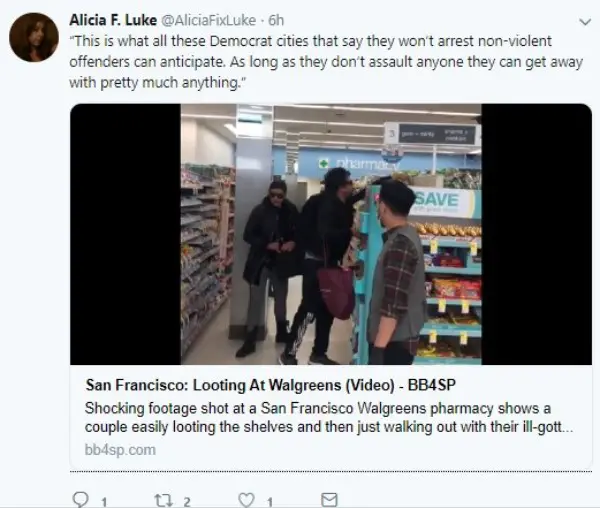 Besides hinging on a questionable definition of "looting" — the clip shows that the store itself is under no immediate threat — the spate of posts rushing to brand it as an a more serious crime feeds into an inflammatory strain of disinformation; as the Baltimore Sun reported in 2016, an unidentified party relied on crime-heavy "reporting" in passing off a new version of the Civil War-era Baltimore Gazette newspaper online as legitimate news:
A local story about an 11-year-old girl hit by a minivan in Woodberry is riddled with falsehoods. It says she was hit near a school at 4041 W. 41st St., Ridley Elementary, that does not exist and says she is a student at Dwyer Middle School, another made-up school. The site also "reports" the incident was being investigated by the "County Sheriff's Office," despite it happening in the city.

In other big local news, according to the Gazette, a man made off with Sudafed from a Walgreens on East Fayette Street. Reporter "Dan Stevens" learned from a "Baltimore Police Department media release" the pharmacist thought the man was "casing the place." The suspect, not surprisingly, in light of the racial undertones of some of the articles, is described as an "unknown black man."
It is true that San Francisco Public Defender Manohar Raju sent a request to Police Chief Bill Scott asking that his department stop issuing citations or making arrests concerning non-violent felonies, misdemeanors and similar infractions "unless there is a clear and present danger of imminent harm." However, according to the San Francisco Examiner, the department has not made a comment on that request.
The city itself has been under a shelter-in-place order given by Mayor London Breed since March 16, 2020 — three days before California Gov. Gavin Newsom released his own order covering the entire state. Barring comment to the contrary from authorities, there has been no evidence of an uptick in "looting."