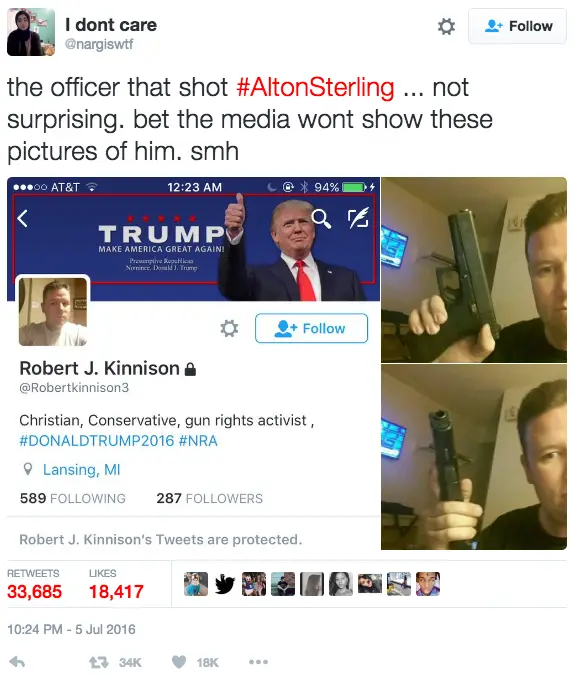 Donald Trump Supporter Killed Alton Sterling in Baton Rouge – Fiction!
Summary of eRumor:
It was rumored on social media that a Donald Trump supporter and policeman named Robert Kinnison killed Alton Sterling in Baton Rouge.
The Truth:
Robert Kinnison is a vocal Donald Trump supporter on Twitter — but nothing else about this rumor is true.
Shortly after a video that appears to show a Baton Rouge police officer shooting a black man named Alton Sterling while laid on the ground went viral, Robert Kinnison was intentionally and falsely outed as the police officer who pulled the trigger on Facebook:

The post quickly went viral. In less than a day, it had been shared more than 30,000 times on Facebook. Many who saw it tweeted threatening or angry messages at Robert Kinnison's Twitter handle, but he quickly responded in a YouTube video that he had been "trolled" by someone who incorrectly identified him as the shooter:
For some reason, somebody put my name out there, and said I was the shooter. They have a picture me holding a glock. Yes, I did hold a glock on in a picture on Facebook for a while. I did it as a troll, you know? I did a couple weeks ago as a troll to show off my guns. Somebody who doesn't like me took that picture and said I was the cop who shot Alton Sterling… I want everybody to know I'm not a cop from Louisiana, I'm a trucker from Arizona.
Then, shortly after the tweet storm that followed the release of Robert Kinnison's name, Baton Rouge Police identified Blane Salamoni and Howie Lake II as the officers involved in Sterling's death.