An infectious disease professor covering the spread of the COVID-19 pandemic around the state of Georgia briefly found that her readers were unable to share her work on Facebook after being designated by "spam" on the platform.
"It was a hassle, but I've been through worse," said Dr. Amber Schmidtke, who began publishing on the newsletter platform Substack while working as an assistant professor of microbiology at the Mercer University School of Medicine.
Facebook told us that her page — which has amassed more than 16,000 followers on the platform — was incorrectly flagged by the site's spam prevention tools.
Schmidtke has used the page to direct readers to her newsletter. Her work was featured by local news outlets, and the university also published a story on its own website promoting the newsletter and her methodology:
She pulls data from the Georgia Department of Public Health and looks at trends from the Centers for Disease Control and Prevention and the World Health Organization. She also looks at daily lists of research articles curated by Mercer's Skelton Medical Library.

Her posts, which go up every day except Saturday, generally include information about the number of cases, hospitalizations and deaths, including charts and maps.
The newsletter started out as her effort to keep her friends and family up to speed with ongoing developments since March 2020, she said. But in May 2020, she was asked to join a state Department of Public Health task force evaluating how to present data related to the pandemic to the general public.
"They trust me. I'm part of the team," she said. "I'm using their data that's publicly available. It's definitely not spam, is what I'm trying to say."
However, she told us, in July 2020 her readers began telling her that they could not share her work.
"I started getting this barrage of notifications and emails and texts from followers — some of whom are friends — saying, 'Something's gone wrong and we're all getting hit with these notices that what we've shared of your content is being marked as spam and removed,'" Schmidtke said. "I just thought it was an algorithm problem because my work has started to go viral. I really expected this to be resolved, so I was just shocked when I got the email saying 'This violates standards and we're not going to reinstate your post.'"
Schmidtke shared the message in a subsequent post on July 14 2020. According to Facebook, her Substack site "was unpublished because it breached our community standards." However, the message does not contain an explanation for how it violated those standards: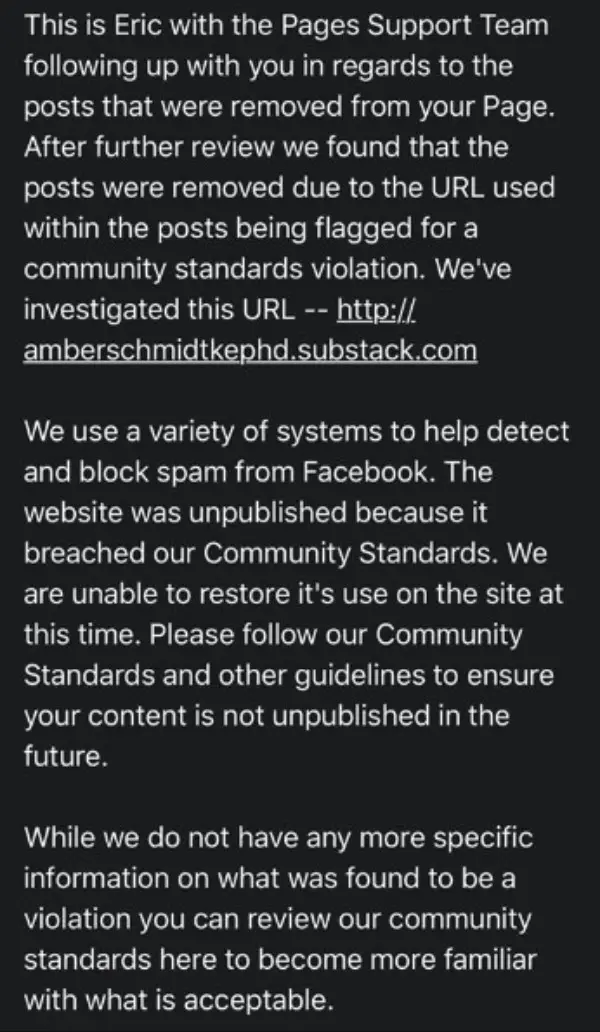 "I have lots of feelings about this. But most of all, I'm disappointed because there were really productive conversations in the comment section of each of these posts," she wrote in her post. "It seems we aren't going to get those back."
Two days later, Schmidtke shared a separate message from a Facebook support worker saying, "I do understand that you'd like to know more about what specifically triggered the URL to be flagged however that information has not been made available to us."
After running afoul of the platform's "community standards," Schmidtke said posted links to her Twitter account which will direct readers to her Substack newsletter, rather than abandon Facebook entirely.
"It would be one thing to just shift over to Twitter and be done with it," she told us prior to Facebook reversing its ruling. "But the problem is so many of my older followers in particular are very wary of Twitter; they don't get it, they don't understand it. And they're the people that need this information the most for their own protection. So it's not a good workaround right now."
Schmidtke herself is a longtime user of the platform. "I think that what's really important here is that the people who need the information will be able to access it," she said after Facebook corrected its ruling on her site. The platform also apologized for mistakenly mislabeling Schmidtke's content.
The mislabeling of her page unfolded as Facebook's chief executive officer Mark Zuckerberg promoted what the company has cast as a "Facts About Covid-19" campaign that it claims will "debunk common myths about the pandemic." Zuckerberg announced on his own Facebook page that he would take part in a discussion on July 16 2020 with Dr. Anthony Fauci, the infectious disease effort who was recently the target of a series of attempted smears by people linked to United States President Donald Trump's administration.
It also comes on the heels of a series of controversies over similar, seemingly arbitrary decisions about what is and is not acceptable content on the site. June 2020, as the energy industry news site E&E News reported, Facebook overruled a ruling from a fact-checker debunking a column related to another issue, climate science, after interference from a "conservative" employee. Facebook then claimed that the ruling was overruled because the original piece, published in a conservative outlet, was considered an "opinion" piece. Facebook later claimed that this type of content was exempt from fact-checking and had been since 2016, a claim that has also been debunked. (The platform has also marked content from us as "clickbait" in the past without explanation.)
We contacted Substack seeking comment on the brief labeling of Schmidtke's work as "spam," but we have yet to hear back.