Facebook Claims We're 'Clickbait.' And It Won't Explain Why.
Even as Facebook hides behind "free speech" concerns to justify a lack of action against the spread of far-right content, it does reserve the right to determine what constitutes "clickbait" with no explanation as to how that decision is reached and who makes decisions when affected outlets file an appeal.
In August 2019, we were notified that our fact-checking site — which is made up entirely of reporters who once worked for a former Facebook partner, Snopes.com — has been deemed by the platform several times as engaging in "clickbait" practices. In each case, the notices contain vague advisories about "misleading or sensational headlines":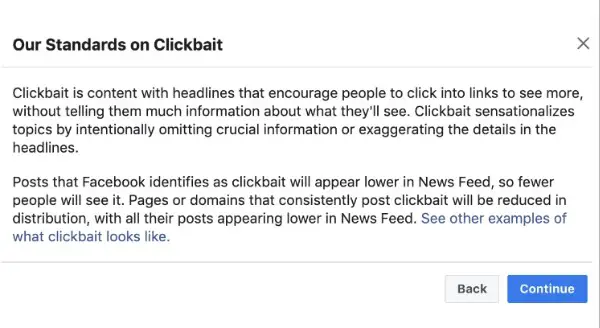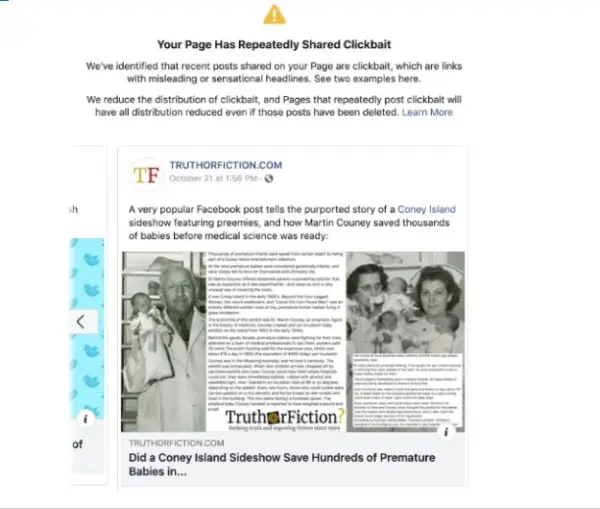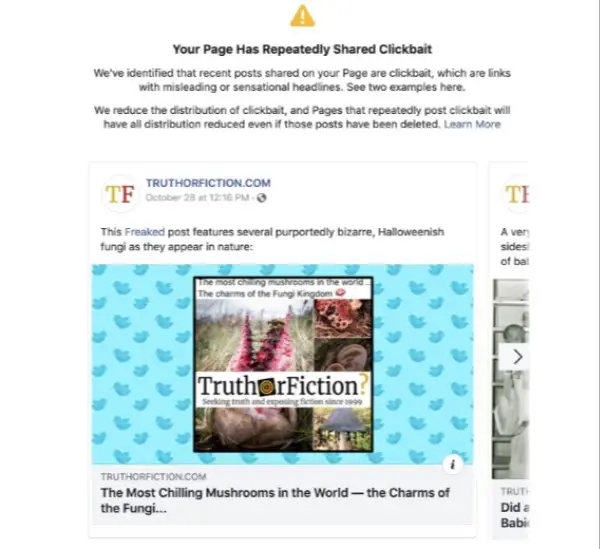 As we can confirm from speaking to two other legitimate outlets tagged as "clickbait" in Wonkette and KTOO-FM, Facebook's appeals process does not provide an opportunity to speak with an actual person behind the platform's rationale for limiting the reach of our posts and with that our ability to make money through pageviews and reader engagement.
'It Really Feels Like We're Being Scapegoated'
Rebecca Schoenkopf, owner and publisher of the often acerbic news and commentary site Wonkette, told us that being docked as "clickbait" had not affected her site's reach, because she believed that Facebook had already been throttling the site — since at least January 2018.
"We're getting 2,000 visitors from Facebook a day across a dozen posts, with [having] 100,000 followers on Facebook," she said. "Now they have an official excuse to do it, though."
According to Schoenkopf, her site also began getting "clickbait" notices in August 2019. An appeal on their part was denied.
"They just tell us that we have been clickbaity and we will be throttled and we can appeal, and then we appeal and it just says, 'Your appeal is the same, you are clickbait," Schoenkopf told us.
She called it "aggravating" for right-wing blogs like the Daily Wire and Breitbart to receive consistent boosts from Facebook.
"I can't imagine there's no clickbait in any of their headlines," Schoenkopf said. "It really feels like we're being scapegoated."
The apparent eagerness of both Facebook and its chief executive officer, Mark Zuckerberg, to appease blogs with connections to white nationalism entered further into the spotlight in October and November 2019. Zuckerberg publicly admitted that he had dinner with right-wing personalities; he was also strongly questioned by Rep. Alexandria Ocasio-Cortez of New York for the inclusion of a Daily Caller-owned blog in its fact-checking program, a decision he attempted to foist on the International Fact Checking Network, or IFCN — the same group that now claims not to have a fact-checking relationship with his company.
Also, when provided evidence by journalist Judd Legum that a set of fourteen Facebook pages with large followings were secretly acting in concert to spread Daily Wire content, the platform did not say it would take action against them in spite of such action violating its rule against "inauthentic coordinated behavior."
By comparison, at least eight of Wonkette's stories have been docked by Facebook over concerns about sharing "clickbait" or "fake news" since August 2019. One warning involved a story on Fox News analyst and former judge Andrew Napolitano that invoked the phrase "Impeach the motherfucker" in its headline.
"As you know, that is a popular phrase from Dan Savage. It is a joke," she explained. "He didn't say 'Impeach the motherfucker already.' He called for him to be impeached. So my husband got notices that we were spreading fake news."
Wonkette was also docked over a post accurately quoting former Democratic Party presidential candidate Beto O'Rourke's question to the press, "What the fuck?" regarding U.S. President Donald Trump's anti-immigration rhetoric.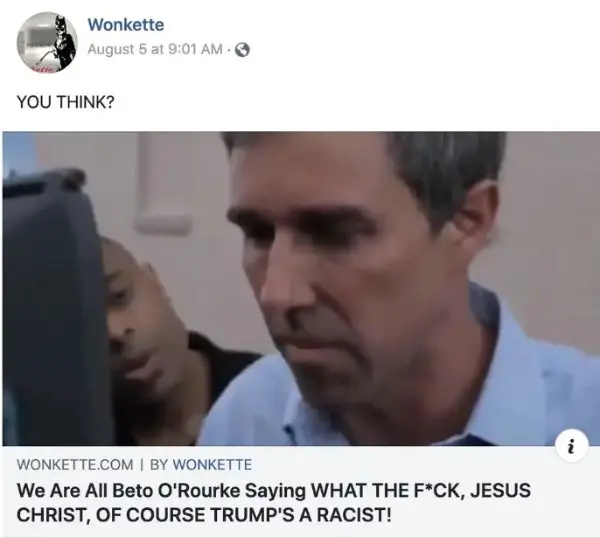 "If you've gone through our stories at all, I think you'll find that they are actually factual instead of what are clearly jokes. I've got a master's in journalism," Schoenkopf told us. "I taught in the University of California system. I'm not bad at it you know? And I don't make things up, unless they are clearly a joke."
We also asked Facebook why it would not provide Wonkette an opportunity to speak to a person regarding their "clickbait" listings. The company has not responded.
'Are There Actually Human Beings Looking At These Appeals?'
In October 2019 KTOO-FM, a public radio station in Juneau, Alaska revealed that two posts on the station's Facebook page — one covering Juneau's local ballot measures and one on the town of Red Devil and its history with the mining industry — had been rated as "clickbait."
Digital media editor Ryan Cunningham told us that the warning seemed like a mistake; when the station filed its appeal, he said, it seemed that getting the decision reversed would be a "slam dunk." Instead, that appeal was denied without much explanation.
"It made me question what their process was," he said. "Are human beings actually looking at these appeals? Or was it some sort of automatic process? I didn't know. Both me and our creative services director [David Purdy] took it to social media to see if other people had this problem."
Cunningham elaborated on the process in a Twitter thread while criticizing Facebook, saying, "It's a little rich for a platform that encourages self-promotion and shameless marketing strategies to tell a verified local news org that the ways they've adapted to that platform is somehow improper."
For his part, Purdy shared the decision on a Facebook group for NPR affiliate stations. At that point a Facebook employee offered to help; days later, the "clickbait" sanctions had been lifted. The employee later told KTOO Facebook reviewed its page on the site again "and found and resolved an issue" affecting their posts. As the station reported:
KTOO asked the representative why the error wasn't caught after the initial request for review, and if we should expect similar errors to occur in the future.

On Thursday morning, Facebook's representative wrote back: "The initial appeal you requested unfortunately just was not able to uncover the issue that was flagging some of your posts in error. This should now be fixed with your page going forward, however, if you experience any issues like this in the future, please feel free to bring them to my attention as soon as you notice them and we will work again to get them resolved."
A month after being allegedly sanctioned by the platform, though, Cunningham told us that the effect on KTOO's web traffic was still unclear; the station conducted an informal survey showing that of more than 100 respondents receiving the station's stories through Facebook, around half of them get their news exclusively through Facebook.
"I really don't know what actually happened in terms of throttling our reach," he said. "There was really no significant dropoff that I'm noticing."
However, Cunningham said, he still wanted to get more information on how Facebook actually decides what makes an outlet "clickbait."
"I feel like Facebook has trained news organizations to write headlines a little differently and to make them more appealing at first glance. Facebook has done that — they're at least partially responsible for that," he said. "So now for Facebook go to back and say, 'The way that we trained you to write headlines is actually wrong,' that just seems wrong."
We asked Facebook if it could explain the error that led to KTOO's content being tagged as "clickbait." The company has not responded.
Our Story
One factor that does set us apart is our own site's dealings with Facebook. During the period when our staff worked at Snopes, that site entered a paid partnership with the platform along with other fact-checkers working according to principles set forth by the International Fact-Checking Network (IFCN), against the objections of our editor-in-chief Brooke Binkowski, who at the time was managing editor of Snopes. Initially, she supported the partnership — but made it clear from the beginning that the site would take no money on her watch.
Binkowski criticized Facebook's efforts both before and after being fired from Snopes, and Snopes staffers also anonymously questioned the platform's intentions in at least one news report. Snopes itself announced in February 2019 that it would leave the partnership. In 2018, the site received $406,000 from Facebook for its involvement in the fact-checking partnership.
But despite the criticism, the IFCN has continued to work alongside Facebook. When asked whether her group had offered guidance to the platform regarding the "clickbait" designation, IFCN marketing director Tina Dyakon told us, "The IFCN does not have a fact-checking relationship with Facebook and we have not offered them guidance on the matter. Facebook has adopted the IFCN's standards as part of its vetting process — independently from the IFCN."
Dyakon made her remark the same day the IFCN posted a story promoting a new project alongside Facebook reading:
International Fact-Checking Network (IFCN), a unit of the Poynter Institute dedicated to bringing together fact-checkers worldwide, has partnered with the Facebook Journalism Project to create the Fact-Checking Innovation Initiative.
The IFCN's post also noted that its president Baybars Örsek made the announcement alongside Facebook's director of "news integrity," Keren Goldshlager.
We also attempted to get clarification on the issue from the Society of Professional Journalists (SPJ), which has partnered with Facebook on a series of "training sessions" for media professionals on how to use the platform. (In the interest of full disclosure, managing editor Brooke Binkowski is also a board member of the SPJ San Diego chapter.) We sent SPJ ethics chair Lynn Walsh, who coordinates the program, links to the Wonkette and KTOO stories and asked her what guidance her group offers regarding "clickbait" headlines.
In response, Walsh directed us to links provided by Facebook regarding "avoiding sharing schemes" and how to "drive reach and referrals without clickbait" that rely on examples involving non-existent sites. When asked to comment on Facebook's definition of the term — and despite us sending relevant links — Walsh said:
Those articles provide some information but without doing a deep dive myself into the particulars of what occurred and verifying what each party says happened, I am unable to responsibly comment on those particular situations. A news organization should contact Facebook if they believe content has been removed improperly.
We asked Walsh on whether the issues raised regarding Facebook's credibility by not only Ocasio-Cortez and Legum but former executive Yaël Eisenstat — who criticized the company in a November 4 2019 Washington Post op-ed for its "disingenuous" tactic of painting the issue of false political advertising as a "free speech" issue — gave SPJ reason to be concerned over its partnership.
"Our training program is to train journalists on how to best use Facebook tools. Facebook continues to be a way people find news, because of this I think journalists and news organizations should know how to best post content and engage their community on the platform (and other social media platforms)," she responded. "We have the training program/partnership with Facebook so we can help journalists best share their stories with their community in a space their community is consuming news."
Walsh confirmed that SPJ does receive money from Facebook through the program, but she did not say how much.
"The money received from Facebook covers the cost for SPJ to manage the program and the cost of the trainer to lead the training (travel costs and trainer fee)," she said. "The training is offered FREE of charge to the newsroom, university of journalism organization."
We also asked Facebook whether tagging us as the same was a retaliatory effort against Binkowski for her past criticism of the platform. The company has not responded.