Canadian School Falsely Accused of Suspending Student Over 'Rainbow Poppy'
Claim
A student at Stonewall Collegiate in Manitoba, Canada was suspended for refusing to wear a "rainbow poppy."
Like this fact check?

Reporting
A recent political candidate in Canada accused her teenage cousin's school of suspending the girl over an item that may not even be available in their country.
Cyara Bird said in a November 7 2019 Twitter post that the 17-year-old Stonewall Collegiate student was disciplined for refusing to follow an instructor's order.
"Her choir teacher was demanding that the choir wear rainbow poppies during their performance in the Remembrance Day ceremony. She and another student rejected that idea, and both were suspended for 'hate speech,'" she wrote.
Bird, a Conservative Party member who lost in her October 2019 bid to unseat incumbent Niki Ashton as Minister of Parliament (MP) for Churchill-Keewatinook Aski, also published a photograph of what she called a "bulletin" posted by her cousin. Though it does not contain slurs, the content is insulting and demeaning toward LGBTQ communities:
"Never seen something so disrespectful in all my days. What does LGBTQ have to do with the war? Red represents blood, Black represents widows and loved ones, Green represents the land the blood was spilled on. NEVER change the poppy."

"Way to un-do [sic] centuries of blood sweat and tears all because you need to do the dishes."

"Keep it in your pants Nobody needs or wants to see it."

"You've got a whole month dedicated to the LGBTQ community, but the people who legitimately made a difference and died so that we could live decent lives have one day. You's [sic] don't need a poppy, you clearly just want attention. One day to remember the real hero's [sic] how about we don't make it about your sexuality for once?"

"If you didn't make such a big deal of it and force people to make a part of their lives there would be no problems."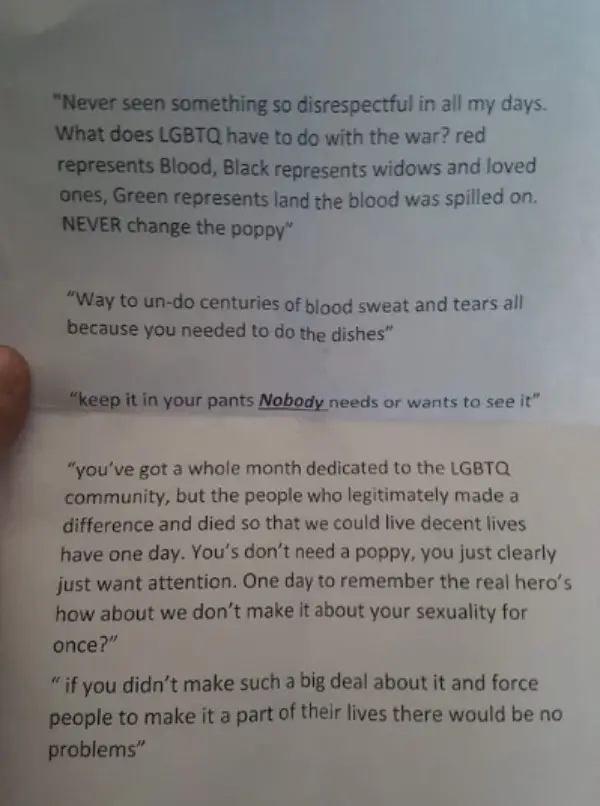 The origins of the various statements in the note are unclear; the first statement closely resembles a homophobic post seen online as part of a wave of harassment targeting an independent online seller who created their own rainbow-colored poppy: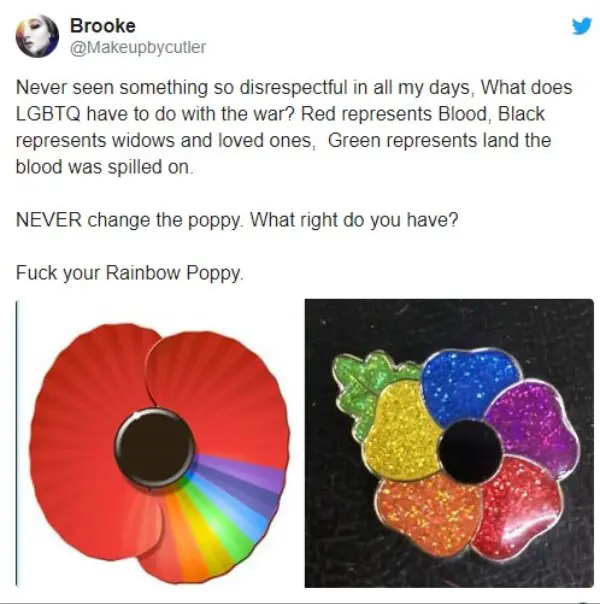 The vitriol over the rainbow poppy was also exemplified by one Facebook post, shared more than 25,000 times, in which the user claimed that if he saw anyone wearing one he would "rip it off of your chest":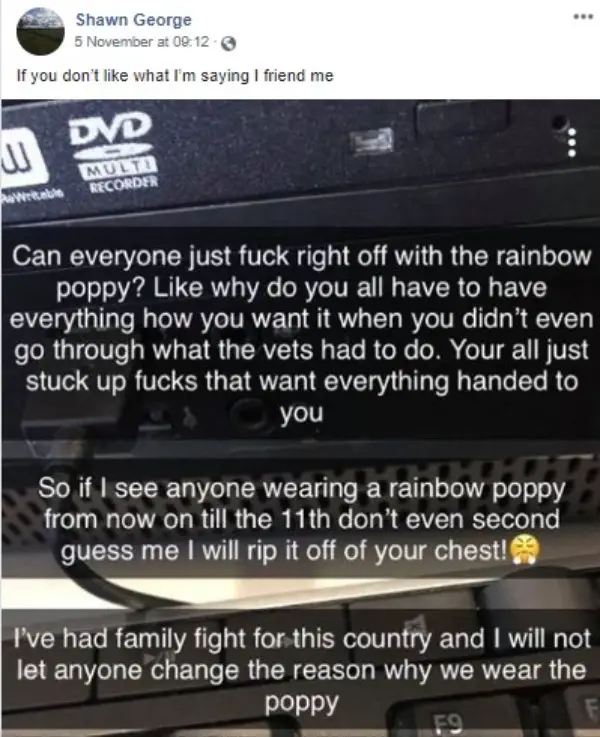 The allegation has been refuted on several fronts. The board of trustees for the Interlake Schools Division, which oversees Stonewall Collegiate, said in a statement:
In light of misinformation which has been widely spread on social media, we will share that at no point did any staff member of Stonewall Collegiate or Interlake School Division direct, nor mandate, any student to wear a 'rainbow poppy'.

The Board of Trustees will not comment on matters regarding individual students so as to maintain confidentiality for those involved.
And as the Huffington Post first reported, a Facebook user believed to be the student's father noted that the girl was actually suspended for hate speech.
While the Royal Canadian Legion is handing out red poppies as part of Remembrance Day celebrations (which is observed in various countries), there is no evidence that a "rainbow" version is even available through them or through online vendors.
The story of the alleged suspension comes out two months after the resurgence of another piece of disinformation surrounding the commemorative flowers, falsely claiming that the Royal British Legion was refusing to "sell" them because of "upset minorities."
Update, November 12 2019: Updated with another example of a widely-shared post about independently-sold rainbow poppies.