Dunkin Donuts Giving Away Free Box of Donuts-
Fiction! 
Summary of eRumor:
Dunkin Donuts is giving away coupons for free boxes of a donuts to celebrate the franchise's anniversary.
The Truth:
Dunkin Donuts is not giving away donuts to celebrate its anniversary; fraudsters are using the fake free donuts offer to trick people into revealing personal information or to apply for credit cards.
Fake offers for a free box of donuts from Dunkin Donuts have been circulating on Facebook since early 2016. The offers link to what appears to be Dunkin Donuts' official website but is actually a mock-up designed by fraudsters to dupe their victims into providing personal information: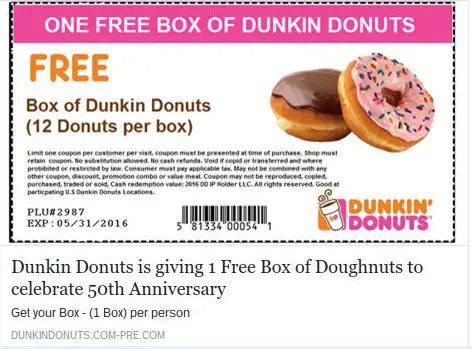 The fake offer uses a common technique: creating a fake company website that has a URL almost identical to the URL a company uses for its official site. In this case, the coupon links  to dunkindonuts.com-pre.com — with the subtle "-pre.com" extension being easily overlooked by victims of the scam.
Once readers click-thru to the Dunkin Donuts imposter website, they'll be asked to sign-up for a rewards program in order to receive a coupon for the free box of donuts. One social media user reported that they were directed to apply for a credit card in order to redeem the offer:
 Grrrrrrrrrrrr I will have to write it over. This is a scam. When people click on the coupon it takes you to a Kwikwap facebook site which then takes you to a scam site. There they state you can win a gift card for a free box of DD if you get 100 points. These points often include giving them your email to be sent a ton of spam. Then you usually have to apply and get accepted for a credit card or become a paying member to some other site. It's a scam!
This scam first began circulating in early 2016, but it resurfaced in April 2017 and left many social media users wondering whether or not the offer was true or not. And it's not.
Similar fake Dunkin Donuts offers have circulated on social media over the years. You might remember a separate fake offer that promised a $100 Dunkin Donuts gift card in exchange for liking, sharing and commenting on a post that has been circulating since 2012: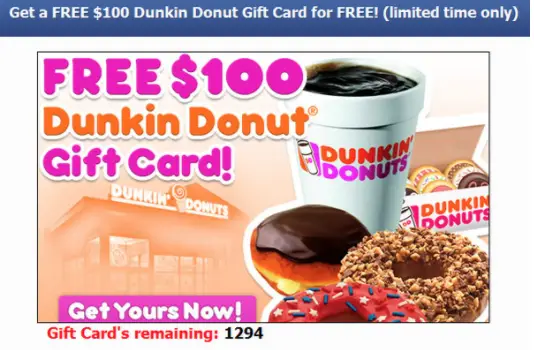 When redeeming offers, it's important to remember that credible businesses will never ask you to provide personal information over social media, and to watch out for imposter websites that look very similar to official company websites with just one subtle difference, like the "-pre.com" URL extension in this fake free box of Dunkin Donuts offer.