Comparing Trump Travel Expenses to Obama Travel Expenses-
Disputed!
Summary of eRumor:
President Trump's frequent weekend visits to his Mar-a-Lago in Florida cost taxpayers $3 million a pop, and President Trump outspent two years of President Obama's in travel expenses in less than three months.
The Truth:
President Trump spent far more time traveling in his first 100 days in office compared to President Obama — but specific claims about Trump travel expenses are based on rough estimates that some argue doesn't paint a true picture of actual costs to taxpayers.
The claim that each trip President Trump takes to Mar-a-Lago costs taxpayers $3 million is based on a 2013 Government Accountability Office (GAO) report about the cost to taxpayers of a trip that President Obama took to Palm Beach, Florida, in 2013. The GAO evaluated the cost of Obama traveling to Chicago and then Palm Beach Florida between February 15 and February 18, 2013:
GAO estimated that the major costs incurred by the Department of Defense (DOD) and the Department of Homeland Security (DHS) for the President's travel to Chicago, Illinois, and Palm Beach, Florida, from February 15, 2013, through February 18, 2013, were about $3.6 million, of which about $2.8 million in costs were incurred by DOD and $0.77 million by DHS (specifically, the U.S. Coast Guard and U.S. Secret Service). These costs consisted of the (1) operating expenses of the President's aircraft, supporting aircraft, and U.S. Coast Guard small boats; and (2) travel expenses, which include per diem (lodging and meals), commercial airfare, and rental cars for DOD and DHS personnel supporting the trip. They exclude certain classified DOD costs, and the salaries and benefits of U.S. government civilian and military personnel traveling with the President or involved with agency travel preparations since these personnel would have received their salaries and benefits for the conduct of their regular duties and responsibilities regardless of whether the President traveled.
Given that President Trump's frequent trips to Florida and President Obama's trips to Florida in 2013 are roughly the same amount of time, it's been widely reported in the media that, based on the GAO report, each Trump trip costs taxpayers $3 million. However, it's important to note off the bat the 2013 GAO report includes costs for Obama traveling to Chicago before he headed to Florida — a cost that should be excluded from Trump travel cost estimates: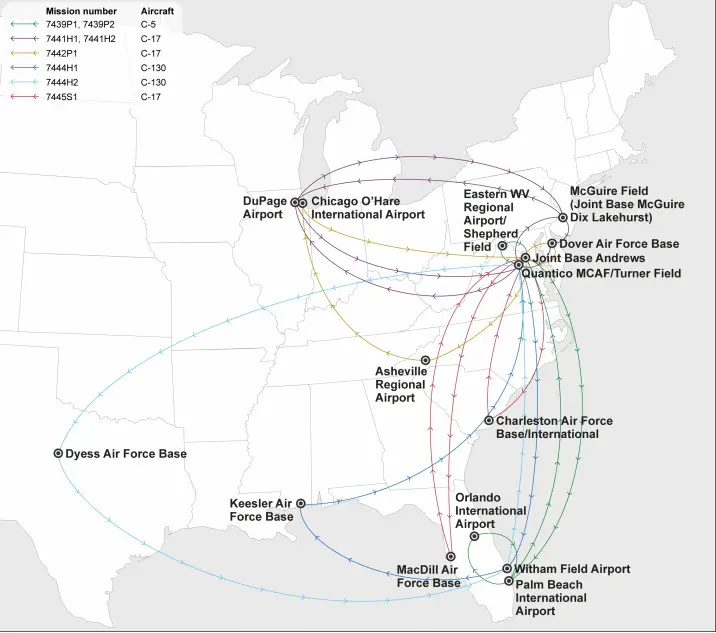 It should also be noted, however, that the 2013 GAO report does not include additional "classified" expenses for President Obama's 2013 trip that the Department of Defense didn't disclose for national security reasons. Given that, there would likely undisclosed, additional costs for President Trump's travel to Mar-a-Lago.
Conservative groups have argued that the actual costs of President Trump's travel to Mar-a-Lago is about $1 million per trip — but we weren't able to find any proof or documentation to back that figure up. The actual cost per trip is likely between the $1 million estimate and the $3.6 million figure from the GAO report.  Judicial Watch, a conservative watchdog group, concluded that Obama travel expenses cost taxpayers approximately $97 million over eight years — it remains to be seen how Trump's travel expenses compare to Obama's.
It is clear, however, that President Trump has traveled far more frequently in the first three months of his presidency than President Obama traveled in the first three months of his. The New York Times reported that Trump had traveled to Mar-a-Lago six times in the first 11 weeks he was in office. Trump also visited Trump-branded golf courses 17 times over that stretch, but the White House has not confirmed how many times the president, who was highly critical of President Obama's golf habit, played golf himself during those visits. Trump also traveled to Trump National Golf Club in Sterling, Virginia, on one of the weekends that he didn't travel to Florida.
President Obama, meanwhile, didn't play any rounds of golf or take any trips during his first 13 weeks in office. Time has compiled a searchable and interactive calendar documenting Obama's first 100 days in office — and it appears based on that calendar that Obama had a very limited travel schedule.
President Trump's travel schedule has drawn even more scrutiny given that Trump was highly critical of President Obama's trips to the golf course while he was in office. Trump tweeted 26 times about Obama playing golf, accusing the president of playing golf instead of addressing important issues:

President Obama should have gone to Louisiana days ago, instead of golfing. Too little, too late!

— Donald J. Trump (@realDonaldTrump) August 23, 2016
While our wonderful president was out playing golf all day, the TSA is falling apart, just like our government! Airports a total disaster!

— Donald J. Trump (@realDonaldTrump) May 21, 2016
Obama has admitted that he spends his mornings watching @ESPN. Then he plays golf, fundraises & grants amnesty to illegals.

— Donald J. Trump (@realDonaldTrump) December 16, 2014

The White House, meanwhile, has argued that President Trump uses the golf course as "an open-air situation room" and to forge relationships and to strike deals with congressional leaders and dignitaries. Trump met with Japan's President Abe and China's President XI at Mar-a-Lago, for example.
In the end, while the actual costs of President Trump's travel to taxpayers is unknown and disputed at this point, it seems reasonable to concluded based on the first 100 days that Trump's travel expenses will easily surpass Obama's.