Did 98 Million Americans Contract Cancer Through Polio Shots?
Claim
The Centers for Disease Control and Prevention (CDC) admitted that 98 million Americans were given cancer through polio shots contaminated with SV40, a cancer-causing virus found in monkeys.
Like this fact check?

Reporting
Despite being long-debunked, the false claim that 98 million Americans were given cancer through contaminated polio shots continued to fester online in 2021.
The conspiracy theory, which first surfaced in a 2013 video by a "paranormal investigation team" on YouTube, posits that the victims were exposed to simian virus 40 (SV40), a cancer-causing virus found in monkeys. The clip is still active and available on YouTube: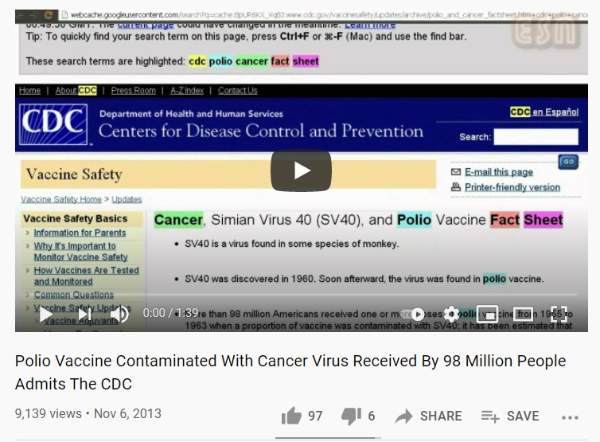 The story continued spreading through various blogs pushing anti-vaccine rhetoric as "health news":
The claim that "98 million Americans" contracted cancer as a result of a polio vaccine comes from twisting some basic information concerning the Centers for Disease Control's (CDC) practices. First, that number represents the total amount of people who were vaccinated between 1955 and 1963. But as the New York Times reported in 2002, while SV40 may have been present in vaccines given to between 10 million and 30 million Americans a 14-member committee created by the non-profit group the Institute of Medicine (later renamed the National Academy of Medicine) found after reviewing more than 100 studies that "most evidence argued against a connection between the polio vaccine and cancers, but that those weaknesses in the studies made it impossible to dismiss the potential link":
SV40 can cause cancer in rodents and in cultured human cells. It has been found in some tumors taken from cancer patients.

But finding the virus in a tumor does not prove that it caused the tumor. Most large population studies have not found a higher cancer risk in people exposed to the vaccine. There is no blood test that can tell whether a person is infected with SV40, and there are no special steps to take to prevent the rare cancers being studied, researchers said.
The CDC itself has said:
After the contamination was discovered, the U.S. government established testing requirements to verify that all new lots of polio vaccines were free of SV40.

Because of research done with SV40 in animal models, there has been some concern that the virus could cause cancer in humans. However, most studies looking at the relationship between SV40 and cancers are reassuring, finding no causal association between receipt of SV40-contaminated polio vaccine and development of cancer.
In 2019 Eric Engels, Chief of the Infections and Immunoepidemiology Branch of the National Cancer Institute told Agence France-Presse that "the consensus is now that those reports [of SV40 exposure] were false positive results."
Regardless, posts pushing the conspiracy theory remain active on Facebook, as we found during a search for the claim in July 2021: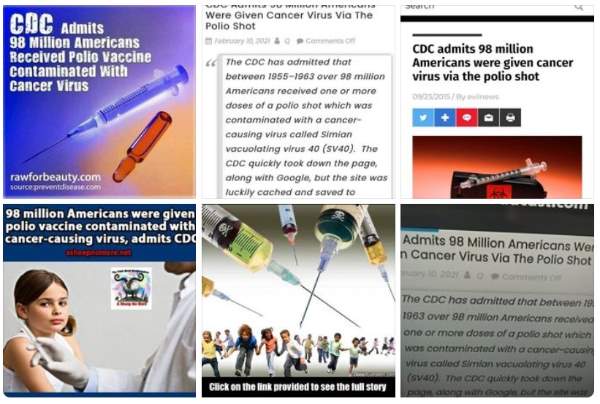 Update, 7/18/2021 10:22 p.m. PST: This article has been revamped and updated. You can review the original here.