Trump Organization Wins Contract to Rebuild Syrian Airport Destroyed by U.S.-Fiction!
Trump Organization Wins Contract to Rebuild Syrian Airport Destroyed by U.S.-
Fiction!
Summary of eRumor:
The Trump Organization will cash in on President Trump's bombing of a Syrian airport because the Syrian government has awarded the Trump Organization a big contract to rebuild the air field.
The Truth:
A report that appeared on a satirical blog is behind rumors that the Trump Organization was awarded a contract to rebuild Shayrat airbase near the city of Homs in Syria after President Trump authorized missile strikes there. 
The story appeared at Breaking Burgh, which describes itself as "a satirical blog serving Western Pennsylvania and beyond," under the headline, "Trump Organization Wins Lucrative Contract To Rebuild Syrian Airport." The report begins:
Donald Trump Jr, eldest son of the President and trustee of his business empire, has announced that the Trump Organization has won a lucrative contract to refurbish an airport in the Middle East. He was quick to emphasize this was done without the involvement of the White House.
"I can state with one-hundred percent certainty that my father played no role in the negotiation of this contract which was conducted solely by me over the past 24 hours."
The airport, called the Shayrat airbase near the Syrian city of Homs, primarily plays host to a domestic carrier called the 50th Air Brigade.  Though still a functioning airport, a number of buildings had fallen into disrepair over the course of the past 72 hours.
Donald Trump Jr. said there were a number of other developers bidding on the project, but he managed to persuade client Bashar al-Assad to pick him by promising to stand behind his work
"I told him if I rebuild it I can guarantee it will be quality that will stand the test of time. But if it's someone other than the Trump Organization, who knows? I couldn't say what might happen to it."
The post was clearly labeled as satire. As is often the case, however, it was mistaken for a factual news report when taken out of context on social media. Users who read the headline, or breezed the article without looking at its source, commented angrily: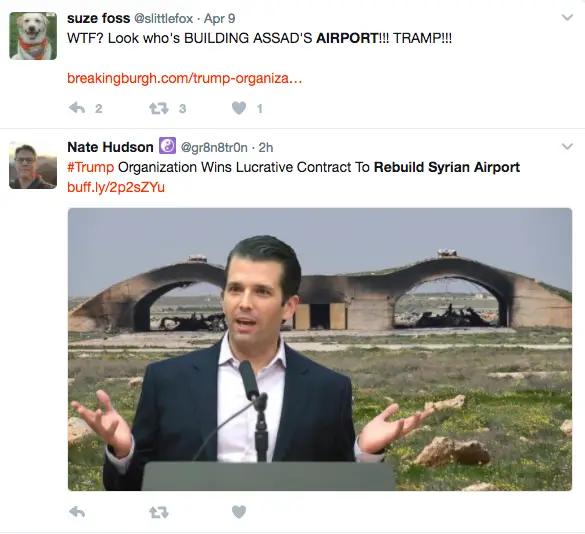 Rest assured, the Trump Organization has not been awarded a contract to rebuild the Syrian airfield that President Trump ordered bombed. In fact,
Syrian warplanes were reportedly taking off from the airport
and bombing rebel strongholds again within hours of the attack — raising questions as to the extent of the U.S. attack's impact.