Joanna Gaines Leaving "Fixer Upper" HGTV Show-Fiction!
Joanna Gaines Leaving "Fixer Upper" HGTV Show-
Fiction!
Summary of eRumor:
Joanna Gaines is leaving "Fixer Upper," the hit HGTV show that she costars on with her husband, Chip Gaines.
The Truth:
False reports that Joana Gaines is leaving "Fixer Upper" appear to stem from news that she'd be getting her own spinoff show on HGTV.
Joanna Gaines and her husband, Chip, have made Fixer Upper the most watched show in HGTV's history. Not surprisingly, HGTV announced plans to cash in on the Gaines' popularity by announcing a spin-off for Joanna as the fourth season of Fixer Upper came to a close, the Dallas News reports:
The spinoff comes after Fixer Upper co-stars Chip and Joanna Gaines delivered two years of the highest ratings of any show on HGTV.
Fixer Upper's current season, their fourth, has already attracted more than 20 million viewers. In her new show, Joanna will focus on the process of creating her designs that are showcased in each Fixer Upper episode, hence the title Behind the Design.  The show will debut Tuesday,  March 28, after the season finale of Fixer Upper and a new show called Home Town featuring a couple in Laurel, Miss.
Waco's famous television stars turned entrepreneurs with growing businesses in retail, furniture, publishing and real estate aren't resting on their laurels.
Rather than removing Joanna Gaines from Fixer Upper, her spinoff would seemingly dove tail with Fixer Upper and provide more insight into her design inspiration and ideas. By December 2016, Joanna had confirmed via her Instagram account that production of season five of Fixer Upper had already begun: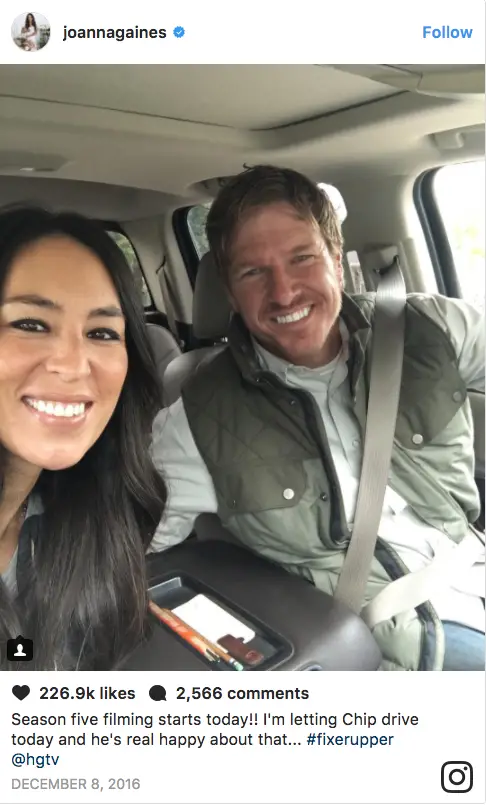 Based on Fixer Upper's previous release dates, the website Starcasm has theorized that season five will premier on November 28, 2017, and will run into the spring of 2018. HGTV has not released an official schedule for the show.
Related Articles