CBS Cancelled "Mike & Molly" Over Melissa McCarthy's Weight Loss –Fiction!
CBS Cancelled "Mike & Molly" Over Melissa McCarthy's Weight Loss –Fiction!
Summary of eRumor:
Rumors that CBS cancelled the sitcom "Mike & Molly" because lead actress Melissa McCarthy lost weight and no longer fits the part have gone viral.
The Truth:
Melissa McCarthy's weight loss had nothing to do with the cancellation of her hit show, "Mike & Molly."
That rumor started with a report that appeared at TMZ News, a fake news website that is often confused with the credible celebrity tabloid TMZ. The fake report quoted a distraught McCarthy expressing disbelief over the show's cancellation:
"I.. just.. I can't believe it! They're cancelling an amazing show JUST because I decided to finally be healthy. It makes no sense! They said I no longer fit the part, which is outrageous. It all started when some of my colleagues recommended Garcinia Pills, something they had seen on a Dr. Oz episode. When your life revolves around being on camera and on stage, you always have to look good for the fans and for yourself. I saw a HUGE difference in less than a week!"
In reality, CBS cancelled "Mike & Molly" in January 2016, and the final season of the show began airing in April 2016. Variety reported that CBS President Glenn Geller made the announcement at a Television Critics Association press tour in January:
"'Mike and Molly,' listen, these decisions are really challenging and I have a tremendous amount of respect for Chuck [Lorre], Al Higgins, Melissa, Billy — the whole cast and crew," he said. "But I can confirm that this will be the last season of 'Mike and Molly.'"
As for the final episode of the sitcom, Geller said, "I think the fans will be very satisfied with what Chuck and Al have planned."
Though the cancellation was a sure thing, no official axing came from the network until now. The final season, which began on Jan. 6, will wrap up this spring. The show is currently in production, with two more episodes to complete filming.
The show's cancellation was public knowledge as early as December 2015. Melissa McCarthy tweeted at the time that she was "shocked and heartbroken" over the show's cancellation: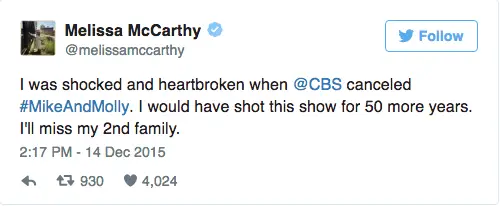 Rumors about why the show was cancelled immediately began to stir. But Ken Levin, a writer on the show, said the show's cancellation was a matter of dollars and cents:
"A big consideration is economics, especially in Mike & Molly's case. Everyone initially signs a six-year deal. The six years will be up this season. This is when having a movie star as your lead becomes not such a good thing. License fees (how much the network will pay for each episode) are usually determined in advance and then putting together your cast and production crew is like an NBA franchise building a team under the salary cap. Sometimes the costs are just too prohibitive."
So, despite widespread rumors that "Mike & Molly" was canceled because of Melissa McCarthy's weight loss, the true explanation appears to be far simpler: money.