Oprah Winfrey Announces She's Getting Married-Fiction!
Oprah Winfrey Announces She's Getting Married-
Fiction!
Summary of eRumor:
Social media is abuzz with rumors that Oprah Winfrey is finally getting married at 62.
The Truth:
A clickbait article making the rounds on Facebook is behind the latest false rumor that Oprah is getting married.
Rumors that Oprah is getting married resurfaced in April 2017 after a Facebook post headlined "Oprah Is Getting Married! You'll Never Believe to Who!" was widely circulated. The post, however, is nothing more than a clickbait article intended to help sell beauty products to Oprah fans. The actually post doesn't make any mention of Oprah getting married, contrary to the headline, and instead urges readers to sign up for a free skin cream trial: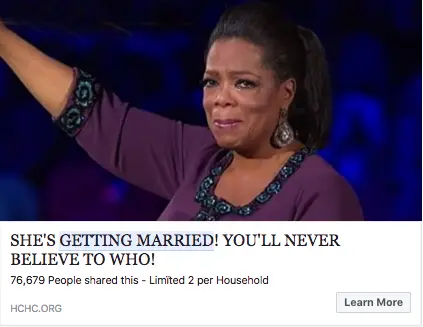 This isn't the first first time Oprah marriage rumors have gone viral, and it probably won't be the last. In September 2016, reports that Oprah was getting married to her longtime partner Stedman Graham spread across entertainment and gossip blog sites and social media channels. The rumor
appears to have started with a story
in
Star
magazine, and Oprah later took to Twitter to personally debunk it:
6 people who know me well have called today congratulating me or surprised they weren't invited to my wedding.
IT' s NOT TRUE!!

— Oprah Winfrey (@Oprah) September 5, 2016

In reality, Oprah has not announced plans to get married, and she has repeatedly said that she does not regret her decisions not to have kids and not to get married, so it's unlikely she will announce marriage plans anytime soon. In a 2015 interview, Oprah said that Stedman had proposed to her once, and that she immediately realized she didn't want to get married, People reports:
The media mogul explained that she felt like she always wanted someone to want to marry her, but when the opportunity presented itself, and longtime boyfriend Stedman Graham proposed, Winfrey realized she didn't necessarily want marriage.
"The moment he asked me to marry him, I was like 'Oh, God! Now I actually have to get married?'" Oprah said about the wedding that she and Graham agreed to postpone, but never spoke about again. "But what I realized is, I don't want to be married.
"Because I could not have the life that I created for myself. I couldn't do it."
So, just as in the past, rumors that Oprah is getting married continue to prove false.