A "satirical" blog sowed racist disinformation in the U.S. and abroad with a post targeting Ebola treatments in September 2014.
The post began by stating:
The Center of Disease Control, which is headquartered in Atlanta, has released a statement saying the trial vaccine for the deadly Ebola virus will only work on those with white skin.

In an excerpt from the statement, the government agency stated, "Early tests of an experimental drug, which would effectively combat the spread of Ebola, have proved successful only in those with white skin — We are working diligently to improve the sample to be able to help all those who are in need."
The post was published amid an actual Ebola outbreak that unfolded in West Africa that killed more than 11,000 people between 2014 and 2016. The outbreak captured national attention within the U.S. after Thomas Eric Duncan, a 45-year-old Liberian citizen, was diagnosed with the disease while visiting the U.S.
Duncan died in a Dallas hospital on October 8 2014. Eleven Ebola cases in all were reported in the U.S. that year; he and 44-year-old Dr. Martin Salia, who was evacuated to the U.S. from Sierra Leone, both died as a result of their infections.
But as is often the case with online "satire," the NewsNerd's account was fabricated. A disclaimer on the blog read:
The stories posted on TheNewsNerd are for entertainment purposes only. The stories may mimic articles found in the headlines, but rest assured they are purely satirical.
Despite that, the story not only spread across social media in the U.S. but was picked up by Nigerian Watch, which bills itself as a news site serving Nigerian expats living in the UK: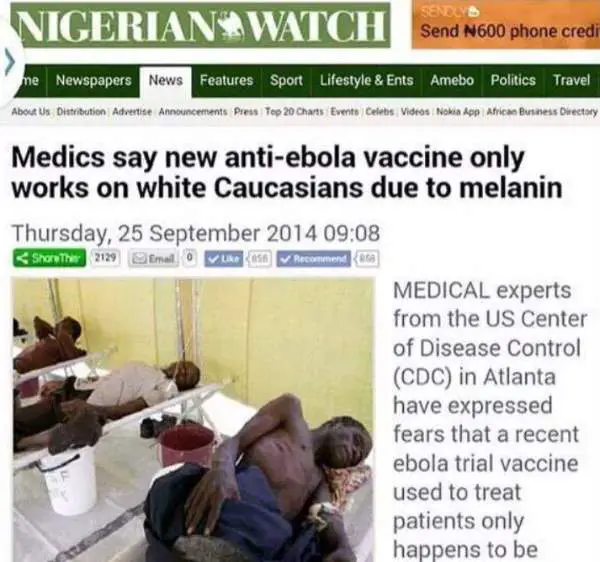 The NewsNerd site is no longer active; it is unclear whether that is related to a $10 million lawsuit filed against the blog by legendary singer Aretha Franklin after the blog posted a "story" claiming that was attacked by fellow icon Patti LaBelle, leading to LaBelle's arrest.
Update 1/3/2022, 3:07 p.m. PST: This article has been revamped and updated. You can review the original here. -ag