Not long after some far-right blogs tried to paint Michigan as a "victim" of a wave of Syrian refugees, some of their cohorts attempted to gin up the same xenophobic panic in Louisiana.
The claim originated as an "alert" that a "flood" of refugees would be steered toward the U.S., with three Louisiana cities — Baton Rouge, Lafayette, and Metairie — identified by name. The three cities were drawn from a list of purported refugee processing centers in cities across the United States.
True to form, however, other blogs further inflamed this bit of "news," claiming that 10,000 refugees had already settled in Louisiana: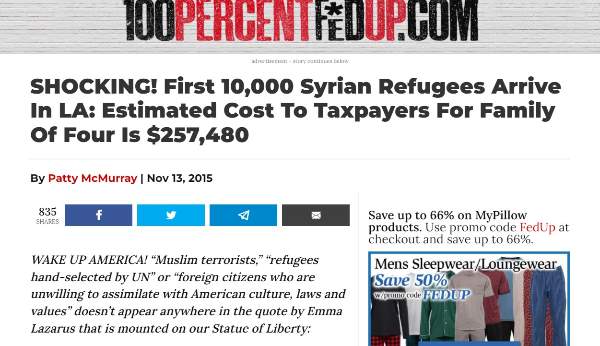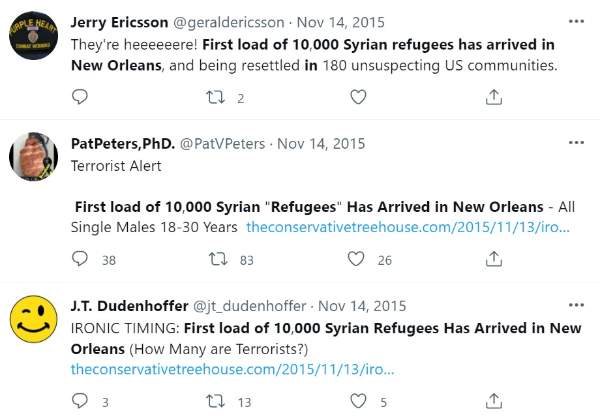 In one case, the blog "Powdered Wig Society" paired its post with a photograph devoid of context: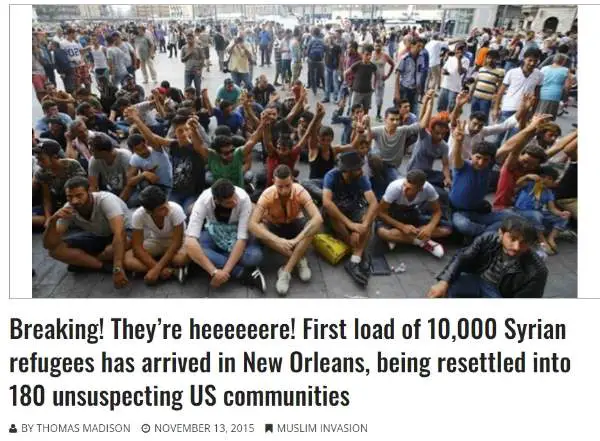 (This site later admitted that the photograph was "a stock photo of Syrian refugees in Europe, as we could find no photos of the actual Louisiana refugees.")
As we have mentioned before, the U.S. did announce its intent to help relocate 10,000 refugees from Syria into the country by January 2017. But as the New Orleans Times-Picayune reported, by the time the bogus claims spread online, only fourteen refugees had been placed in Louisiana:
The State Department's Refugee Processing Center handled three cases, settling seven refugees in Kenner, six in New Orleans and one in Baton Rouge, a spokesperson said.

Seven Syrian refugees arrived in Louisiana in April, and another resettled in June. Six more refugees arrived in November, according to processing center data.
And as Agence France-Presse reported at the time, the refugee relocation process, which normally takes between 18 and 24 months, is not a rubber-stamp process:
Officers from the Department of Homeland Security fly from Washington to the camps and conduct interviews with candidates, seeking to weed out what a US official called "liars, criminals and terrorists."

Each case file is reviewed by the National Counterterrorism Center, the FBI's terrorist screening center, the DHS, the Department of Defense and "other agencies" — US intelligence.

"Refugees are subject to the highest level of security checks of any category of traveler to the United States," another State Department official told reporters.
Update 3/18/2022, 3:28p.m. PST: This article has been revamped and updated. You can review the original here. -ag