First Female Muslim Judge Sworn in on Quran-Truth! & Fiction!
Summary of eRumor:
Carolyn Walker-Diallo was sworn in as a civil court judge using a Quran and became the first female Muslim to become a judge.
The Truth:
It's true that Carolyn Walker-Diallo was sworn in as a municipal judge using a Quran, but she isn't America's first female Muslim judge.
Carolyn Walker-Diallo was elected as civil court judge in Brooklyn's 7th Municipal District in 2015. Walker-Diallo referenced her faith in a post on her campaign website after she was elected to the bench:
"All is praise (sic) is indeed due to the Most High! I am humbled that my community has entrusted me with the immense responsibility of ensuring that EVERYONE has notice and a FAIR opportunity to be heard in the halls of justice."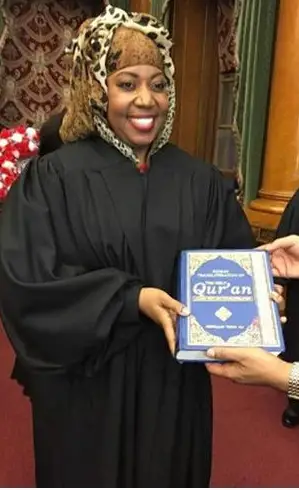 Then, in December 2015, Carolyn Walker-Diallo took the oath of office on Quran while wearing a traditional hijab. Photos showing Walker-Diallo holding the Quran at the swearing-in ceremony quickly ignited controversy on social media and blog sites:

Carolyn Walker-Diallo drew anti-Islamic criticism after photos of the ceremony went viral, and her supporters "feared for her safety," the New York Daily News reports. She has since declined to comment on the matter.
But contrary to viral reports, Carolyn Walker-Diallo was not the first elected official to take the oath of office on the Quran. The honor belongs to U.S. Rep. Keith Ellison (D-Minn.) who was sworn into office in 2007 on a Quran once owned by Thomas Jefferson, USA Today reports.
Carolyn Walker-Diallo wasn't the country's first female Muslim judge, either. Former Michigan Gov. Jennifer Granholm appointed Charlene Mekled Elder to sit on a U.S. federal court as judge in April 2006. A press release said that she was the first female Muslim judge to hold a judicial position in the country.