Foreign Influence Agents Goaded Trump Forums After U.S. Elections, Researchers Say
Foreign agents — particularly those working from or on behalf of Russia — were active on Donald Trump-themed forums in the weeks and months leading up to the January 6 2021 coup attempt at the United States Capitol, a new report says.
According to social media and disinformation research firm Graphika, this particular disinformation operation began just after the November 2020 elections in the United States and pushed a good deal of agitprop, American receptivity to which appears to be waning: 
The newly-identified activity discussed in this report shows that suspected Russian actors retooled and doubled down on efforts to target far-right American audiences after their previous activities were disrupted ahead of the 2020 U.S. election. The actors' continued presence on alternative platforms that lack rigorous policies on foreign interference has also allowed them to create a direct line to these communities, through which to deliver a stream of tailor-made political content. The sometimes skeptical reaction they received, however, and a failure to achieve significant traction illustrates the operators' long-standing struggle with content quality and authenticity.
According to Graphika, the content did not pressure nor encourage Americans to behave in any particular way, instead focusing on disseminating crude but effective political cartoons about various public figures in the service of weaponized narratives, such as "Stop the Steal" and the disinformation-driven "audit" of ballots in Arizona's Maricopa County: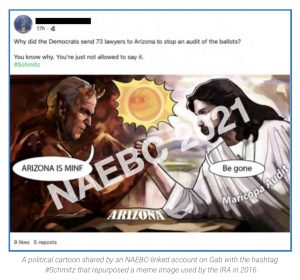 In that way, operatives provided a counterpoint of sorts to the drumbeat of plans that were coalescing into what became the Capitol attack. However, this particular network did not post about those plans directly. The content appeared on sites such as TheDonald.win, Gab, and Parler before it was shepherded into the mainstream:
The Gab accounts previously promoted a site called the Newsroom for American and European Based Citizens (NAEBC), which Facebook experts said was associated with the Internet Research Agency (IRA), a Russian government contractor.

Moscow denies interfering in U.S. elections.

"The same suspected Russian actors that targeted the 2020 U.S. election have retooled and doubled down on their efforts," said Graphika Director of Investigations Jack Stubbs, a former Reuters reporter.
The accounts remain active as of June 2021, as Reuters pointed out:
On Thursday, the most active of the Patriots.win accounts posted "2A is the answer to the corrupt pedo elite," garnering hundreds of supportive votes. 2A refers to the Second Amendment to the U.S. Constitution protecting the right to bear arms.
Graphika's findings follow previous reports showing that fake media outlets paid actors and journalists to participate in a hoax public relations narrative supporting Pakistan's military, and that Trump administration propagandist Steve Bannon had helped develop a vast online network with Chinese businessman Guo Wengui which engages in bad-faith disinformation and harassment campaigns against perceived rivals.