Amid gas shortage rumors on May 13 2021, a post appearing to show the aftermath of a whole series of bad decisions ("Idiot in Hummer filled 5 gas cans expecting shortages. Put them in his car and lit up a cigarette. Hummer destroyed. Swipe to see gas cans") appeared on the subreddit r/IdiotsInCars:
The thread included what appeared to be a low-quality (and possibly old) photograph of a burned-out Hummer against the backdrop of a gas station: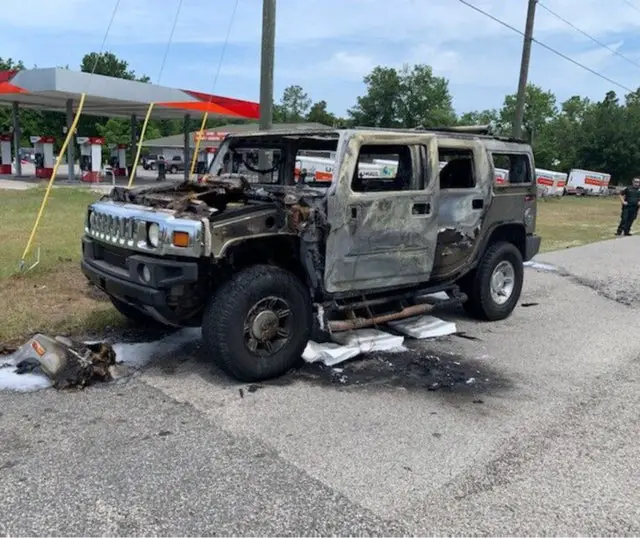 That post and backstory appeared not long after images of a couple purportedly "hoarding gas" catapulted across the internet:
The r/IdiotsInCars post linked to a Reddit gallery of two images (not a news article), and given the popularity of anti-hoarding content and memes, it was very possible an old image of an unrelated burned Hummer was used to farm engagement and "karma."
However, the thread's original poster commented on the thread to link to a May 12 2021 news article featuring the same images, and adding:
EDIT; I got the details of the incident from a witness at the scene. I searched for a link afterwards so I am able to provide more details than was reported.
That edit was likely in response to another comment on the link:
Where does it say he lit a cigarette?
As the second comment indicated, the news article linked by the original poster ("Hummer destroyed in fire, one person hurt") made no mention of a cigarette, but it did confirm just about every other detail:
The occupant of the vehicle had just filled up gas cans at the Texaco Food Mart on West Grover Cleveland Boulevard, Marsh said. Engine 3 from Homosassa arrived on scene at 10:59, and the blaze extinguished at 11:09 a.m. [on May 12 2021].

Fire crews found four 5-gallon containers filled with gasoline in the back of the vehicle.
In short, the image of the burned out Hummer was published by the Citrus County Chronicle on May 12 2021, and was neither old nor out of context. According to the story, the driver of the vehicle purchased at least four five-gallon cans of gasoline just before the fire. The Reddit post's claim that the driver "lit a cigarette" was unconfirmed, but the photographs were otherwise authentic and accurately described.