Picture of American soldier comforting a wounded little girl in Iraq-Truth!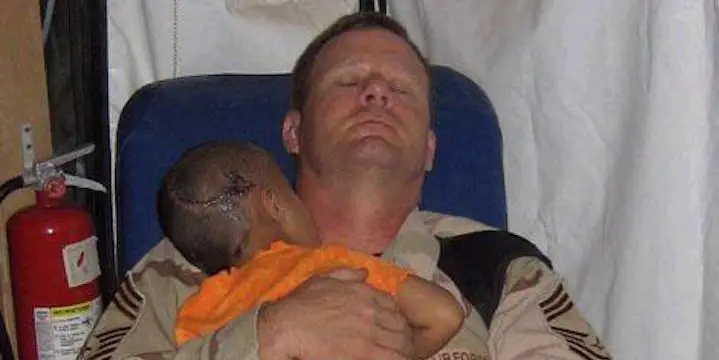 Picture of a Soldier Comforting a Wounded Iraqi Child-Truth!
Summary of eRumor:
A picture is attached to this eRumor.  It is that of an American soldier holding and comforting a small girl who is resting in his arms.  The email says the soldier is John Gebhardt and the little girl was the victim of insurgents who shot her in the head and executed her family.  It is said that she cries and moans and that John seems to be the only one who can calm her down.

The Truth:
According to an article in Air Force Print News in November, 2006, the story is true.
Chief Master Sgt. John Gebhardt,  was superintendent of the 22nd Wing Medical Group out of McConnell Air Force Base in Kansas.
The picture was taken in October, 2006, while he was deployed to Balad Air Base in Iraq.
The young girl had been shot in the head and had extensive injuries.  The insurgents who shot her killed both of her parents and many of her siblings, according to the article.
Updated 2/1/08
---
A real example of the eRumor as it has appeared on the Internet:
Wouldn't it be fitting if this went completely around the world!…..
This needs to make headline news…not some of the other junk that makes the news these days!!! Like the Rosie O'Donell war of words…celeb weddings…who's not wearing undies…etc.
If you agree, please pass this along.
It's a tough, but heartwarming story…with a picture of John Gebhardt in Iraq .

John Gebhardt's wife, Mindy, said that this little girl's entire family was executed. The insurgents intended to execute the little girl also, and shot her in the head…but they failed to kill her. She was cared for in John's hospital and is healing up, but continues to cry and moan. The nurses said John is the only one who seems to calm her down, so John has spent the last four nights holding her while they both slept in that chair. The girl is coming along with her healing.
He is a real Star of the war, and represen ts what America is trying to do.
This, my friends, is worth sharing with the WORLD! Go for it!! You'll never see things like this in the news. Please keep this going. Nothing will happen if you don't, but the American public ne eds to see pictures like this and needs to realize that what we're doing over there is making a difference. Even if it is just one little girl at a time.