Did George Floyd's Autopsy Reveal 'Potential Intoxicants'?
Claim
An autopsy of George Floyd conducted by Hennepin County Medical Examiner's office showed he had "potential intoxicants" in his system.
Like this fact check?

Reporting
Following the arrest of Derek Chauvin in connection with the extrajudicial killing of George Floyd in May 2020, the release of the criminal complaint against the former Minneapolis police officer reignited criticism against local authorities.
One particular source of criticism was a statement included in the statement of probable cause against Chauvin, which said that an autopsy conducted on Floyd revealed "No physical findings that support a diagnosis of traumatic asphyxia or strangulation." The remark was highlighted by journalist David Begnaud and various Twitter users:
BREAKING: Charging doc against Minneapolis police officer who kept his knee on George Floyd's neck says autopsy revealed: "No physical findings that support a diagnosis of traumatic asphyxia or strangulation"…combination of force & health problems contributed to death. (CNN) pic.twitter.com/dkKuD0Eqqy

— David Begnaud (@DavidBegnaud) May 29, 2020
According to the full statement, the Hennepin County Medical Examiner (ME) conducted the autopsy a day after Floyd died at a Minneapolis hospital on May 25 2020, after Chauvin pinned his knee on Floyd's neck for several minutes. The document states:
The full report of the ME is pending but the ME has made the following preliminary findings. The autopsy revealed no physical findings that support a diagnosis of traumatic asphyxia or strangulation. Mr. Floyd had underlying health conditions including coronary artery disease and hypertensive heart disease. The combined effects of Mr. Floyd being restrained by police, his underlying health conditions and any potential intoxicants in his system likely contributed to his death.

[Chauvin] had his knee on Mr. Floyd's neck for 8 minutes and 46 seconds. 2 minutes and 53 seconds of that was after Mr. Floyd was non-responsive.

The inclusion of the phrase "potential intoxicants" was quickly criticized online; Dr. Eugene Gu, co-founder of the anti-addiction group CoolQuit, posted a string of Tweets accusing the medical examiner's office of protecting local authorities:
As a doctor who watched the horrifying video, I can safely say that Hennepin County Medical Examiner's autopsy report that heart disease, hypertension, and most outrageously "potential intoxicants" caused George Floyd's death is so profoundly, and respectfully, quite bullshit.

If George Floyd had underlying heart disease and hypertension, and if he was on a respiratory depressant drug, that would simply make him more vulnerable to a lack of air due to a knee to the neck. Hypoxic cardiac arrest would be especially more likely to happen in that scenario.

You don't need to have evidence of trauma to the airway to believe that a knee to the neck killed this man. We all literally saw it. And for a medical doctor to ignore the actual most important piece of evidence, the video, to cover up for the police is pure evil.

Do no harm.
CBS News and other news organizations reported that Floyd's family has hired Dr. Michael Baden, a former chief medical examiner for the City of New York, to conduct an independent autopsy on their behalf. Baden conducted private autopsies on Jeffrey Epstein and Michael Brown in 2014.
On June 1, 2020 the family's attorney Benjamin Crump announced that according to the autopsy performed by Baden and Dr. Allecia Wilson, who leads the autopsy and forensic services department at the University of Michigan, Floyd was killed by "asphyxia due to neck and back compression that led to a lack of blood flow to the brain."
"What we found is consistent with what people saw. There is no other health issue that could cause or contribute to the death," Baden said, rebutting the medical examiner's findings. "Police have this false impression that if you can talk, you can breathe. That's not true."
Crump's office said in a statement that they would seek first-degree murder against Chauvin and the other officers present when Floyd died.
Chauvin was arrested and charged with third-degree murder and second-degree manslaughter in connection with Floyd's death, which set off a new round of protests against police brutality after it was filmed and posted to Facebook.
On May 30 2020, Gov. Tim Walz announced that state Attorney General Keith Ellison would take over handling of the case.
"We are moving as expeditiously, quickly and effectively as we can," Ellison told CNN two days later. "I need to protect this prosecution. I am not going to create a situation where people can say this was a rush to judgment."
On April 20 2021, Chauvin was convicted of second-degree unintentional murder, third-degree murder and second-degree manslaughter for killing Floyd.
But in October 2022, rapper Ye (a.k.a. Kanye West) regurgitated the lie that fentanyl was to blame for Floyd's death in an interview for a podcast hosted by another rapper, N.O.R.E. (a.k.a. Noreaga).
"They hit him with the fentanyl," Ye said on the show. "If you look, the guy's knee wasn't even on his neck like that."
As the Washington Post reported, West's outburst prompted Floyd's family to consider suing him.
"While one cannot defame the dead, the family of #GeorgeFloyd is considering suit for Kanye's false statements about the manner of his death," family attorney Lee Merritt wrote on Twitter. "Claiming Floyd died from fentanyl not the brutality established criminally and civilly undermines & diminishes the Floyd family's fight."
Complex reported that N.O.R.E. apologized to Floyd's family, claiming that Ye had threatened to cut the episode off early, after initially bragging online that the interview "got more views than football":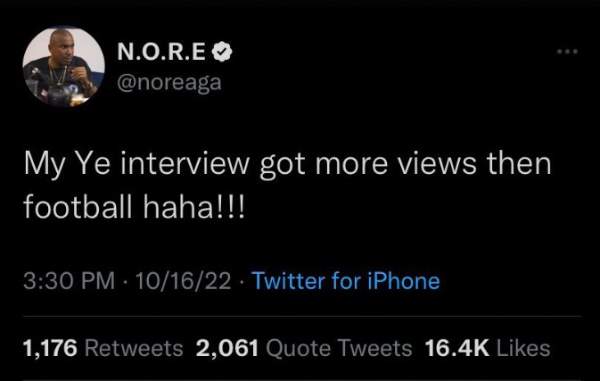 "I just wanna be honest, I support freedom of speech," N.O.R.E. said during an interview on WQHT-FM in New York. "I support anybody, you know, not being censored. But I do not support anybody being hurt. I did not realize that the George Floyd statements on my show was so hurtful. And you gotta realize, it was the first five minutes of the show When he walked in, he told my producer, he said that if he'll stop filming, he'll walk out."
Update June 1, 2020 1:42 pm PST: We have updated our story to note the appointment of Keith Ellison to the case, as well as the results of an independent autopsy conducted on George Floyd. As this new autopsy questions the Hennepin County Medical Examiner's findings, we have updated our ruling on this claim to Unknown.
Update 10/17/2022, 12:46 p.m.: Updated to reflect both Derek Chauvin's conviction for murdering George Floyd and disinformation pushed by Ye (a.k.a. Kanye West) regarding Floyd's death; changed truth rating from "Unknown" to "Decontextualized." — ag