15-ton Prehistoric Shark Captured in Pakistan-Fiction!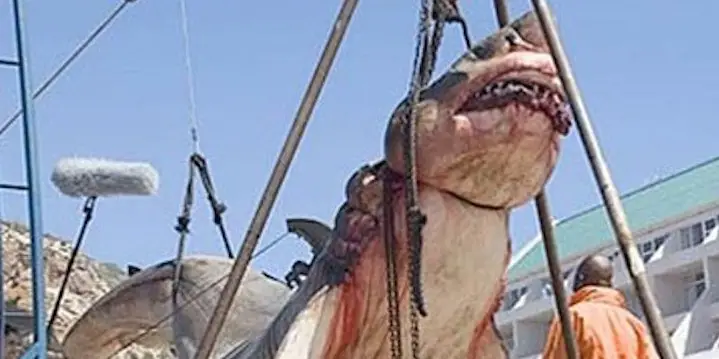 15-ton Prehistoric Shark Captured in Pakistan-Fiction!
Summary of eRumor:
A 15-ton prehistoric shark that was believed to be extinct for more than a million years was captured off the coast of Pakistan.
The Truth:
A 15-ton prehistoric shark wasn't captured off the coast of Pakistan.
Photos of the so-called prehistoric shark that accompany the eRumor were actually taken in 2009 off the coast of South Africa. The photos reportedly show a monster great white shark that weighed in at 1,500 pounds and measured 14 feet in length, the Witness, a South African newspaper, reports.
The monster shark, which was described as an adolescent female, was netted off the Dolphin Coast of KwZulu-Natal. It was towed slowly to shore, tagged and released because great white sharks are protected there. The next morning the shark was found dead near the coast.
Bogus reports of the 15-ton prehistoric shark can be traced back to World News Daily Report, a satirical web publication that posted the story in September 2014.
Posted 10/06/14
---
A real example of the eRumor as it has appeared on the Internet:
15-ton Prehistoric Shark Captured in Pakistan

A giant prehistoric shark previously thought to be extinct for more than 20 million years has been captured by local fishermen off the coast of Pakistan, reports the Islamabad Herald this morning.

The giant creature first thought to be a great white shark was rapidly declared by experts to be an unknown species of shark as it's great weight and size were unheard of. Analysis of the teeth suggest the shark to be a parent of the Megalodon, an extinct species of shark that lived approximately 28 to 1.5 million years ago, during the Cenozoic Era.

The sea creature that measures an incredible 10.4 meters and weighs an astounding 15.6 tons is the largest living shark ever caught to date, great white sharks reaching an impressive 7 tons at full growth, a size that is no match for this giant prehistoric shark that can reach an imposing 20 meters in length and possibly weight up to 30 tons, depending on estimates.

The specimen was revealed not to be fully grown and is estimated to be 2 or 3 years old and already twice the size of a full grown white shark, which takes 5 years to reach its full growth.

A quick autopsy revealed the creature lives under great depths, feeding on giant squid and other fish not commonly found near the surface, which makes the discovery even more incredible to experts.

The recent discovery has raised great enthusiasm from experts abroad who are pondering the fact that other thought to be extinct species might still be dwelling in the depths of the seas. "This is very exciting news for the future of ocean exploration as technology is permitting us to go deeper and deeper every day" explains marine biologist Suzan Chopper from the University of Sydney, Australia. "I just don't know how well our submarines would do against a giant monster like this" she adds.