Did Michigan Gov. Gretchen Whitmer 'Vacation' in Florida?
Claim
MIchigan Gov. Gretchen Whitmer took a vacation in Florida despite advising residents not to do so amid the spread of COVID-19.
Like this fact check?

Reporting
Right-wing blogs and political operatives again targeted Michigan Gov. Gretchen Whitmer on April 20 2021 by accusing her of going on a "vacation" in Florida.
The story was first reported in the newsletter Michigan Information & Research Service (MIRS). Whitmer's communications director, Tiffany Brown, told MIRS that she traveled there to meet with "her elderly father who is battling a chronic illness."
"Her dad was fully vaccinated, and the governor is tested regularly and has never tested positive for COVID," Brown said. The newsletter cited an anonymous source in reporting that the governor's father, Richard Whitmer, has a home in Florida.
However, subsequent reporting has provided more details rebutting the claims that Whitmer left the state on a joyride.
"The governor did not go on spring break, and she has not left the state in over a month," press secretary Buddy Leddy told WDIV-TV. "All trips were very brief, two full days or less, closely followed public health guidelines, and were made when Michigan's daily positivity rate was in the low single digits."
According to the Detroit Free Press, a separate spokesperson for the governor said that the trip had taken place "within the last six months."
The state Republican party accused her of being a hypocrite on Twitter.
"[Whitmer] vacationed to Florida during Michigan COVID spike, despite telling Michiganders to stay home and avoid travel," the party's post read.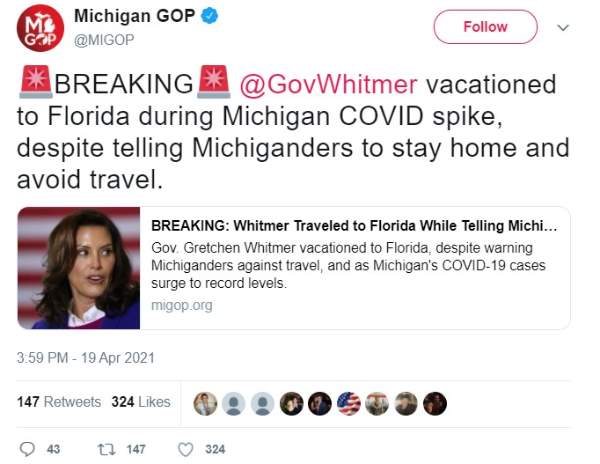 The story was published less than a week after Whitmer appeared on the NBC news program Meet The Press and listed travel from Florida as a possible factor in the spread of another variant of COVID-19. She told host Chuck Todd:
Michigan and Florida are not next to each other. But this is the time in the year that snowbirds come home from Florida, where people are going on spring break, and all of these things can contribute to spread. And that's why we're imploring people to take this seriously, mask up, get tested. If you've been around someone who's positive, stay home. And if you do get Covid, use one of these monoclonal antibodies so that we can keep you out of the hospital and help you retain your health.
The governor made her appeal days after the New York Times described the spread of the pandemic in her state as "out of control":
Outbreaks are ripping through workplaces, restaurants, churches and family weddings. Hospitals are overwhelmed with patients. Officials are reporting more than 7,000 new infections each day, a sevenfold increase from late February. And Michigan is home to nine of the 10 metro areas with the country's highest recent case rates.
Whitmer's office has not provided more details, citing security concerns. In October 2020, fifteen men belonging to right-wing nativist gangs were arrested for allegedly planning to abduct her. Later, it emerged that they planned to put her on trial and then publicly execute her and other elected officials.
The Republican accusations of "hypocrisy" also came less than a month after state GOP chair Ron Weiser was caught on video referring to Whitmer, as well as Attorney General Dana Nessel and Secretary of State Jocelyn Benson, as the "three witches" who needed to be defeated in the 2022 elections.