President's Campaign Bus Was Made In Canada at a Cost of $1,100,000-Truth! & Fiction!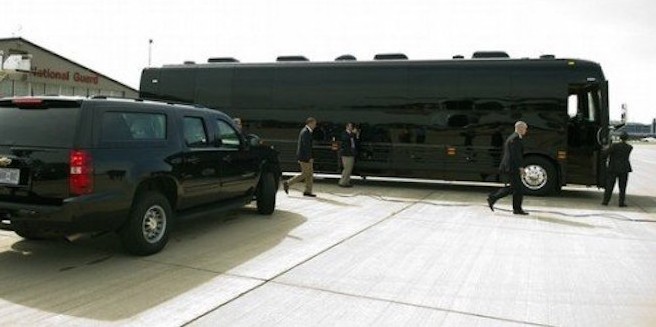 President's Campaign Bus Was Made In Canada at a Cost of $1,100,000-Truth! & Fiction!
Summary of eRumor:
President Obama hit the campaign trail in August 2011 riding in a brand new fully equipped touring bus. Questions have been raised as to its cost and origin.
The Truth:
The Federal Government acquired two new buses that cost $1.1 Million each. The basic touring coaches were built in Canada but they were purchased from a dealer in Tennessee who specially modified them to accommodate the President or candidates under the protection of the Secret Service.
According to an
August  17, 2011 article
by the New York Post, President Obama is travelling in one of two Prevost VIP H3-45  buses that have been specially equipped by the U.S. Secret Service.   This is the top of the line model by the Quebec based Canadian manufacturer and with the added dealer prep comes with a price tag of just cost over one million dollars each. The article said that although the basic buses were made in Canada, they were purchased from
Hemphill Brothers Coach
in Tennessee where custom upgrades and modifications were added to them for the President, "which accounted for about half the cost."
The bus has been dubbed "Greyhound One" is equipped with couches and big screen televisions, high tech electronics for world wide teleconferences and communications.  It is also "equipped to carry all the baggage a president needs -- including the "football" that allows him to remotely control US nuclear weapons."
The Secret Service told the NY Post that "the buses will be available to other protectees who travel by bus, which could include the 2012 GOP presidential nominee."
updated 08/29/11.
---
A real example of the eRumor as it has appeared on the Internet:
The $1.1 million vehicle, one of two that Quebec-based Prevost sold the government, has been tricked out by the Secret Service with state-of-the-art security features and creature comforts.

It's a VIP H3-45 model, the company's top of the line, and is used by major traveling rock bands.

"That's the more luxurious model," Christine Garant of Prevost told The Post.

COOL RIDE, EH! It's the only way to travel for President Obama, who is pushing American jobs — in a Canadian-made bus.

OBAMA'S $2.2 MILLION BUSES

"When we have the Country Music Awards, we sometimes see a lot of them," she said, noting that Kid Rock, David Lee Roth and Kenny Rogers also have owned them.

Obama's new ride is equipped to carry all the baggage a president needs — including the "football" that allows him to remotely control US nuclear weapons.

There's electronic equipment allowing Obama to communicate and teleconference worldwide.

Like his GM-built limousine, nicknamed "The Beast," the bus has armored doors.

The president also has large flat-screen TV sets and comfortable couches.

There's a bathroom, but unlike on Air Force One, no sleeping area.

The bus was ordered by the Secret Service in July 2010 and delivered two months ago.

The feds bought the two coaches for $2.2 million from Hemphill Brothers Coach, based in Tennessee. It installed custom interior upgrades into the Prevost shell, which accounted for about half the cost.

The contract lists the country of origin as Canada and place of manufacture as "outside U.S. – Trade Agreements," a possible reference to the North American Free Trade Agreement.

Hemphill wouldn't comment on the bus. But an ad on its Web site for a similar bus costing $100,000 less than what has been dubbed "Greyhound One" boasts: "This coach is appointed with the finest materials and the latest in high tech electronics and was built for a top entertainer to travel efficiently without losing the luxuries of home.

"It is the perfect coach for entertainers, sports stars, NASCAR drivers, executive travel, or anyone accustomed to the very best."

Ed Donovan, a Secret Service spokesman, said, "There are certain security and communications equipment that we'll have in there. It's just a better situation for us rather than leasing something and then putting in temporary equipment."

Hemphill Brothers lists Beyoncé, Cher, KISS, Van Halen, Jennifer Lopez, Lady Gaga, and Pope Benedict XVI as clients on its Web site.

The Secret Service says the buses will be available to other protectees who travel by bus, which could include the 2012 GOP presidential nominee

Other Rumors:

Secret Service Buys Two New $1.1 Million Buses For Three-Day Trip…

US President Barack Obama (C) walks to his bus as he arrives in Minneapolis-St. Paul International Airport, Minnesota, August 15, 2011, where he is to begin his three-day bus tour in the Midwest centering on ways to grow the economy. (AFP PHOTO/Jim WATSON)

He FLYS into an airport somewhere in the midwest, hops into a brand new 1.1 Million $ bus, paid for by you and me, for a "bus tour" 'around the Midwest', and after an hour or so, gets driven back to the airport for ANOTHER FLIGHT, lands at another airport where another 1.1 Million $ brand new black bus is waiting for him… and repeats all that until his midwest bus'tour' is done?? Oh yes……and THEN he leaves on a 12 day vacation to Martha's Vineyard…….to REST UP from this campaign bus tour!

And don't forget……..those brand new shiny black buses aren't DRIVEN to the location where they meet Obama. Those buses are loaded up on one or more C-17s. Then, they are flown to the destination ahead of AirForce-1.
AND!…….this is REPEATED FOR EVERY CAMPAIGN STOP.

On this 'bus tour', the Prez will lecture the 'little people' on how they need to live within their means and cut-back! Remember when very recently Obama told that family man to GO BUY A HYBRID VAN when he said he couldn't afford to fill up his truck????

Obama's 'carbon footprint' must be as large as most cities by now.

All of this on the taxpayer's dime…..But remember, this is NOT a campaign trip – it is "Meet with the people" trip only! So that the DNC does NOT pay a cent for all of this.

PS: He ordered these busses from a Canadian company