Hillary Clinton Has a Body Double-Unproven!
Hillary Clinton Has a Body Double-Unproven! 
Summary of eRumor:
Hillary Clinton's campaign used a body double after Clinton suffered a medical episode at a 9/11 ceremony in New York.
The Truth:
Rumors that Hillary Clinton has a body double are nothing but speculation at this point.
The story unfolded when bystander video emerged of Clinton nearly fainting and stumbling from a curb before her aids loaded her into a van after a 9/11 event in New York. The situation played into conspiracy theories that Clinton has been hiding a major medical condition, most likely Parkinson's disease.
Clinton's doctor, Lisa Bardack, released a statement saying that Clinton had been experiencing a cough related to allergies and that she had been diagnosed with pneumonia during a follow up visit on Friday:
She was put on antibiotics, and was advised to rest and modify her schedule. While at (Sunday's) event, she became overheated and dehydrated. I have just examined her and she is now re-hydrated and recovering nicely.
After her stumble outside the 9/11 event, Clinton was reportedly taken to Chelsea Clinton's NYC apartment to rest. Questions about a Clinton body double emerged after she appeared publicly, saying she was "feeling great" and, "It's a beautiful day in New York."
Side-by-side pictures that were taken of Clinton before and after she emerged from the apartment argued that her nose looked suspiciously different: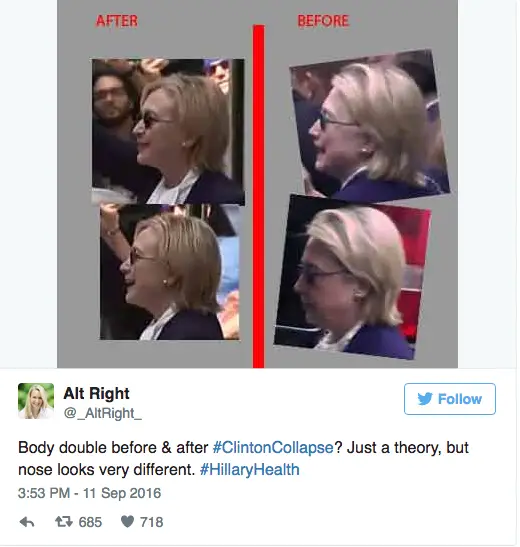 Other side-by-side pictures were used to argue that her cheek, teeth, smile and ears were different before and after she emerged from Chelsea's apartment: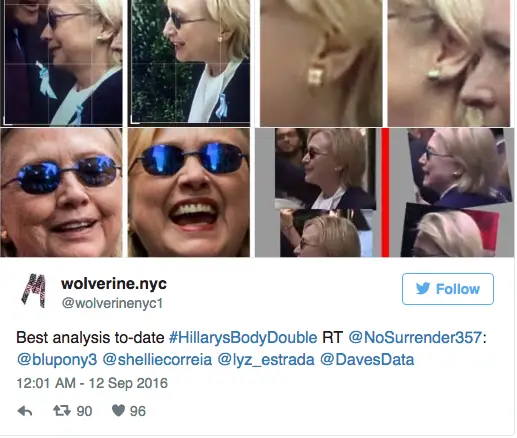 Another side-by-side picture was used to argue that Clinton's index finger was longer than her ring finger in an earlier picture — but that wasn't the case when Clinton emerged from Chelsea's apartment: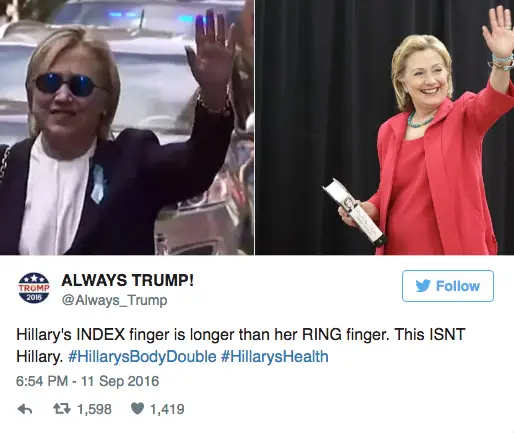 In the end, it's impossible to use these side-by-side pictures to definitively prove that a Clinton body double was used. Different lighting, different angles and different cameras create pictures that look very different, and that's why we're calling this one unproven.