Hillary Clinton Freed a Rapist, Laughed About It-Truth! & Fiction!
Summary of eRumor:
While a practicing criminal defense attorney in 1975, Hillary Clinton got a 41-year-old man cleared of rape charges after successfully arguing that his 12-year-old victim made up the story and enjoyed fantasizing about older men.
The Truth:
Memes about Hillary Clinton's 1975 defense of a child rapist are a combination of fact and fiction.
Hillary Clinton first faced criticism over her handling of the rape case in 2014. Clinton was a 27-year-old criminal defense attorney working at the University of Arkansas' legal aid clinic when a judge appointed her to represent Thomas Alfred Taylor against allegations that he had raped a 12-year-old girl.
Although Taylor faced 30 years in prison, Clinton successfully challenged the state's evidence and negotiated a plea deal that landed her client in jail for one year, which was time he had already served, according to court documents.
The case reemerged in 2014 after conservative news site The Washington Free Beacon published what have become known as the "Hillary Tapes," in which Clinton can be heard discussing the case and how her client had passed a polygraph "which forever destroyed my faith in polygraphs" in a 1980 interview.
The victim of the alleged 1975 rape told the Daily Beast that Hillary Clinton had "took me through hell" in a 2014 interview:
Hillary Clinton took me through Hell," the victim said. The Daily Beast agreed to withhold her name out of concern for her privacy as a victim of sexual assault.
The victim said if she saw Clinton today, she would call her out for what she sees as the hypocrisy of Clinton's current campaign to fight for women's rights compared to her actions regarding this rape case so long ago.
"I would say [to Clinton], 'You took a case of mine in '75, you lied on me… I realize the truth now, the heart of what you've done to me. And you are supposed to be for women? You call that [being] for women, what you done to me? And I hear you on tape laughing."
The victim's allegation that Clinton smeared her following her rape is based on a May 1975 court affidavit written by Clinton on behalf of Thomas Alfred Taylor, one of the two alleged attackers, whom Clinton agreed to defend after being asked by the prosecutor. Taylor had specifically requested a female attorney.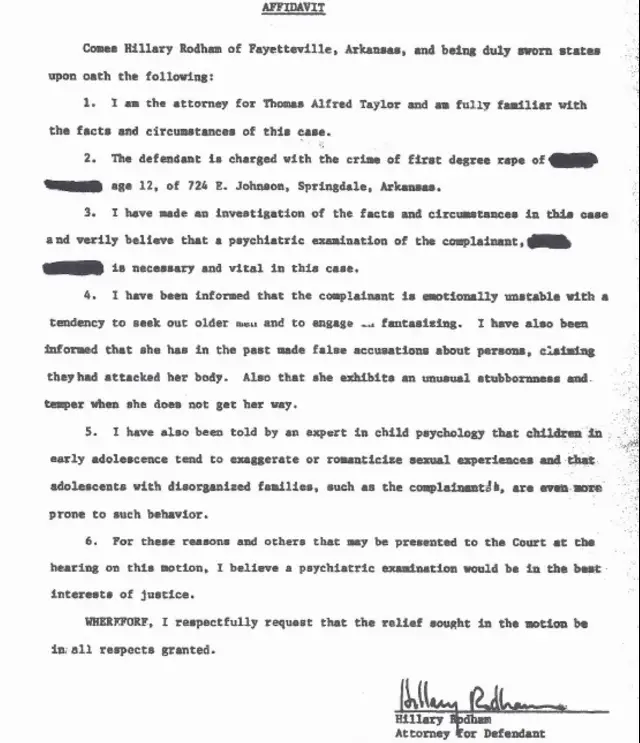 Allegations about how Hillary Clinton portrayed the victim proved to be mostly true when an affidavit filed by Clinton in the case was made public:

Hillary Clinton later defended her handling of the case in a 2014 interview with Mumsnet, a British-based online news site geared toward parents:
"When I was a 27-year-old attorney doing legal aid work at the [University of Arkansas] where I taught in Fayetteville, Arkansas, I was appointed by the local judge to represent a criminal defendant accused of rape. I asked to be relieved of that responsibility, but I was not. And I had a professional duty to represent my client to the best of my ability, which I did.
When you're a lawyer you often don't have the choice as to who you will represent. And by the very nature of criminal law there will be those you represent you don't approve of. But, at least in our system, you have an obligation. And once I was appointed I fulfilled that obligation."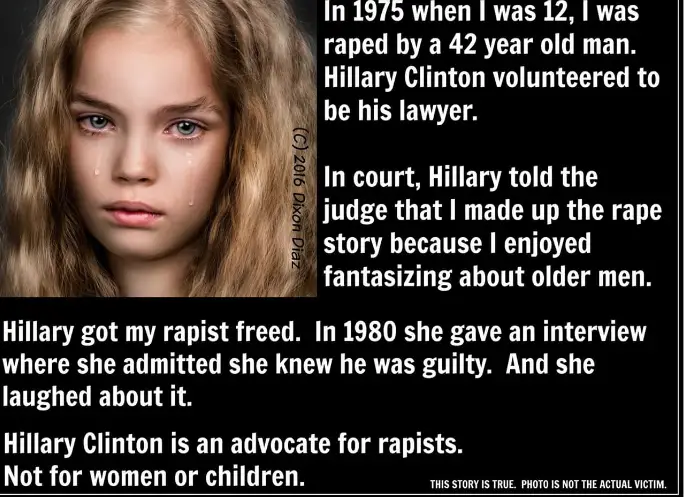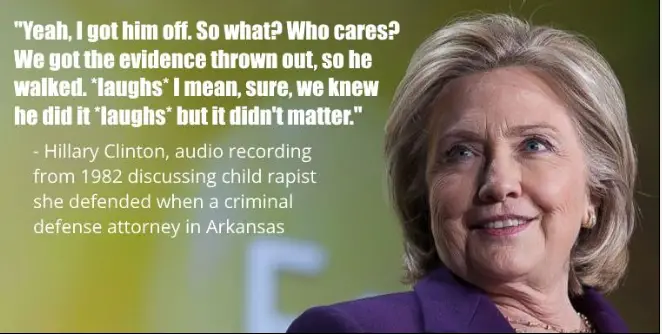 Questions about Hillary Clinton's handling of the 1975 rape case reemerged during the 2016 presidential in a YouTube video titled "I Thought You Should Know" and a series of memes posted online:

Based on Hillary Clinton's 1975 affidavit, some of the claims made in the above meme are true. She argued that the child was "emotionally unstable with a tendency to seek out older men and to engage in fantasizing" in requesting a psychiatric evaluation of the victim.
However, the claim that Clinton later laughed about the case in the 1980 interview is false. Clinton can be heard nervously laughing at one point during the interview, but it was not about successfully manipulating the legal system or getting her client (mostly) cleared of the charges. The same (false) claim appears in this popular meme:

So, given all that, we're calling claims about Hillary Clinton's handling of the 1975 rape case are a combination of truth and fiction.